Prandelli dreaming of Italian revenge
FORTALEZA, Brazil -- You have to wonder what the quality of Cesare Prandelli's dream life has been like over the course of the past four nights. Can the Italian manager sleep at all as he spends his waking hours grappling with the nightmare reality of a semifinal against Vicente Del Bosque's impregnable Spain?

Though Prandelli has the empathetic intelligence and smooth elegance of a footballing Ricardo Montalbán, the memory of last July's 4-0 drubbing handed out by the Spanish in the Euro 2012 final will haunt him. The loss, Italy's worst ever at a major tournament, was a bare-bottom spanking whose scars still sting.

Spain have ruled this Confederations Cup, defining games even when not playing. Brazil and Italy knew the winner of their group game would avoid the World Cup champions in the semifinal. Uruguay and Nigeria battled to be their Group B bridesmaid. On the field, Spain have dominated both opponents and possession, uncorking a tactical flexibility that has confounded all comers.

Del Bosque summed up his team's footballing style with the mantra: "We are all defenders, we are all midfielders, we are all attackers." An approach typified by the clinical attacking play of fullback Jordi Alba, who turns opponents inside out as if the gel clinging to his hair tips were a cloak of invisibility.

As Prandelli will be painstakingly aware, the past two times the Azzurri were eliminated at the knockout stage of a tournament (Euros 2008 and 2012) it was the Spanish who dumped them out. What chance does he have of preventing his 2013 squad from experiencing same fate here at the Estadio Castelao in Fortaleza? The Italian offered a glimpse of the extent to which he and his coaching brain trust have racked their brains to think creatively about this very question as he joked, "To beat Spain you may have to bring another ball and play with two on the pitch."

When the coach assesses his own squad, the analysis Zinedine Zidane was alleged to have used to describe the 2010 French World Cup team might come to mind: "The good news is, they only have two problems. The bad news is, one is attack, the other, defense." Offensively, the potency of the Italian strike force was instantly diminished the moment wild-card striker Mario Balotelli decamped to Milan, along with his strained thigh muscle.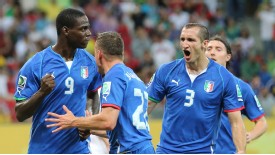 APItaly will be without Mario Balotelli's firepower for the remainder of the tournament.
Balotelli's absence is not Prandelli's greatest challenge. While the notion of an Italian squad with a suspect defense sounds as difficult to conjure mentally as a Tahiti team that is a goal machine, the Azzurri have leaked eight goals over the course of the past three games; a brittle insecurity symbolized by the noticeable slump in form of goalkeeper Gianluigi Buffon. The way the Italian captain belts out the national anthem appeared charming when he played like one of the world's top keepers, but after he acted like one of the 45,000 spectators while simply watching Neymar's free kick glide into the top corner of his net during Brazil's 4-2 triumph, the singing act enhances a growing sense that he is edging toward the past-his-prime/confused-Regis Philbin archetype.

While other managers would shuffle toward their semifinal fate with a sense of exhaustion and doom, Prandelli appears to be approaching the game with a spirit of invention and adventure. When he declared, "Playing [Spain] gives me the desire to dare, to try something different and think of tactical innovations," he sounded like an Italian MacGyver, a man with a can-do spirit who believes all he needs to reach the final is a roll of duct tape, a paper clip and a hairpin.

Prandelli's version of duct tape is the 3-5-2 formation. A tactical wild card he employed to surprise the Spanish in their opening group-stage game at Euro 2012, a 1-1 draw that Del Bosque remembered today by admitting that Italy were "superior in that game." Daniele De Rossi was the hybrid centre back/deep midfielder/muscled destroyer, repelling Spain's midfield by denying them space, and enabling the Italian attackers to forage forward, exploiting the Spanish flanks with temerity.

The deep-lying propulsion provided by Andrea Pirlo is key in such a system. The veteran's ability to control the tempo of a game has enabled him to surpass the type of legendary status afforded to mere mortals. His reputation is fast approaching that of a mythical Tolkien character -- a bearded woodland creature, blessed with supernatural passing vision and enhanced suaveness. Pirlo missed the team's final group-stage game with a calf injury, but team medics are "cautiously optimistic" he will return. He will do so with the painful memory of Euro 2012 still fresh. The charismatic Italian left the Kiev pitch that night with a single tear rolling down his cheek, a sight that felt sadder at the time than watching Barbara Hershey's performance in "Beaches."

The other great Italian hope will be Alberto Gilardino, the man who will replace Balotelli in the forward line. A journeyman striker who could not provide a starker contrast to AC Milan's fire starter. Unglamorous and introverted, "Gila" was once lambasted by Gazzetta dello Sport as an "Antipersonaggio [an anti-personality] like no other." Though the experienced Gilardino is a fine finisher who also provides an aerial threat, his reputation has been dogged by the unshakeable impression that he is a striker who cannot handle the pressure of expectation. Italian fans will cling to the truth that the one manager able to coax his best form at both Parma and Fiorentina was Cesare Prandelli, even though the manager has been at pains to play down their history, claiming "I am not going to field [Gilardino] because of our long-standing relationship but because he scores goals and is one of the best attackers we have."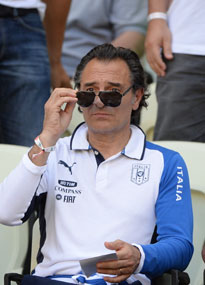 GettyImagesCesare Prandelli maintains a facade of calm ahead of Italy's semifinal.
Prandelli's other hope is a long shot: that an uncharacteristically unsettled Spain defeat themselves. The Spanish camp has been dogged by the salacious, ongoing distraction of a strip poker controversy at Recife's Golden Tulip, a subject on which it will no longer comment, and the curious intrigue surrounding Xavi's stated preferences in team selection (No Xabi! No Torres! No Arbeloa!). That story, which has been a slow burn over the past two months, hints that fault lines do exist within the Spanish camp.

I invited Prandelli to shed light on his sleeping practices during his team's final news conference. Amid a barrage of inquiries from his home press corps, eager to mine the precise calibration of the coach's 3-5-2 and debate arcane aspects of Italian sporting politics, I popped the question. The Italian coach nodded, smiling sagely as if he had been anticipating my query for quite some time. "We sleep very well, thank you," he told me. "In regards to our dreams, we approach them rationally. To improve and to be calm yet superb on the field we must dream about great things." Channeling his inner Deepak Chopra, Prandelli concluded, "I try and give positive messages to my team. To cancel out all negative thoughts -- including the predictions for tomorrow -- I know many of you in the media believe Spain are going to win easily," he paused, surveying the Italian journalists spread out before him with an accusing stare, "but we have to hope for the best."