Presence of reinvigorated Silva steadies Brazil
Neymar may be the undisputed "made for YouTube" face of the current Brazilian national team. Yet the calm, decisive assurance provided by center back Thiago Silva must rival the pregame bellowing of the Brazilian national anthem for second place on any list of the host's most impressive Confederations Cup performances so far.

That Felipe Scolari's work-in-progress team leaked only two goals while topping Group A can largely be attributed to its captain. Silva lines up alongside two risk-taking full backs, Marcelo and Dani Alves, who plow forward as if the opponent's goalkeeper were a Siren attempting to lure them onto the rocks. The acres of space they expose on the flanks have appeared minimal only because of the captain's positional play, aerial ability and distribution skills. If the Brazilians are to overcome historic rivals Uruguay in Wednesday afternoon's semifinal, Silva must once more serve as one of the most athletic security blankets in world football.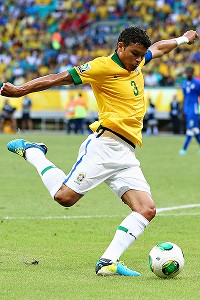 Robert Cianflone/Getty ImagesThiago Silva brings experience and a sense of responsibility to a young Brazil side.
The Rio de Janeiro-born defender moved to French league superpower Paris Saint-Germain last July, captaining the team to the Ligue 1 title and, perhaps even more impressively, charming the French media, who quickly anointed him "the Messi of defenders." So dominant were Silva's performances, they forced even controversy hunter Joey Barton to backtrack. After first labeling Silva an "overweight ladyboy" over Twitter, the self-promotional Englishman was forced to tweet "Have to take back what I said about Thiago Silva being over rated today. Been immense tonight," following Silva's peerless display in a 2-2 Champions League draw with Barcelona.

Silva's game is a blend of leadership, courage, physical ability and tactical acumen. To this young Brazil team, he also brings the scarce commodity of experience. The 28-year-old feels the burden that comes with the captain's armband, describing his task to CNN as "a unique experience in my life, to represent thousands of Brazilians across the world," while admitting, "It's not for everyone."


This sense of responsibility and service is a direct result of Silva's unorthodox career ascent. His success has been forged by both failure and adversity. As a youth, he was discarded by the Fluminese youth academy, before breaking through with an overachieving Juventude, where he impressed sufficiently to make the leap to Europe, joining Porto at the age of 20.

The move was doomed to disaster. Upon his arrival, the young prospect lost weight and was consistently sluggish in training. A confounding dip in form saw Silva cast out to the fringes of the squad and was explained only months afterward by the shocking, belated diagnosis he had contracted tuberculosis. Silva never played for Porto, and after taking a year to recover was dumped on Dynamo Moscow, where he shunted around the field as a full back, midfielder and winger without making an impact.

Most players would never have recovered from such personal hardship and professional disappointment, but Silva determined to draw strength from the experience. After retreating to Brazil in 2006, he reformulated his approach to the game, seizing his second chance at Fluminese -- the team that had discarded him as a youth -- with humility, nobility and a renewed determination. As he would later tell the Italian press, "When I face a difficult situation nowadays, I always look back at that experience and remember what I've been through. I get stronger each time I think of it."

This reinvigorated approach and the return home served to jump-start Silva's career. A re-energized Silva played with a physical vigor, earning himself the nickname "Monstro" as he propelled Fluminese to the 2008 final of the Copa Libertadores.

AC Milan swooped and Silva headed back to Europe for a second, altogether more rewarding experience. The San Siro served as a professional finishing school, enabling him to weld a sense of tactical team play onto the pace and power he naturally displayed. Under the tutelage of Carlo Ancelotti, Silva lead the team to the Serie A title, earning the captain's armband and the league's defensive player of the year award in the process. Three years after limping home from failure in Moscow, Silva had transformed into one of the most coveted defenders in the game.

Over the course of his past two seasons in Italy, Milan kept a remarkable 33 clean sheets. When Silvio Berlusconi proceeded to sell off the club's prized assets, the Brazilian found himself on the way to PSG -- a transfer he has repeatedly insisted was made against his will -- in the wake of a $55 million move alongside maverick striker Zlatan Ibrahimovic. In Paris, he formed part of a Brazilian nucleus with Lucas Moura and Alex, grabbing the captain's armband, and leading the petrodollar-charged team to its first title in 19 years.

Silva has admitted he thinks about the World Cup on a daily basis -- both the looming 2014 tournament, and the Brazilian national trauma of 1950 when they last hosted, and failed to win, the competition. Uruguay, the team that nicked the 1950 trophy, will be Wednesday's semifinal opponents once more. Silva will lead his team out at Belo Horizonte's Mineirao stadium, knowing Barcelona are rumored to be interested in acquiring his services. Catalan daily newspaper Sport conjured a wonderful quote attributed to Tito Vilanova which captures the enormous impact the Brazilian single-handedly brings to any team: "If you sign Thiago Silva, I don't need any more players this summer."