Confederations tumult obscures Brazil's passion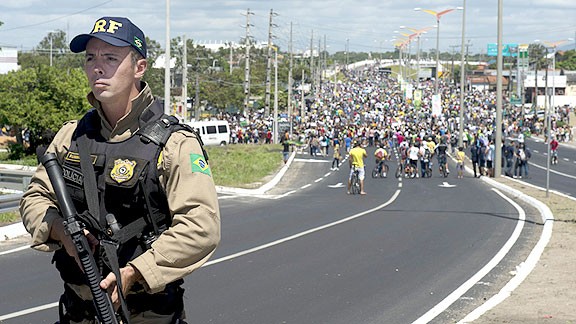 Yuri Cortez/AFP/Getty ImagesThe Brazilian beach city of Fortaleza wasn't immune from the daily interruptions involving protestors and police.
We came to cover a football tournament and ended up paying witness to a nation in tumult. In the blink of its opening round, the Confederations Cup's defining achievement has been extraordinary: Turning one of the planet's most passionate footballing cultures against the World Cup. This 2013 tournament was intentionally conceived as a dry run to enable host Brazil to work out organizational kinks. These have been some enormous kinks. Football, which has long served this country as an all-powerful distraction, has become a fire starter.

The daily scenes of demonstrations and street violence that ensued have compelled sports reporters to consult players and coaches as if they were social commentators. Listening to conservative Brazilian coach Felipe Scolari declare, "We have to work together to identify how we can have a better country ... The Brazil we all want," was just one of the extraordinary experiences of the past eight days. Following this tournament around the northeast of Brazil has been permanently surreal and occasionally terrifying as a nation that loves to dream chose this moment to wallow in regret.

"Ring of Safety"

I came face to face with the violence early Wednesday morning, as I headed out to Fortaleza's Arena Castelao to prepare for the afternoon's clash between Brazil and Mexico. The trip to the stadium is a 25-minute drive to the outskirts of the beach-famed city. A journey I had already made several times, always marveling at the number of Brazilian flags and team jerseys cascading from the windows and rooftops of even the poorest favelas.



This drive proved different. Two miles from the stadium we were forced to slow down by a crowd of protesters spilling into the road in the heat of the morning sun. Their banners were all in Portuguese and so lost on me, but the sprinkling of "V for Vendetta" masks told me all I needed to know about their intentions.

Once we curved around the corner, we slammed into chaos. Hundreds of police officers had blocked off the highway with what they euphemistically refer to here as a "ring of safety." Agitated officers marched up and down the lines of suddenly gridlocked cars, ordering them to turn around immediately. My driver, Julio, was a lovely man but the panic that suddenly gripped us both was reinforced by our mutual inability to speak a word of each other's language. As the police officer barked instructions through the open window, a confused Julio indicated I needed to exit his vehicle, smiling sheepishly as he mimed pushing me out of the door.

My options were limited. The protestors would advance behind me. The riot police were 100 yards ahead. I was trapped on a car-filled highway with favelas pressed against either side. When I spied a bus behind the police lines marked with a FIFA logo on the back window, I intuitively charged toward it, waving my official media accreditation ahead of me like a white flag of surrender.

The police cordon opened to let me through, then sealed up behind me. In the scrum, a hand reached out and grabbed my press pass, causing me to yank it back and charge forward like a poor man's Justin Gatlin. I reached the bus just as its doors were closing, crashing through them with an ungainly thud. An astonished crew of stadium food vendors looked at me in silence as I sank to the floor, a panting, sweaty, relieved hot mess.

It was only upon reaching the stadium that I realized half of my accreditation -- the part that grants access to the postmatch news conference and mixed zone -- had been ripped out amidst the turmoil. I approached one of the stadium's press handlers and found her buzzing around the press room like a war zone medic performing triage in a field hospital. After explaining my predicament, she pointed to the number of beleaguered journalists swarming around her and said, "You are not alone," smiling apologetically then adding, "Even the FIFA officials cannot get through to the stadium right now."

A Brazilian journalist approached me and congratulated me amidst the chaos. "The U.S. had better get ready to hold World Cup," he said sarcastically. "There is no way can we host 64 games. We can't even cope with the Confederation Cup's 12!"

"A teacher is worth more than Neymar"

Every Confederations Cup media center I have worked in has been the same. A windowless cavern buried deep in the bowels of a stadium within which hundreds of the world's journalists sit at long work tables, hermetically sealed from reality. A battery of flat-screen televisions beams FIFA's official videos on a grating loop. In one, blind children play football with the sighted. In another, a group of Palestinian youths retrieves the ball from a gaggle of Orthodox Jews. The mood grows tense for a beat, but before you know it, a pickup game breaks out. Cue smiles, and mothers giddily gossiping idly on the sideline. The message of hope this video is designed to convey -- that FIFA and football bring the world together -- has rarely been harder to swallow than on that night when we knew the city was falling apart all around us.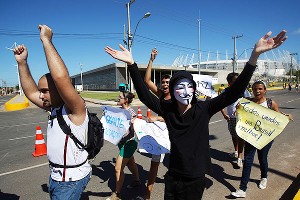 Miguel Tovar/Getty ImagesMasks worn by protestors before the Group A match between Brazil and Mexico at Fortaleza made their intentions clear.
My Twitter feed was divided between analysis of the Brazilian team's lineup (despite much media speculation, Hulk had managed to keep his place) and images of street violence and tear-gassed protestors on the highway I had just driven down. A BBC reporter tweeted a protestor's banner which read "A teacher is worth more than Neymar" at the same time as another tweet announced FIFA president Sepp Blatter had proclaimed the Brazilian No. 10 to be "an exceptional, unbelievable player, just like Messi."

The next day, I flew south to Salvador to watch Nigeria play Uruguay as Blatter declared "I can understand that people are not happy, but they should not use football to make their demands heard." The FIFA president's historical approach appeared selective. Football has an ugly past in which dictators like Mussolini (Italy 1934) and military juntas (Argentina 1978) have used the World Cup for political gain. Here in Brazil, as the demonstrations fanned out city to city, it was being used by the people.

I checked into my hotel just as a large demonstration assembled in the park below my room. By game time, the protests had turned violent. Attendance at the Arena Fonte Nova was scant as ticket holders could not break through the demonstrations to reach the stadium. While Luis Suarez and Diego Forlan ran at Mexico's defense, the discharge of weapons crackled ever closer, forcing journalists to debate whether it was gunshots or tear gas canisters we were hearing.

At 1 a.m., I drove back to my hotel to find the now quiet streets littered with debris, smashed glass and smoldering trash cans. The carnage made me realize as much as I adore football -- and outside of my family, there are few things in life I love more -- covering that game made me feel a little like a musician playing on the deck of the Titanic as the boat listed.

Back in Fortaleza, I went out to process the craziness of the week with a Brazilian friend, Guga De Castro, a popular local DJ who attempted to put the events of the week into perspective. I showed him a line from an essay I had just read by Brazilian novelist Tatiana Salem Levy, who wrote, "The requirement that one be cheerful in Rio can be as oppressive as the grey sky in Paris or London," and he laughed out loud, admitting, "The bad thing about the Brazilian personality is we don't take anything seriously but when Sepp Blatter [along with Brazilian president Dilma Rousseff] was booed at the beginning of the tournament and attempted to silence the Brazilian crowd in Spanish, a match was lit in this country."

We headed home to find Fortaleza's seafront still bustling at midnight. A colorful street performer cruised alongside our car on a tricked-out push bike he had fashioned in national colors, with flashing lights, blaring funk music and towing a giant Brazilian flag. "We may have no money and no hope, but I wanted everyone to know I am a Brazilian with plenty of pride and plenty of love," he shouted, quoting a popular football chant. "See," Guga exclaimed to me, "this man is the true Brazilian spirit," shaking his head, before adding, "It's people like him that make me believe this country is going to be OK, unless, that is, Argentina win the World Cup."