Spain win again, but next up for the World Champions is Italy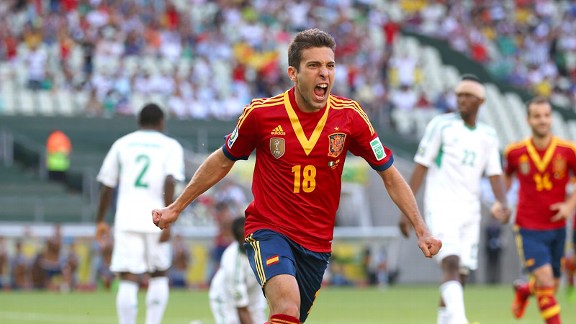 Clive Rose/Getty ImagesSpain are headed to the Confederations Cup semifinal thanks to players like Jordi Alba, who scored against Nigeria.
FORTALEZA, BRAZIL -- Here are three quick thoughts after Spain's 3-0 victory against a bold Nigeria at the Estadio Castelao. Spain top Group B and will now proceed to a semifinal match up against Italy on Thursday night.

1. Striking problems
Ahead of the game, Barcelona striker David Villa talked up Spain's surplus firepower. He and Fernando Torres may have struck seven goals against Tahiti, yet the feat only earned them both a seat on the bench. Spanish coach Vicente Del Bosque gave a vote of confidence to Roberto Soldado, hoping the Valencia striker could provide a focal point for the Spanish attack and an outlet for the lofted ball over the top.

Despite the fact that Nigeria played the majority of the game with two Nigerian league center backs Azubuike Egwueke (Warri Wolves) and Godfrey Oboabona (Sunshine Stars FC) Soldado labored, fluffing the chance to convert two one-on-ones that were well smothered by Vincent Enyeama.

Soldado's frustration would be compounded. After being substituted in the 60th minute, it took his replacement Fernando Torres just 2 minutes to knock home a goal -- his fifth of the tournament -- with his first touch, a fine diving header.

2. Fortune does not favor the brave
Nigeria are a team built around attacking pace. Aware they realistically had to beat the Euro and World Champions to advance, their attempt was audacious.

With the crowd cheering every pass while breaking out in occasional chants of "Nigeria! Nigeria!" in suspiciously Brazilian accents, the surprisingly impressive John Obi Mikel propelled the Super Eagles front three forward like soldiers attempting to attack a machine gun pillbox.

Nigeria's bravery permitted them to savor a glut of possession in threatening areas. Yet their good intention broke down once they entered the penalty area and they began to act as if they were running round a maze only they can see. Ahmed Musa, the man known as "Air Nigeria," was a chief offender, challenging the Spanish defense consistently with his quick feet, then undermining his own work with poor final decision making. Despite the defeat, the team were given a rousing ovation at game's end.

3. A day off for Spain
Spain's most admirable qualities during their dynastic era has been the consistency, professionalism and preparation they bring to every game. This, their 25th match without defeat, was a rare day off. Though it took just three minutes for Jordi Alba to wriggle through and score, the Spanish consequently labored. Xavi, in his 800th career club and country game, seemed especially lethargic as the vaunted passing carousel that is Spain's signature appeared uncalibrated. The 3-0 scorline flattered Del Bosque's team. Nigeria were one clinical striker away from getting something out of the game. Whether La Roja's performance was due to the heat, a momentary lapse in motivation with qualification all but guaranteed, or the rust caused by lineup tinkering against Tahiti, remains to be seen. The game ended with Brazilian fans chanting, "Spain, Your Time To Lose Will Come." Thursday's semifinal match up against Italy awaits.