Brazil is all about building confidence for the World Cup
SALVADOR -- Brazilian coach Felipe Scolari was in a self-assured mood veering on the bombastic following his team's 4-2 victory over Italy. After the match, he told the Brazilian press, "I know people don't like me, but I don't want or need to be liked."

Scolari's confidence was a reflection of the fact that, though his team remain a work in progress, their displays in this Confederations Cup suggest they are progressing fast.

"We are improving," he said. "Only since we came together in Rio [three weeks ago] have we begun to build a quality team."

It's a boast that has been backed up by the three consecutive Brazilian wins which left them at the top of Group A. A semifinal clash, most probably against historic rivals Uruguay, awaits. Yet the question remains: Exactly how good are Scolari's team?

Italian coach Cesare Prandelli was certainly generous in his praise. The vanquished manager refused to pin the loss on the absence of the key midfield duo Andrea Pirlo and Daniele De Rossi. "Brazil were very strong and did not let us play the way we wanted to," he admitted. "We were fearful in the first half. They have four players that can attack and be decisive on the break. They can win the ball back and if they maintain this intensity they will improve fast."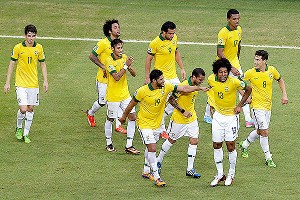 AP Photo/Natacha PisarenkoBrazil is full of confidence after beating Italy. "When we are going forward and Fred, Hulk, Marcelo, Oscar and I trade places, it makes the opposition crazy," Neymar said.
After the occasionally bruising match, Scolari was quick to lavish praise on Neymar, who had a hand in both of Brazil's opening goals. The delicious free-kick he deposited past a flat-footed Gigi Buffon means he has scored in each of Brazil's three group-stage games. Scolari declared, "If Barcelona were watching today, they will be very happy with what they saw," and then hailed his playmaker. "What decided the game today was that he knew Buffon takes a step to the side [on free kicks] and he took advantage. Only geniuses understand those details that win matches."

The ebullient Brazilian fans agreed with that analysis, giving the slight 21 year-old a standing ovation as he left the field and serenading him with a famous Samba lyric, "I am a Brazilian with plenty of pride and plenty of love."

Despite the fact that his team's performance dipped once he had departed, Neymar was eager to spread the praise on other members of his squad. When asked to articulate what pleased him most about the win, the freshly minted Barcelona star said that "our team's movement is very important. When we are going forward and Fred, Hulk, Marcelo, Oscar and I trade places, it makes the opposition crazy."

Scolari also spread the praise around, highlighting the performance of two-goal striker Fred, suggesting "he has given me everything I have asked him in this position."

The coach was also delighted with Dante's goal-scoring turn off the bench, declaring it was a symbol of the strength of his squad. "He is one of the players who is not in the initial line up," Scolari said, "but when he goes in he does so with the mentality of a great player."

Yet Scolari was realistic and willing to admit there is still much work to be done before 2014. Though his team are undefeated, they are yet to dominate, and they allowed an undermanned Italy back into the game in the second half courtesy of some slack defending. "We are not ready for many things we will encounter in the World Cup," he said. "I would like my team to improve in specific moments. Neymar is showing his strengths, but I believe he can still become better. The same goes for the team. The better they get, the better Neymar can play."

Seeking a definitive opinion on the Brazilians' strength, I turned to a man well-placed to be in the know -- Edilson, a striker on the last Brazilian squad to win a World Cup (in 2002 during Scolari's first term). Known by the nickname "Capetinha" or Little Devil, he remains one of the most enigmatic footballers this city of Salvador has produced, an old school Brazilian football star renowned for operating without a filter.

"We are all optimistic about this team," Edilson told me through a translator. "The thing that gives us hope is Scolari. He is taking things step by step with this squad, slowly building towards the World Cup and trying to do everything he can to take the pressure off their shoulders.

Edilson complicates matters when asked what his 2002 team have that the 2013 squad lack. "Talent," he snaps back. "They have good players with technique that can have great moments but across the squad talent is missing."

After such a damning statement, the Little Devil's optimism returns when asked if he can envisage a scenario in which Scolari leads this team to lift his second World Cup. "I really believe here is a 90 percent chance," he proclaims. "Scolari's focus is on the psychology of this team, trying to build the players confidence. That is his focus. He knows it is all about belief."