Brazil finish atop Group A with win over Italy
SALVADOR, Brazil -- Here are three quick thoughts from Brazil's bruising yet entertaining 4-2 win over Italy at the Arena Fonte Nova in the Confederations Cup. The hosts finish top of Group A, and, perhaps more importantly, almost certainly will avoid Spain in the semi-final.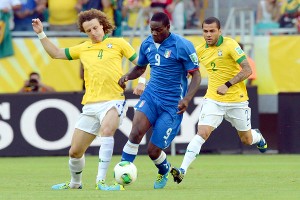 VANDERLEI ALMEIDA/AFP/Getty ImagesMario Balotelli, who's become a popular figure in Brazil, played a key role in both of Italy's goals.
1. The stars, they shine tonight
This was billed as a duel between two of the game's best young talents, Brazil's Neymar and Italy's Mario Balotelli. They did not disappoint. Balotelli has become a locally feted figure in this city, where 80 percent of the local population are African. The Brazilian fans gave him a rousing reception, reminiscent of Diego Maradona when playing Italy in Naples at the 1990 World Cup.

Although Balotelli was often starved of service by the Italian midfield, it was his crablike flick that sent the galloping Emanuele Giaccherini free for Italy's first goal in the 51st minute, and he was also instrumental in Italy's second, in the 71st, wrestling with Dante to free up Giorgio Chiellini.

Neymar also cut a frustrated figure in the opening stretch, taking his aggravation out on Ignazio Abate with a scything tackle. Yet he won and served up the free kick that led to Dante's goal, then scored Brazil's second, hitting a free kick past a bewildered Gigi Buffon from the kind of range in which it can be difficult to bring the ball up and down over a defensive wall. The goal meant Neymar has scored in every Brazil game in this tournament, and, by the time he left the field in the 69th minute, the Brazilian crowd was ecstatic, saluting him with a resounding chorus of the samba lyric, "I am a Brazilian with plenty of pride and plenty of love."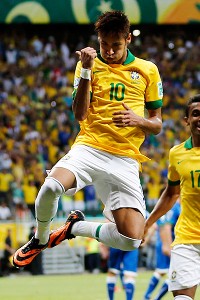 AP Photo/Fernando LlanoWith his goal against Italy, Neymar has scored in all three Confed Cup group games.
2. Brazil remain an unpredictable team
This was an aggressive display by the Brazilian team that set off at a helter-skelter pace, powered by their now ritually resounding national anthem. Japan's 4-3 loss to the Azzurri had shown Brazil's coach Luiz Felipe Scolari that the Italians were unable to handle pressure. Fittingly, his Selecao took advantage, swarming all over their opponents, who seemed uncharacteristically self-aware, nervy and overwhelmed.

Yet this remains an inconsistent Brazil side prone to emotional peaks and troughs, and once the Italians calmed, Brazil's pressing game trumped their passing, and made them appear more devoted to kicking Italians than the ball. In a first half that contained 5 yellow cards and 3 forced substitutions, the stadium video screen showed foul after foul in delicious slow motion as if it were screening a John Woo film.

David Luiz clattered Balotelli twice within eight minutes to earn a yellow card, then had to leave the field after hurting himself while attempting to batter Antonio Candreva. Scolari's team showed more signs of futebol brutal than futebol arte today.

Neymar's goal and Fred's third made the Brazilians seem they had snuffed out Italy's fight. Yet, after switching off at a corner, they let their opponents back into the game and the Selecao had to demonstrate they had the resilience to survive a scrap. That they did so is a testament to the team spirit Scolari is fostering. An intangible that was never more evident than at the end of the first half in a moment of class, when the first man to congratulate goal-scoring Dante was the man he replaced, Luiz.

3. Italy without De Rossi and Pirlo don't seem Italian
The Italian bench cleared every time they scored a goal, a sure sign they wanted to win this game very badly. Yet, without injured Andrea Pirlo and suspended Daniele De Rossi, the Italian midfield was overrun. Most disturbingly, the Italian defense remains nervy and frantic, quaking every time Marcelo attempted to send long angled balls behind the Italian defense. By the time Fred pounded on Buffon's weak parry in the 88th minute, he was left to pick the ball out of the net for the fourth time, only the second occasion he has leaked that number of goals in an Italian jersey.