Michael Laudrup's Swansea style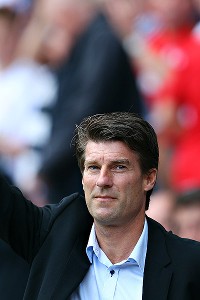 Michael Laudrup has brought an added style to a Swansea team that showed little fear of the EPL in its first season.

Does the Premier League boast a more dashing figure than Michael Laudrup? With his tailored suits, chronograph timepiece and lustrous mane, the debonair Dane resembles a man who might well know James Bond on a social basis.

The new Swansea manager only enhanced his elegance this weekend when he patrolled the coaching area alongside West Ham's sloppy Sam Allardyce. A contrast in styles akin to watching a Ferrari FF park beside a clapped-out Oldsmobile Cutlass.

Laudrup has his new charges playing a stylish form of football in his own crisp, white-shirted image. After dismantling QPR 5-0 in their season opener, the intelligent Swans buzzed around a bewildered West Ham, outpassing them 614 to 370 while handing out a 3-0 humbling.

In the past, Swansea's emphasis on mobility and kaleidoscopic passing had earned the team the cheeky moniker "the Welsh Barcelona." This week, its passing triangles were sufficiently poetic to receive plaudits from the real thing. "Como juega el Swansea... Madre mia," Cesc Fabregas tweeted. "I love the way Swansea plays... Respect."

Few foresaw this renewed sense of confidence emanating from Liberty Stadium. When previous manager Brendan Rodgers decamped for Liverpool in May, soon to be followed by young midfield anchor Joe Allen, the talent vacuum was filled by prophecies of doom. Saluting Rodgers as the man who had perfected Swansea's fearless pass-and-move game (with which it had taken on all-comers upon its return to the top flight), many pundits suggested Swansea had lost an ideology as well as a manager. FourFourTwo magazine penciled Swansea in 20th place in their annual preview, and bookmakers damned Laudrup as the most likely Premier League coach to lose his job in the new season.

Admittedly, Laudrup, 48, had been an unexpected choice to fill the Swansea vacancy. His eclectic, itinerant coaching career, featuring fleeting stops at Getafe, Spartak Moscow and Mallorca, leaned toward the conventional wisdom that suggests great players do not always make the best managers. The likes of Maradona, Michel Platini and Glenn Hoddle had been scintillating athletic talents, yet often struggled to coach ordinary players whose ability skewed toward the human.

Laudrup's greatness graced the 1990s. Few opponents could contain him as he flitted across the field with the singular aim of attacking the goal always at the front of his mind. The only footballer to win the Spanish league five times in a row while playing for archrivals Barcelona and Real Madrid, Laudrup garnered 104 international caps, leading the greatest team Denmark has ever fielded.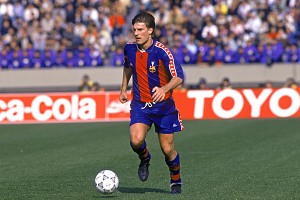 Michael Laudrup's verve and confidence date back to his playing days when he excelled for Juventus, Barcelona, Real Madrid and the Danish national team.

At Barcelona, he starred alongside Bulgarian menace Hristo Stoichkov on the vaunted "Dream Team." Manager Johan Cruyff was the mastermind and Laudrup was the player who best resembled the Dutch master with his close control, intelligent vision, precision passing and delight in finding teammates with a no-look flick off his right foot. Cruyff admired the way the Dane helmed his team, declaring, "When Michael plays like a dream, a magic illusion, determined to show his new team his extreme abilities, no one in the world comes anywhere near his level."

After five years, he boldly ditched the Catalans for Real Madrid. The season before, Laudrup had inspired Barca to a 5-0 El Clásico drubbing of its rival. Switching into the white shirts of Real, he orchestrated a legendary 5-0 reversal and won the title. At Barcelona, they exalted him as the artist, "Michelino," while at Real Madrid he was nicknamed "El Genio" (The Genius). For half a decade, it appeared that whichever team Laudrup graced would automatically be deemed champion.

And in 2012, West Glamorgan's coastal surround is a stark contrast to both Barcelona and Madrid. Swansea is an industrial city whose global reputation as Catherine Zeta-Jones' birthplace outstrips its renown as a footballing hotbed. Yet Laudrup made his career decision appear simple. "I've come to a club where the philosophy of the team and mine fits," he told The Guardian, referring to the Welsh club's recent tradition of bold, possession-obsessed soccer. The star of the Dream Team is now the leader of a team that has been built on dreams.

Swansea's story is one of the more remarkable in recent British soccer history. Ten years ago, the Welshmen were rotting away on the brink of bankruptcy in the obscurity of the then-Third Division. A group of local businessmen, abetted by fans organized in a supporters' trust, nursed the team out of crisis and restored financial health.

As the Swans have risen through the divisions, they've forged a commitment to an ambitious, technical style of play that paved the way to Premier League riches. Rodgers received the acclaim, yet many debate whether his predecessors, Roberto Martinez and Paulo Sousa, were truly responsible for developing the system.

Irrespective, Laudrup is the club's third manager in four years and he has stared down the prospect of a sophomore Premier League slump by strengthening the squad, importing the clinical finishing of Michu for $3 million and Korean midfield marvel Ki Sung-yueng for $9.7 million.

The early returns have been astonishing: two games played, eight goals scored, zero conceded. Laudrup has tweaked Swansea's system, encouraging a bolder, more direct style. Full backs Angel Rangel and Neil Taylor are eager to push into advanced positions and exploit the space created by wingers Nathaniel Dyer and Wayne Routledge, who have been given permission to desert the flanks and cut inside. Michu has stolen the headlines with his goal-scoring antics, yet his commitment to team play and willingness to drop deep has not gone unnoticed.

Doubters are quick to point out Laudrup's team has yet to face a quality opponent. With Martin O'Neill's defensively minded Sunderland looming next weekend, will Swansea maintain its pace, or does its early season form flatter to deceive?

Technical quality oozes through the team from the underrated Michel Vorm in goal to Michu and Danny Graham up front, but above all, it has Laudrup, a legend who understands the mindset of the average professional and knows what propels a winning team.

"You can't ask players to do things that Cristiano Ronaldo and Lionel Messi are doing, but you can ask the easy things," he told the BBC. "Sometimes the easiest things in football -- a simple pass five or eight yards -- can be the most effective. That, everybody can learn."