Where to from here for Neymar?
SALVADOR, Brazil -- Neymar Jr. can conjure moments of skill that make grown men cry. Brazil's young phenomenon needed just 173 seconds to make his mark on this year's Confederations Cup, rifling home from long range against Japan. In his next match, an entire nine minutes passed before he cracked the Mexican defense with an intuitive volley. Yet it was the act of escapology with which he closed out the game that made spectators' eyes pop. Anesthetizing two Mexican defenders while tiptoeing innocently towards to the by-line, he then proceeded to explode between them like a ghost who could walk through walls, laying off an assist so simple, even Jo could not miss.

• Blog: Keep calm and be Neymar

• Brewin: Italy vs Brazil

During Saturday afternoon's final group game with Italy, an expectant and troubled Brazilian nation will depend on their slight 21-year-old once again. Coach Felipe Scolari's squad remains a work in progress for which their Italian opposition will present the stiffest reality check yet.

Both teams will proceed into the elimination stage, yet much remains at stake. Barring a miracle, the winner will avoid facing Spain in the semi-finals. After inheriting Brazil's mythical number 10 jersey, Neymar must once again prove he is worthy of the responsibility, and validate the kind of praise even the traditionally terse Scolari lavished upon him. "In Brazil, we all know he might be one of the three best players in the world," the Brazilian coach said after the Mexico game, before adding, "Now in special moments in Europe and at the World Cup, he will have to demonstrate the qualities he has already showed (in the Brazilian League) with Santos."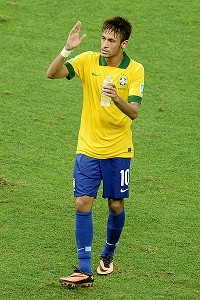 Vanderlei Almeida/Getty ImagesNeymar is growing into his role for the national team
Scolari's comments frame two of the most intriguing questions that have emerged from the field in this tournament. Can Neymar fulfill his potential after his blockbuster $75 million move to Barcelona, and where exactly does he currently rank in the pantheon of world-class stars?

That the answers are difficult to decode may be because the young Brazilian's career has been infused with a scent of hyperbole from the outset. The São Paulo native arrived as a buzz-cloaked 11-year-old prospect. Just one month after he broke into the first team, aged 17, Pele declared him to be his heir. The starlet then tore up the the Brasileirão, tormenting defenders on a near weekly basis to net 138 goals in 229 appearances. Less a man among boys, more a turbo charged boy among leaden-footed men.

With Neymar propelling the team, Santos experienced their most successful era since Pele left the club, grabbing three straight Campeonato Paulista titles, the Copa do Brasil, and the 2011 Copa Libertadores. The player earned two South American Footballer of the Year awards and, in the process, lifted FIFA's 2012 Goal of the Year trophy with an audacious strike in which he magically made three defenders disappear.



Yet, because the bulk of these achievements were experienced off the European grid, a touch of the fantastical has attached itself to the player. Santos themselves inadvertently admitted this when their star won his first South American Player of the Year, stating, "More than an idol, Neymar Jr. became a myth not only for Santos, but for Brazilians and football fans around the world."

This myth is no accident. Neymar's tech-age image has been carefully burnished by the player and his handlers who have crafted a brand, like Manga football star Captain Tsubasa come to life, that is tailor made for YouTube.

Neymar has parlayed this roguish, cyberpunk charisma into a lucrative second career as a commercial pitchman, siphoning over $US14M by shilling for 13 brands including Nike, Red Bull, Panasonic and Volkswagen. Quite the ham, he has demonstrated a James Franco-esque ability to always appear "in on the joke," whether he plays keepie-uppie with an animated frog in the supermarket, or shuffles along to "Single Ladies."



As a result, if you open any Brazilian magazine, odds are an image of Neymar will grace its pages. The nation is obsessed with the details of his lavish lifestyle. Be it the specifics of the Porsche he drives, the yacht he maintains, and especially, his relationship with Bruna Marquezine, the 17-year old actress he PDA's. You may know her from her work in such Brazilian soaps as That Kiss and Forbidden Desire.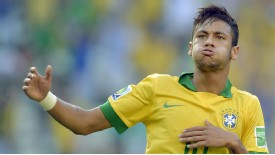 GettyImagesNeymar celebrates his goal for Brazil against Mexico
On the streets of Salvador this week, I was told of a Brazilian phrase that captures the line where the starlet's reality blurs into hype: "That's Neymar being Neymar." The football world is now waiting to see whether he can demonstrate a sustained superlative level of performance that will truly allow him to morph into "Neymar Jr.," the brand he hopes will stick on the global stage as he leaps into the unknown with Barcelona. The La Liga champions have made no secret they are enamored with Neymar's marketing potential in Asia -- one the player reinforced by striking an image-rights deal with a London-based hedge fund. Whether the Brazilian can back up the hype with his play will determine whether the promotion of his brand name represents a human transformation, as profound as the Bible's Abram becoming Abraham, or is doomed to be as inconsequential as Lil' Bow Wow morphing into Bow Wow.

Neymar was sensibly modest at his first Barcelona news conference, telling the 56,000 delirious fans who welcomed him like a rock star at the Nou Camp: "The best player is already here and that's Messi. And now I can see him from close up and help him."

His humility was well placed. In leaving Santos to join La Liga, the young Brazilian will have to learn to break down better quality defenses, and play alongside a more talented squad that is built around FIFA World Player of the Year Lionel Messi.

His management team will also be aware that for all of Barcelona's success, the club has been an inhospitable home for a stream of world class superstars including Zlatan Ibrahimovic, David Villa, and even Cesc Fabregas -- players who did not complete their entire youth development at the famed Barca youth system, La Masia.

Will Neymar survive and continue to flourish as he plays through this tournament and heads to Barcelona? Scolari, for one, has been keen to promote the possibility by reinforcing the way his star has developed, emphasizing "his growth as a very technical player." Yet many fear the transition will be difficult. Perhaps the most grounded comment about Barcelona's expectations came today from the mouth of veteran Xavi.

"Neymar joins to help the team. He's very young, we'll treat him well and try to make him feel comfortable from the first day," he said, emphasizing that in the 33-year old legend's mind, the Brazilian is still an extremely talented prospect. One for the future.