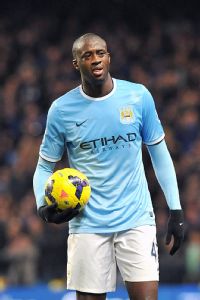 AP Images/Manchester City FCSince signing for Man City in 2011, Toure has won the Premier League and FA Cup.
British author Simon Kuper once wrote that great football players are traditionally either warriors or artists. Manchester City's Yaya Toure, however, defies categorization.

On the field the Ivorian has demonstrated the tactical discipline and physicality to repel opponents single-handedly. He also has unveiled the vision to create goals as well as score them, rumbling forwards like an untethered wardrobe on a downward slope, flattening all in its path.

When he swings through the door of the media room at Manchester City's training ground, it is evident that Toure carries a rare mix of attributes off the field, too. Continue Reading...