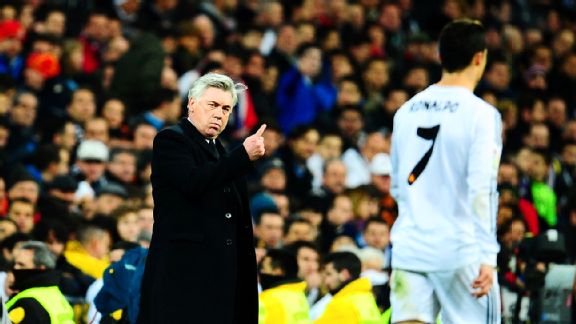 Rex Features/AP ImagesCarlo Ancelotti will hope his rested Real Madrid side are ready for Bayern Munich in the Champions League.
This time exactly two years ago, two things happened to shape Real Madrid's season: On April 21, Jose Mourinho's side traveled to Camp Nou and carved out a 2-1 victory to essentially seal the Liga title.

That team would go on to amass 100 points and 121 goals scored, smashing the previous record held by John Toshack's Real Madrid. Barcelona also scored more than the Welsh manager's 1989-90 team, but would fall short of the league by three wins.

Real had already been eliminated from the domestic cup by the eternal foe but entered the second leg of its Champions League tie in good shape; Bayern Munich came to the Bernabeu with a slim 2-1 lead courtesy of Mario Gomez's last-gasp strike in Germany -- a continuance of Real's "curse" on German soil. Continue Reading...