Will Kaka's swan song include cup starts?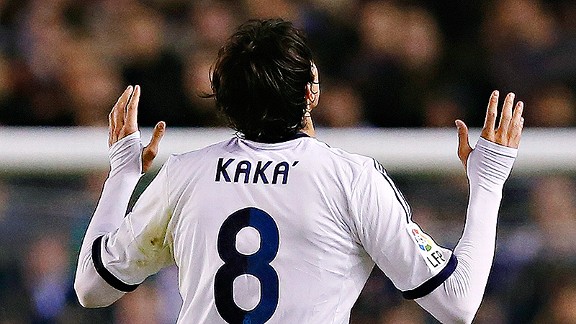 Helios de la Rubia/Getty ImagesKaka has more than earned a chance to feature against Barcelona Tuesday and at Old Trafford March 5.
The million-dollar question: does Jose Mourinho already know his team for the upcoming clashes against Barcelona and Manchester United -- matches that could define his tenure as Real Madrid boss -- or are places still up for grabs?

A certain former World Player of the Year winner would like to know. Kaka has been deemed largely surplus to requirements at the Santiago Bernabeu this season, finding his chances very few and far between. But recent performances could give Mourinho a welcome selection headache for the Copa del Rey semifinal second leg at the Camp Nou Tuesday, as well as the trip to Manchester in the Champions League a week later.

The Brazilian scored one and helped set the other goal up as Madrid came from a goal down at struggling Deportivo Saturday to leave with all three points. A man-of-the-match performance it certainly was, but would Kaka have started had Madrid still been in realistic contention to retain their La Liga title? Probably not. Will he feature in these more crucial cup matches, or was he simply playing at the Riazor to give others a rest?

In previous matches this season I'd have said the latter, but something tells me Kaka may well be in contention for what would be deemed to be a shock inclusion in Madrid's starting lineup for their most important matches of the season.

His appearances in the first half of the season were seldom, and came in relatively meaningless matches, such as with Madrid already qualified in the Champions League and early Copa del Rey matches. They were signs he wasn't wanted in the big matches at the Bernabeu, and a sign that he was probably edging closer to the exit door, with former club AC Milan being linked with his services in the January transfer window.

Kaka has featured more in recent weeks, however. While those appearances may have again come in not-so-important matches (with Madrid throwing the towel in on catching Barcelona at the top of La Liga), they've been more common, and they've been impressive performances, too -- impressive enough to certainly put a thought into Mourinho's head ahead of Barca and United.

His played a central role in seeing Madrid past Deportivo. The game looked to be heading as many have for Madrid on their travels this season -- have the best of the possession and an expectation to win against a struggling side, then fail to do so. Depor were 1-0 up thanks to Ivan Riki's 35th-minute strike, but this Madrid side showed some battling qualities not seen in other away defeats this season.

Kaka drove them on. He carved out the equaliser for himself, picking the ball up before finding Angel di Maria on the edge of the box. The Argentine sent the ball back Kaka's way and the Brazilian curled a superb shot that nestled neatly into the net. Golden Kaka; the Kaka fans all grew to know and love. They were flashes of brilliance that were not so much flashes at AC Milan, but consistent examples of his brilliance.

The flashes of his qualities have been just that in Madrid, for a variety of reasons. But could Kaka still have one last swan song in the all-white? His star performance at the Riazor was complete with a brilliant ball that sent substitute - yes, substitute - Cristiano Ronaldo clear and his cross found Gonzalo Higuain for his 100th Real Madrid goal -- a winner as the champions avoided another embarrassment away from home.

Despite his lack of first-team appearance this season, Kaka certainly enjoyed his 90 minutes this weekend, telling the Madrid website: "I'm getting better and I think things are improving. . . . I'm happy to help the team. If the coach needs me I'll be there." Madrid director Miguel Pardeza agreed, saying: "Kaka has played a very good game and I am happy for him because he's working well."

The only trouble is, Kaka has been before during this season. An appearance out of nowhere and hope raised of a 'comeback' for Madrid, yet the next game he's back to what's become a more common place -- on the bench. Madrid visit Catalonia on Tuesday for what's nicely poised to be a Clasico Copa thriller, and Kaka will probably be fearing the worst.

Mesut Ozil's form demands a place in the starting XI and Ronaldo's role is a given. That, realistically, leaves one place up for grabs, with either Higuain or Karim Benzema starting in attack, and di Maria, Luka Modric and Kaka will probably be fighting for that spot. While Modric is very much Mourinho's man after signing him earlier in the season, di Maria's form has been erratic at best this term. But he did play well in the first leg against United, and his work-rate is probably higher than Kaka's.

On the plus side, Kaka has shown recently that, on his day, his skills are still that of one of the best players in world football. The Brazilian is still capable of unlocking a water-tight defence from nothing, something Madrid will have to do at Old Trafford March 5. He's still capable of scoring a super strike from all over the pitch, too, as shown at Depor. Crucially, his lack of match action this season means he should be as fresh as a daisy for the 'business end' of the season, when other players will be reaching their limit.

Tuesday night's team selection should be a good indicator as to who Madrid will go with at United the following week. Don't forget there's another Clasico, in the league, to be played at the weekend, but that match will be much lower in the pecking order than the cup matches that surround it. Expect to see a much-changed Madrid side for that.

Kaka has certainly added another option, and dimension, for Madrid to go with in both encounters. He could well prove to be the secret weapon in either match, whether it be from the starting lineup or from the bench. Kaka will be hoping it's the former.