Controversial handball ruling mars Madrid derby win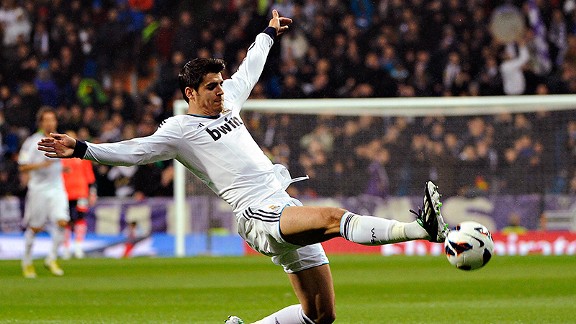 Pedro Armestre/AFP/Getty ImagesDespite scoring in his first ever La Liga start, it was a bittersweet night for Madrid's Alvaro Morata.
It was an eventful match for Sergio Ramos. How many times have we heard those words with the Spanish international in a Real Madrid shirt? A starting role at right back, rather than his preferred centre back role, a goal and two yellow cards in the space of 42 seconds seeing him take an early bath as Los Blancos secured a relatively comfortable 2-0 victory over Madrid neighbours Rayo Vallecano at a rain-soaked Santiago Bernabeu on Sunday night.

- Madrid win despite Ramos red

For a match in which Jose Mourinho's men played 62 minutes of the match with 10 men, the result was never really in doubt. Madrid were always expected to pick up maximum points against Rayo, despite their hit-and-miss form this season and that they did despite playing against a visiting side who were actually in good shape coming into the game.

Six wins from their last eight matches, including a home win over Atletico Madrid in another capital derby last weekend, and a chance to gain their highest-ever league finish this season; Rayo were going to be no pushovers, but they failed to give their more glamorous neighbours a true test, despite having plenty of the ball with the advantage of the extra man. It could have been a lot tougher for Madrid, especially with a much-changed side, but the outcome was as expected and the real talking points came elsewhere.

On the hand, to be exact. La Liga's apparent directive of encouraging referees to show an automatic yellow card to players who handle the ball, or handle the ball in thwarting attacks, purposely or not, proved the main talking point from an otherwise mechanical Madrid victory over Rayo.

The first example came in Ramos' second yellow card 18 minutes in. The 26-year-old had nodded his side into a 2-0 lead, prodding in a Mesut Ozil free kick -- won by a forward run by Ramos -- just minutes earlier. Then the former Sevilla man was harshly booked for what the referee deemed to be a foul on a Rayo player. For my money, the challenge wasn't even worthy of a free kick, let alone a booking, yet the man in the middle, Jose Paradas, swiftly swiped the yellow in the defender's direction. Only 42 seconds had elapsed before Ramos turned his back to a Rayo cross and the ball struck his hand. A second yellow, and a sending off. His 17th career red card, his 16th in a Madrid shirt.

There was plenty wrong with the first booking, but the second is where the debate really gets into full swing. Should referees be waving automatic yellow cards at players for handball, whether the act is purposeful or not? Ramos may have feigned an injury to the face because he knew what was coming, but his handball, for me, did not look deliberate. His back was turning to the shot and his arms flapped out by his side, an unfortunate and accidental handball for my money.

It is a rule that has caused controversy in La Liga for some time, and a rule that supporters, and maybe even players and managers, don't know enough about. Everyone understands the directive is there, but the rule is not clear cut for all to see. It would help the argument, whether rightly or wrongly, if all officials show yellow cards for handball, but that isn't the case. Some get away with it, which brings me onto my next point.

If it is one rule for all, then both Fabio Coentrao should have conceded a penalty for handball in the second half, and Lass Bangoura should also have seen red for a handball which would have been his second yellow card. Coentrao stuck his arm up in an unnatural position in the box but got away with it, possibly down to it being a crowded penalty area and the referee not spotting it, while Lass' was rather more obvious, yet he got away with it, too.

The latter offence took place right in front of the Madrid dugout and it brought a frustrated smile from Mourinho on the sidelines. It would have brought a rather more frustrating reaction from the Madrid boss had his side's position been slightly more under threat from a Rayo attack that huffed and puffed with that extra man but could not blow the Madrid defence down in search of a way back into the game.

Those handball decisions will continue for the rest of the season and the ruling, if there is one set in stone by the Spanish FA, needs to be made clear and at the very least needs to be strictly adhered to, if not scrapped. For me, a simple decision from the referee whether the offence deems a booking or not, should suffice. More often than not this directive works in the English Premier League and elsewhere. Mistakes will be made, of course they will, but referees will not always get decisions right and managers and fans will accept that.

With that debate set to rumble on, a few pointers from the game.

The first, Alvaro Morata getting his first start of the season, at last. Madridistas have been crying out to see the young striker play -- he scored the winner against Levante earlier this season -- and they got their wish, on the back of him scoring in three successive Real Madrid Castilla matches. A goal, too, just two minutes in. Kaka, Sami Khedira and Mesut Ozil worked the ball well and Morata smashed in from close range at the far post.

Such is his luck this season, however, that his stint on the pitch did not last long, being sacrificed for Raul Albiol following Ramos' red. A first start of the season, a goal, and the chance to really give Mourinho a selection headache with more goals taken away from him in the most frustrating of circumstances. Circumstances that I had to agree with, but disappointing for Morata nevertheless. The youngster started in place of Karim Benzema, with Gonzalo Higuain out through suspension. A kick up the backside for the Frenchman, perhaps, rather than a rest?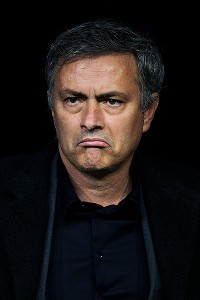 Jasper Juinen/Getty ImagesMassive contests versus Barcelona in the Copa del Rey and the Champions League return leg against Manchester United are on the horizon for Jose Mourinho's side.
Involved in his goal was the forgotten man, Kaka. Seemingly destined for pastures new all season, the Brazilian was thrown in there with Luka Modric suspended and Xabi Alonso rested with a slight hip injury, and he did not disappoint. His role in Morata's opener was key, winning the ball in the middle of the park before playing a neat one-two with Khedira and supplying the ball out wide for Ozil's assist.

Kaka's passing was top-drawer, and his work rate was that of a man keen not to exit with a whimper. A shot at featuring against Manchester United next month might be a long shot, but he certainly still has the capability of unlocking defences, so a place as a "super sub" for Old Trafford is not out of the question, and he could feature in the less important La Liga Clasico that comes days before the trip to England.

He won't be replacing Ozil in the line-up, that's for sure. Another superb display by the German. He produced both assists, his second a superb, in-swinging free-kick for Ramos to head home. Assists aside, Ozil was central to most of Madrid's attacks, more so than Ronaldo and is hitting top form at just the right time for Mourinho and Los Blancos.

A rare midweek without a match now awaits Madrid, and it will be one they'll be keen to take full advantage with the Copa del Rey semifinal second leg at Barcelona coming next week, followed swiftly by the Clasico La Liga contest at the Bernabeu and the second leg of the Champions League encounter with United.

Follow Nicholas on Twitter @nicholasrigg