All is well again for Ronaldo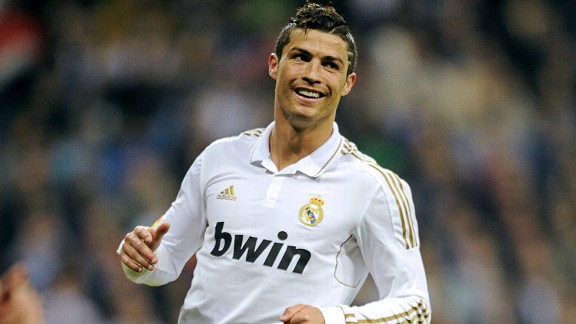 Pedro Armestre/AFP/Getty Images Cristiano Ronaldo has turned that frown upside down and is now happy at Real Madrid.
Hurray! Hallelujah! Yippee! All is well in the world again -- in Cristiano Ronaldo's world, at least. Real Madrid's Portuguese star has declared he is happy at the Santiago Bernabeu again, just months after claiming he was anything but.

"I am unhappy, and the club knows why," said Ronaldo back in September. Rumours of a contract dispute, wanting more money to remain in the Spanish capital were banded about. A failure from Madrid's top club officials to support their talisman was mentioned in other quarters. Either way, the former Manchester United man insisted he was not happy with his situation at the time, and his comments sparked reports of potential moves away from Madrid, with Paris St Germain, AC Milan and a return to Manchester with United said to be among his options.

- Ronaldo no longer unhappy

Ronaldo did not expand on his comments and that only acted to draw more uncertainty to his future with Los Blancos. Why was he unhappy? Was it the beginning of the end for one of the world's best players in the famous all-white kit?

Seemingly not, with comments before Portugal's midweek international friendly with Ecuador revealing those troubled times are firmly behind him. "Yes, things have changed because I'm doing what I like, which is playing football, and I'm feeling great on the pitch and with my teammates," he said. "Perhaps I have also changed my mindset. Right now I feel better than back then."

He went to extreme lengths to deny his problems were money orientated, too, by saying, "I swear on my son's life that my sadness had nothing to do with money." That points to a more support-orientated problem being the issue for Madrid's top scorer. It's a viable option, with Ronaldo being a player who needs to be the centre of attention and who needs to be loved. He is just that at the Bernabeu, but with Lionel Messi clearing up awards left, right and centre, Ronaldo has not yet been crowned king in the world of football, and perhaps he did not feel those in power at Madrid were helping him achieve that.

It may be telling, then, that he has changed his mindset following Messi winning another Ballon d'Or award. Telling in the way that Ronaldo has been superb since Barcelona's Argentinian wizard claimed the world's top-gong last month. Seven goals in four matches since the turn of the year, a marker laid, albeit early, for next year's Ballon d'Or. His issues must be personal, and not with the team's well below-par performances given Madrid suffered its worst showing arguably under the guidance of Jose Mourinho in the defeat at Granada at the weekend, and given Los Blancos have handed the title on a plate to their Catalan rivals.

A happy Ronaldo is a focused Ronaldo. And a focused Ronaldo is a huge danger to any side that comes up against Madrid. His comments are timely, with Madrid due to face its biggest match of the season so far next Wednesday with the visit of Manchester United in the knockout stages of the Champions League. Watch out Sir Alex Ferguson. Ronaldo was delighted with the draw taking him back to Manchester, and you can be sure he'll be at the top of his game in both legs.

Watch out, too, Barcelona in the second leg of the Copa del Rey. Barca may be the favourites with the semifinal tied at 1-1 and the return leg being placed at the Camp Nou, but Ronaldo has been in good form in Catalonia in recent visits and he'll be relishing the chance to get one over on Barca, and Messi, in their own back yard.

It has been a good week all-round for Cristiano, with his 28th birthday on Tuesday coming a day before a goal in Portugal's friendly clash with Ecuador on Wednesday night. The match was 2-1 to the Portuguese at the time of writing. Elsewhere, Madrid midfielder Sami Khedira scored the winner as Germany beat France, and Madrid teammate Karim Benzema, 2-1, although there was no place on the pitch for Raphael Varane despite his recent impressive performances.

Gonzalo Higuain scored what turned out to be the decisive goal for Argentina in their 3-2 victory over Sweden, in a match that also saw Angel di Maria start. Sergio Ramos was the only Madrid man to feature in Spain's 3-1 victory over Uruguay.