Ozil absence highlights German's growing importance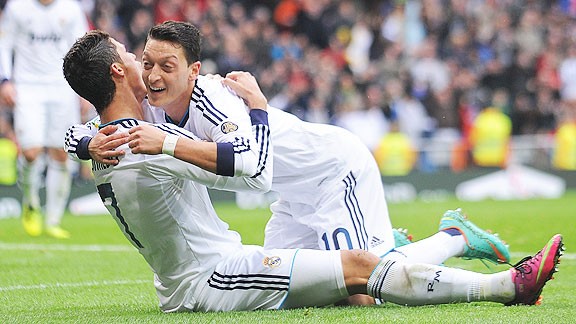 Denis Doyle/Getty ImagesWithout Mesut Ozil, right, Cristiano Ronaldo, left, and Real Madrid aren't as effective.
"Madrid hits rock bottom in Granada", screamed Marca. "All Madridistas are feeling wounded today," admitted Sergio Ramos. There were plenty of problems with Real Madrid's performance Saturday as they slumped to a 1-0 defeat against a Granada side occupying one of the relegation places in La Liga going into the game - problems that have followed Los Blancos throughout their inconsistent campaign so far. Problems that have been highlighted before, and will probably be highlighted again before the end of the season. Problems that Rob Train covered aptly in his post-match analysis.

For me, one problem was not with the players on the pitch in Andalusia, or the tactics implemented - although they did, clearly, come firmly into question - but the absence of one player. One who is fast gaining importance at the Santiago Bernabeu and whose absence at Granada made Madrid a much poorer team. Mesut Ozil.

-- Video: Mourinho takes blame for defeat

The German international was suspended (five yellow cards) for the trip to face El Grana, and boy did Los Blancos miss him. Cristiano Ronaldo may well be the club's talisman until the day he departs for pastures new, and his unavailability for any Madrid match is likely to grab the headlines more than any other absent absentee for Jose Mourinho (although Iker Casillas may beg to differ). Ozil, however, is catching him in the importance stakes (as well as, for my money, Xabi Alonso).

Ozil, an attacking midfielder, has improved season-upon-season since his transfer from Werder Bremen in the summer of 2010, so much so he is not the kind of player Mourinho can afford to leave out - certainly not this season. That decision was out of Mourinho's hands with Ozil sidelined through suspension at the weekend, but a Madrid team without Ozil is a Madrid team that struggles, especially in the creativity department.

Alarmingly, Madrid did not manage to test Granada goalkeeper Tono with a shot in anger until just before the hour mark. This a team including the likes of Ronaldo, Gonzalo Higuain, Angel di Maria and Luka Modric leading the attack against a side battling against relegation, although to be fair Granada's defence has not exactly been woeful this season.

Madrid's defence may be the target of grumbles this season, especially with the injuries they have accumulated this season, on top of suspensions (although they are the players' own making), but despite those problems Los Blancos have the joint-second best defence in La Liga, having conceded 21 goals so far in league matches, the same as Atletico and only one worse than Malaga. That's three better than runaway leaders Barcelona.

Ronaldo's own goal that was enough to give Granada all three points was unfortunate, if anything.

Instead, the attack should be in question. Ronaldo and Ozil can escape much of the blame, but Karim Benzema and Higuain have not got anywhere near the lethal partnership they struck up in rotation last season (see Benzema's poor attempt at levelling for Madrid at Granada), while di Maria has been well below par. Jose Callejon provides adequate cover, but that is all - good cover. Luka Modric has not made the impact all would have hoped when he arrived from Tottenham Hotspur - far from it.

The Croatian slotted in to replace Ozil at the weekend but continued his trend of seemingly working very hard and trying to make things work, but not really doing anything to unlock what was admittedly a stubborn and well-organized Granada defence. A lot of huff and puff, but not enough to blow Granada's house down.

It has been the story of the season for Modric, who has yet to really strike a chord with the rest of his teammates - he has not produced an assist in the 18 matches he has featured in so far this term, while chipping in with just one goal.

It will not have been easy for Modric to adjust to the move to Madrid. Being thrown in with Los Blancos already dropping points at an alarming rate at the start of the season - the pressure was on him from the off. The pace in La Liga is different than in the Premier League. So, too, is his status in the Madrid dressing room. No longer is he one of the bigger fishes in the pond, he's an average fish, at best. Maybe, too, a failure to try him and keep him in one position is costing Modric some good, consistent performances.

One hopes it is just a matter of time for the Croatian, that he will learn from his first season and improve in the second season, and that he is not another player who is chewed up and spat out at the Bernabeu after a year or so.

In contrast, Ozil has shone, carving out six assists from 21 matches and bagging four goals. In tough times for Madridistas this season, Ozil has been a joy to watch for the most part. He took a while to hit top gear, but he has finally hit it, and Madrid plod along in a lower gear without him on the pitch.

It is vital, then, to have the German fit and ready to go when Manchester United visit in the Champions League and Madrid makes the return visit to Barcelona for the Copa del Rey semifinal second leg at the Camp Nou. Defeats at Granada, although alarming, may not hit Madrid too hard with the league title already on its way to Catalonia, but Mourinho needs Ozil, as well as Ronaldo, to keep any hopes of a cup triumph, both in the King's Cup and Europe, firmly alive.

All this at a time El Mundo Deportivo has linked Ozil with a move back to his homeland with Bayern Munich and Pep Guardiola in the Bundesliga for next season. Ozil's stock is growing, both as a Madrid player and in world football, and he is going to be a crucial cog at the Bernabeu this season if Madrid is going to take anything from what is a season to forget, so far.