Clasico cracker swept Liga's woes under the red carpet
And so another transfer window slams shut. At least it slammed in some leagues. In Spain, it was more of a cat flap, through which an ailing beast on its last legs was ushered with a regretful prod of the backside.

Wednesday night's Clasico was a thumping, end-to-end affair that continued the recent trend of making the news based on the football produced instead of the dirty tricks of both sides and press room conspiracy theories fueled by the previous bad blood between the teams.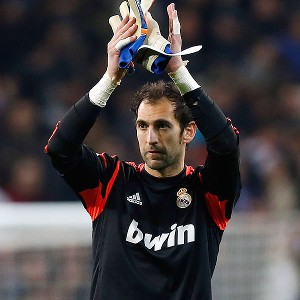 Helios de la Rubia/Real Madrid via Getty ImagesDiego Lopez played well Wednesday in his first game in goal for Real Madrid after moving from Sevilla. La Liga is reaching the point where only Real Madrid and Barcelona will be able to better themselves in the transfer market.
Carles Puyol has been rightly lauded in the Spanish media for defusing what could easily have become lighter-gate in a powder keg of an encounter that needs very little in the way of blue touch paper to set it alight. In another evenly matched encounter, Raphael Varane was elevated to the status of a true Real player in a wonderful performance amply covered by Nick Rigg Wednesday.

Neither Ronaldo nor Messi scored, the Argentinean failing again to add a Copa del Rey goal against Real to his laurels. The sides shook hands, there was little in the way of controversy and the Clasico once again lived up to its name.

This is probably a good thing after the bloodletting of the Champions League semifinals and other matches more memorable for gamesmanship than the game itself. Normally a Clasico will fill the pages of every newspaper in the Iberian peninsula.

But Thursday it was pushed down the scroll bar a little by further revelations about the Spanish government and alleged illegal payments made to top officials of the ruling Popular Party over almost two decades. The opposition has called for the head of the prime minister and early elections. The government has done all it can, really; deny everything, and wherever possible say nothing.

Meanwhile, David Beckham's unveiling at Paris Saint-Germain was the only news item to knock the political furore off the news tickers. Spain waited patiently for a similar coup, but none was forthcoming. The most interesting transfer between Liga clubs on deadline day was Diego Buanonotte's transfer from Malaga to Granada.

"I really believe in the project," he said rather unconvincingly as he pondered life in a relegation scrap instead of the Champions League. The biggest transfer to take place in La Liga remains that of Diego Lopez from Seville to Real. A decent bit of business for the capital club that cost it three million euros and was instantly repaid with a commanding performance by the goalkeeper in the Clasico.

Buried beneath the possible fall of the Spanish government, Beckham's Parisian charity drive (which is commendable) and whether or not Ronaldo avoided a yellow card in the Bernabeu because it is not in the interest of the Spanish league to stage a Clasico without the Portuguese and Leo Messi performing was possibly the most significant piece of unilateral soccer legislation ever attempted in Spain.

Without the iron fist of Michel Platini hovering over the table, the country's Higher Sports Council and Professional Football League unveiled new legislation that obliges Liga clubs to balance their books in order to sign players. In a nutshell, Liga clubs must submit their budgets for the 2013-14 season on April 30, and lay out their wage bills. If a club fails to prove that it is not running at a loss, the LFP will not allow the club to register new players. If a potential transfer target - let's say Loic Remy for example - would push a club's wages over its submitted estimate, the transfer will not go through.

Council honcho Miguel Cardenal said the new rules signify a "deep cultural change" that will "act as a tool to address some of the biggest problems facing Spanish football."

LFP chief José Luis Astiazarán added: "This is a system that goes beyond UEFA's Financial Fair Play."

Well, quite. But the fact that Spanish clubs spend beyond their means in order to compete with the big two is hardly news. Atletico owes the tax man around 250 million euros alone. Deportivo is in administration with debts of 93 million. Valencia has to sell its best player every summer to keep the electricity on and work on Nuevo Mestalla has been paralysed since 2009. Sevilla has no shirt sponsor and Atletico is currently sporting "Azerbaijan" on theirs. Levante's budget is around 12 million a season. Most Liga clubs don't have much more in the piggy bank than that.

Racing Santander, hijacked by Indian tycoon Ahsan Ali Syed - who turned out to be skint and has since vanished - is propping up Segunda. Hercules, whose major shareholder features in the corruption investigation known as Gürtel, intrinsically linked to the government's current woes, was recorded by investigators buying results in the team's promotion push two years ago; that, of course, was not a crime at the time. Viva España and all that. Hercules is second bottom. Both were Primera clubs at the turn of the decade and even the unlikely acquisition of David Trezeguet couldn't save Hercules. Under the new rules, such unions have been rendered impossible, for better or worse

Essentially, there are two solvent teams in Spain. No prizes for guessing which ones. The well-meaning initiative of the football authorities will likely have the effect of making La Liga even less competitive than it is now -- David and Goliath, with David's sling in the pawn shop.

By the terms of the new regulation, barely any Spanish team other than Real or Barcelona will be able to sign any players next summer. Meanwhile, the big two hoover up most of the television revenue between them and thus can afford to pay the best players to represent them.

If this window closed with an apologetic creak, the next one is going to be stuck fast. It isn't a pretty picture, but Spain hasn't painted many of them since Picasso died. A two-horse race just became a monopoly, It is as well the Clasicos are good these days. Real and Barcelona might be in a literal league of their own soon.