Ronaldo treble lifts bad mood in Madrid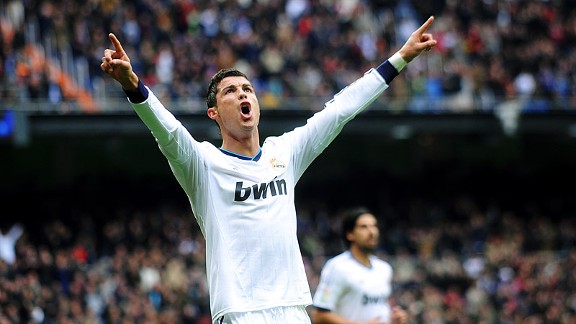 Denis Doyle/Getty ImagesCristiano Ronaldo's sublime performance vs. Getafe was just what Real needed.
There may be plenty of problems at the Santiago Bernabeu this season but Cristiano Ronaldo is not one of them.

The Portuguese has been a beast of a player on the pitch for Real Madrid ever since his arrival but Madrid's talisman and top-scorer has also had his fair share of off-the-pitch problems, not least the "unhappiness" he made us all aware of earlier in the season. Not now, mercifully, despite the club's Problem-O-Meter well in the red following a week of drama and turmoil in the Spanish capital.

A torrid week (off the pitch at least) ended with Los Blancos bossing near-neighbours Getafe and, eventually, cruising to a 4-0 win to maintain their unbeaten start to 2013. Ronaldo bagged three of them, all within ten minutes, as he maintained his personal superb start to the year and continued to lead the chase for this year's Ballon d'Or, no matter how early he is staking his claim.

All in all, it was just what the doctor ordered. Thursday's press conference saw president Florentino Perez slam a report in Spanish sports daily newspaper Marca claiming that captain Iker Casillas and assistant captain Sergio Ramos had all but put forward an ultimatum: the manager goes or we go, a claim emphatically denied by Perez in a rare conversation with the media. The timing couldn't have been worse; a big mess just days before the huge Copa del Rey semifinal tie against Barcelona and weeks before Madrid's Champions League tie with Manchester United.

More: Perez flexes rare muscles vs. the media

Early on, it looked like the problems of the past few days were going to continue against a Getafe side well out-of-form and who had beaten their bigger neighbours in the reverse fixture earlier this season. A 0-0 stalemate at half-time, Madrid showed their Jekyll and Hyde form to run their visitors ragged in the second half with Ronaldo right at the heart of it.

The early kick off time may have been an excuse for a lacklustre first half showing, with the 12 noon kick off perhaps being a sign of Madrid, on-top of Jose Mourinho's words, firmly handing the title over to Barcelona. It's not a time the club would usually agree to. Los Blancos created their fair share of chances with Ronaldo seeing a powerful, low free-kick saved well by Miguel Moya and having another effort thwarted after 21 minutes. Angel di Maria also had a shot deflected wide.

But Madrid were lethargic, not helped by the absence of key men. Wednesday's Copa clash with the Catalans was certainly at the front of Mourinho's mind and Sunday's game was probably one Madrid could have done without. The gap between Real and Barca means La Liga is third on Madrid's importance list with the Champions League taking priority and the Cope del Rey comfortably in second, especially with a Clasico to come. The absence of midfield duo Xabi Alonso and Sami Khedira was especially apparent while Raphael Varane, Karim Benzema and Alvaro Arbeloa missed out on starts. That Ricardo Carvalho started the match was probably enough to show that Madrid's focus was firmly on Barca.

It was Khedira's introduction for the second half that helped spark Madrid into life. While Luka Modric and Michael Essien in the centre didn't exactly have bad games, the pair could not conduct the Madrid attacks like Alonso and Khedira. The German has been arguably Madrid's best player since the winter break, alongside Ronaldo, and he certainly showed why. As well as pushing Los Blancos forward, his introduction also meant Modric stayed further back and as a result, his passing improved with more of the pitch ahead of him and more time on the ball. Overall, Madrid improved.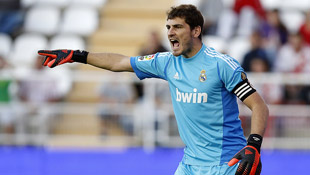 Angel Martinez/Getty ImagesWith Iker Casillas now sidelined due to injury, much attention will be given to his replacements Antonio Adan and new signing Diego Lopez.

Khedira may have been the instigator but Ronaldo was the tormentor. A hat-trick, his nineteenth in a Real Madrid shirt, and a perfect one at that. His first was a left-footed effort from a typical Madrid counter-attack, the impressive Mesut Ozil producing a perfectly weighted assist. His second, a towering header at the far post and his third from the penalty spot following a foul on Modric inside the box. Sergio Ramos, returning from suspension, opened the scoring for Los Blancos when he capitalised on an error from Moya to poke his side ahead from a corner. Strangely, the Spanish international will sit out Wednesday's Copa game when he completes the five-match ban he was handed. It all boils down to Ramos needing to serve the final of his five games in the cup.

For once, the man between the sticks was not really an issue. Antonio Adan started given that Iker Casillas is out for two to three months with a hand injury, but he had little to do. The things he had to do, he did well. New signing Diego Lopez was named on the bench but it's hard to see who Mourinho will go with on Wednesday night, and for the immediate future with Casillas sidelined. Adan was preferred to Casillas around the winter break and did little wrong against Getafe. The defence knows him well, and he knows the defence. Lopez, although second choice at Sevilla, is unlikely to move away to play third choice at Madrid, but it could be seen as a risk to throw him straight in against Barcelona. We wait with interest to see how that one pans out.

Attentions now turn to Barcelona and Madrid's star man could not be going into the game in better form. A hat-trick, a victory and a standing ovation from the Madrid faithful when he was substituted with 20 minutes to go. The Portuguese star doesn't usually see the substitutes' bench at that time in a match but it was a good piece of management by Mourinho: Preserve Ronaldo's energy levels and give his morale a boost, if three goals weren't enough, by allowing the Bernabeu to applaud their idol and sing pro-Ballon d'Or songs towards him. All this with Ronaldo's mother and son sitting in the stands.

Follow Nicholas on Twitter @nicholasrigg