Would a captaincy ensure Ronaldo sees out career in Madrid?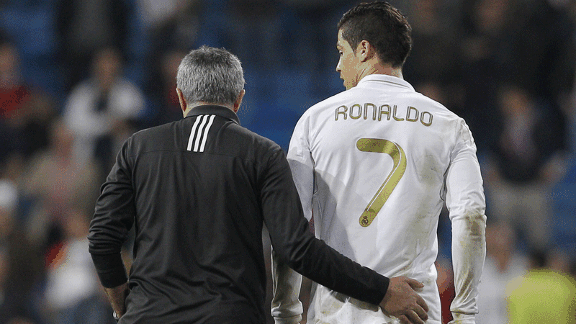 PA PhotosJose Mourinho worked with Cristiano Ronaldo for three seasons and would know what buttons to press... if he wanted to.
Cristiano Ronaldo's announcement during the week that he will remain at Real Madrid and see out his contract should have eased fans' concerns about the immediate future of its talisman and on-field saviour.

- Albiol: No Ronaldo-Jose spat

Reports had been rife that Ronaldo was itching for a return to the Premier League - possibly even back to the bosom of Old Trafford and mentor Sir Alex Ferguson - but the No. 7 scotched such rumours with a brief statement: "I want to see out my contract at Real Madrid. I'm very clear about that. After that, well, I don't know what'll happen in the future."

Ronaldo's current deal runs until June 30, 2015. His current market value, according to the excellent transfermarkt.com, is a cool €100 million. By the time summer rolls around in two years' time, Ronaldo will be 30-years-old so any potential suitors could shave about half that amount off any transfer fee. Football moves pretty fast, to paraphrase Ferris Bueller.

Ronaldo moves pretty fast as well. Against Atletico Madrid in the derby last month, the Portuguese flyer covered 96 meters in 10 seconds. In football boots. While keeping his eye on the movement of team-mates and the ball.



Much of Ronaldo's advantage over opponents stems from this speed, his balance and his awareness. But he is much more to Real Madrid than just an after-burner and a keen eye for goal. In the past couple of seasons Ronaldo has been one of Real's leaders, both on the field and off it. If Real wants to hang on to the world's most expensive player, it needs to do more than wave the chequebook under his nose.

And there is no reason why at 30, Ronaldo cannot still contribute the number of goals he currently does. Just move him into the middle again. Real would save a fortune on buying in a replacement, and keep one of the deadliest goalscorers in the world firmly on its own side. Losing half a yard of pace never did Raul's strike rate any harm after all.

It's impossible to foresee whether Real will have achieved its Holy Grail of a tenth European Cup in two and a half seasons' time but having Ronaldo line up for another team certainly won't help if it hasn't. Since 2002 the combined talents of Raul, Zidane, Figo, Ronaldo, Beckham, Owen, Van Nistelrooy and Thomas Gravesen have failed to deliver the feted Decima. (Gravesen is only half a joke: the 'combative' Dane was supposed to be answer to the Makelele problem. He wasn't).

That's why reports in Spain before Ronaldo's announcement this week that Real is planning something a little shinier make sense. The 'sadness' the winger spoke of early in the season, and displayed for the world to see against Granada, wasn't just over his financial situation. According to Forbes, Ronaldo is the second highest-paid player in the world in terms of salary, behind Beckham. He is the second richest footballer in the world, also deferring only to the former England captain, overall. He earns a few euros more than Leo Messi in wages and trumps his Ballon d'Or hogging rival in endorsements as well. Money alone cannot but Ronaldo's love.

But a captaincy probably can. The only problem is Real's hierarchical system, amusingly displayed during Real's dead Champions League rubber against Ajax. Jose Rodriguez entered the fray for Kaka, took the bracelet from the Brazilian, and gave it to Ricardo Carvalho to hand to Antonio Adan. Jose Mourinho explained after the game: "According to Real Madrid's philosophy, the captain should be the player that has spent the longest time at the club," he told the media. "Kaka arrived two weeks before Cristiano Ronaldo, so I made him captain, and when he came off, the longest serving player was Pepe. Perhaps Nacho thought that it was Adan and that caused the confusion. There is no problem with captains here."

Under this system, Casillas is the undisputed first captain. Sergio Ramos is his deputy and then come Pepe and Marcelo. Ronaldo is sixth in the pecking order after Kaka, although it seems the Brazilian will be back in Milan before too long.

Ronaldo started a match as captain for the first time (excluding friendlies) against Real Sociedad. His performance, and those he inspired from team-mates, suggests he should do so more often. Casillas, rightly or wrongly, is the latest player to find himself under Mourinho's gimlet eye. Ramos, who holds the record for red cards at Real Madrid and is currently under a five-match suspension, is perhaps not the ideal role model for the cantera. In any case, all three are almost guaranteed to outlast Mourinho at Real.

Whether or not Ronaldo will remain after 2015 is a wider question. It also one Real could go some way to manipulating the answer to by creating a captaincy for Ronaldo regardless of whoever may, or may not leave the club.

Marca is Real's usual conduit to gauge the fans' opinions. A poll on a change to the captaincy would be informative. Casillas, Ramos and Ronaldo are the team's three leaders in action anyway, if not in name.

No non-Spaniard has ever permanently captained Real Madrid. Giving Ronaldo the possibility to do so could be more valuable to both parties than money in the long run.