Next move crucial for Kaka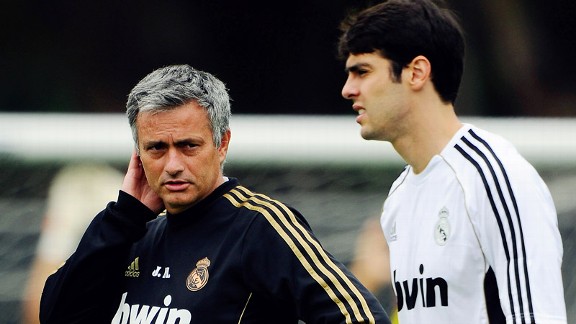 Kevork Djansezian/Getty ImagesKaka, right, seems to be near the end of his uneasy relationship with Real Madrid manager Jose Mourinho
Ricardo Izecson dos Santos Leite should probably be in the midst of his peak years in the beautiful game now. Kaka, the former Ballon d'Or and FIFA World Player of the Year winner not so long ago, had it all on his arrival at the Santiago Bernabeu. He was set for the top, if he wasn't there already. Now the Brazilian, age 30, is scrambling around trying to find a suitable stage to showcase his talents on a regular basis before they dwindle away.

Jose Mourinho does not want him in the Spanish capital. Real Madrid, who paid almost 70 million euros for his services less than four years ago, does not want him in La Liga. For some time, it has been painfully obvious the Gama-born star is surplus to requirements with Los Blancos. He needs a move away and he needs a move to a club that will allow him to prove he is not a washed-up has-been in the latter stages of his career. For that, he certainly is not.

The transfer window is open and the rumours are circulating. Former club AC Milan has been linked with taking the attacker back to Serie A; a move back to his homeland has also been muted. Both destinations have been loveable homes of the player. Brazil, naturally, and Milan where he took his talents right to the top, winning the Champions League, Scudetto and a whole host of individual accolades during his time at the San Siro.

Milan seems the likely destination; the only problem is money. That is the sticking point when it comes to Kaka's future. He signed a big-wage six-year deal with Madrid in 2009 and while they are desperate to get the player off their wage bill, they also want to recoup some of the cash they forked out for him in both the initial signing fee and wages.

While a huge cut in the transfer fee they paid for him is a given, however, finding a club who will suit its and Kaka's wages is another thing entirely. "Kaka is impossible," said Milan chief executive and vice president Adriano Galliani. "His wages are the problem. I'd say it is 99.9 per cent unlikely to happen." While Madrid and Kaka's suitors may agree on a signing fee - Kaka still has two years to run on his Blancos deal - the player would have to take a huge cut to move.

He seems happy to do that. "My situation at Real Madrid is an unhappy one - for me and for others," he told Sky Sport 24, of Italy. He added: "I have already said I'm open to find a solution. In Milan, I had many beautiful moments and still have friends here. I [have] already said I'm open to find a solution with Real, and it it's good for me it's good for everyone."

I certainly hope he finds a solution, and in this transfer window. Kaka has enjoyed a good payday at the Bernabeu, if not a happy few years on the pitch. At 30, he still has the quality and he still has a few years to remind people just what made him the best player in the world, and just what made Madrid almost break the bank for his signature. He has shown it in even the briefest appearances for Madrid this term - the mind casts back to both Champions League matches against Ajax, which Madrid won 4-1 on both occasions thanks to a starring role from the Brazilian. The home leg brought his only goal of the season.

Kaka should have made it at the Bernabeu. He arrived at the very top of his game, at the top of the world. Individual brilliance aside, he was known for playing a part in fast, lethal counter-attacking football with Milan and that type of football would have, and should have, suited Mourinho's Madrid down to the ground. Milan are, of course, no minnows, but Madrid is a beast of a club that can take in, chew up and spit out even the greatest of players. Kaka, to an extent, has experienced that chewing and is probably about to experience the spitting too.

An early - very early - sign of any potential problems during what were meant to be six glorious years in Spain arrived just days after he did. They arrived in the form of Cristiano Ronaldo. With Florentino Perez's 'Galactico' era seemingly back in full swing, Kaka was meant to be the one for the summer of 2009, or at least he thought so. Enter Ronaldo. Not that the pair had any kind of clashes, far from it. But the Portuguese was always going to be the very first name down on the team sheet, he was always going to be the one - despite recent protests - who was cherished and loved by the Madrid hierarchy.

Kaka is not the kind of self-centred player you will find elsewhere, without naming names. But at Milan he flourished as the side's centre piece. He did well in his early years at the San Siro but he truly found his top form when Andriy Shevchenko left the club for Chelsea and he became the focal point of the Italians' forward play. Kaka went from strength to strength. Not so at the Bernabeu.

Injuries did not help. After his first season Mourinho came in and Kaka was sidelined. He returned after the winter break of the 2010-11 campaign and played plenty of games, but never really nailed down a starting spot. It was always going to be so with Mourinho employing a rotation system for many of his players. His games reduced as the months, and seasons, went on until just about a total blackout from the side this season. Was it form? Was it money, a need for Madrid to get Kaka out of the club? Probably both.

His time at Madrid is up and it should have probably been up earlier for the good of the Brazilian's career. His next move will probably be his last big one and he needs it to be the right one, for his sake. He needs to accept a big drop in wages and he needs to show the world his skills once again. Who knows, his next move could determine just whether he plays any part in his country's home World Cup in 2014. A way to bow, at the top of his game at least, in the style it should deserve.