Ballons to that: Ronaldo sinks Celta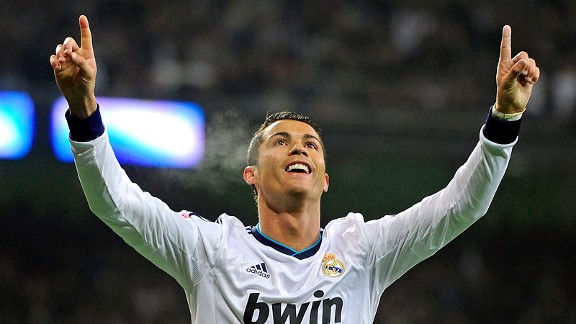 Dominique Faget/AFP/Getty ImagesA superb Cristiano Ronaldo was on full display Wednesday night as he bagged a hat trick against Celta.
"Cristiano, you deserve the Ballon d'Or" read a banner at the Bernabeu on Wednesday night.

There is little doubt the statement is true. To an extent. Ronaldo has been unlucky to find himself in the Leo Messi era. If it were not for the Argentinean, Ronaldo would be hoovering up Ballons d'Or like a whale shark. Unfortunately for the Real forward, there is a bigger fish in the pond of world football.

- Match report: Real Madrid 4-0 Celta
- Ferguson lauds 'complete' Ronaldo

A lesser player might have been deflated by another snub at the self-serving FIFA gala. The World XI was a joke; the finalists for the top prize barely raised a smile between them. If looks could kill, Andres Iniesta's dead-eyed response to the vote would have made a right mess of Messi.

Ronaldo's response? A thumping hat trick against Celta Vigo in the cup.

While Messi is lauded as a team player for appearing against the likes of Cordoba, Ronaldo is the leader of this Real side, if not in name, then certainly in numbers.

With a 1-2 deficit to be redressed at the Bernabeu, Real needed a leader. It found one in Ronaldo. Two early goals steadied the home side's nerves, and a late third settled the matter. A virtuoso performance from Luka Modric took little shine off the performance of the main attraction.

Real is extremely lucky to have Ronaldo. Reports linking the Portugal captain with Paris Saint-Germain might be fanciful on the part of the Parisian club, but nights like this serve to reinforce team spirit at the Bernabeu.

Modric had a great game. Sergio Ramos was able to absorb his latest sending off with a typical Andalusian "cheeky bastard" gesture as he left the field.

Ronaldo was able to smile wryly as a perfectly good goal was disallowed for offside. When he was hacked down a minute later, Jose Mourinho grabbed a ball and hoofed it inexpertly into a hoarding. The circle was complete.

Celta pressed when freshly minted Spain international Iago Aspas was thrown into the fray in the second half, but the luck of the home side held. Ramos added to his haul of reds at Real late on, in a slightly harsh decision. The Spain defender will be absent for the first leg of the quarterfinal against Valencia.

A potential last-four date with Barcelona beckons if Valencia is put to bed. It's a last-four final, if it gets that far.

Ronaldo may not have won the top prize this year, but there's no doubt that either the Portuguese or his Argentinean rival would swap the largely pointless gong for something more meaningful, like a World Cup. We'll have to wait until 2014 for that, so in the meantime let's just enjoy the two finest players the game boasts for what they are.

It will be a lifetime until we see their like again. If George Best had been Argentinean ...