Welcome break gives Madrid clean(ish) slate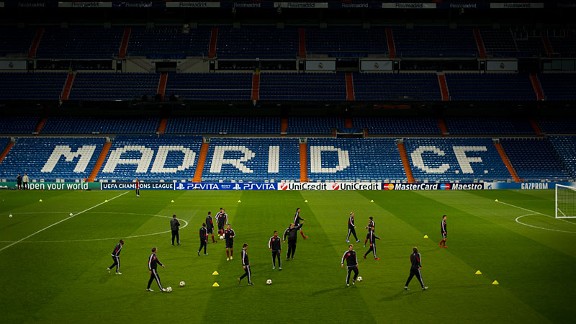 GettyImagesReal Madrid are back in training for the resumption of La Liga
It may be hard for Real Madrid to completely forget the problems that troubled them in the first half of the La Liga season, but that's exactly what they - the players, coaching staff and fans - have to do if they are to salvage anything from their 2012-13 campaign, which resumes on Sunday against Real Sociedad at the Bernabeu.

While the fortnight without a competitive match gives players and teams the chance to rest and recuperate ahead of entering the "business end" of the season, it also gives the chance for a bit of a line to be drawn under the first half of the campaign. A clean slate, if you like - and if teams want it. Madrid certainly do.

The first five months of the season have been riddled with problems for Madrid, Jose Mourinho and his players. Retaining their La Liga title looks near-on impossible after slumping 16 points behind Barcelona, while their Copa del Rey hopes remain in the balance (Los Blancos trail 2-1 against Celta Viga going into their second leg clash next month) and in-fighting between players and the coaching staff have left Mourinho's future at the club in doubt. Some of those problems may well be sorted out, some will be in the process of being sorted out and some never will. Madrid are probably glad for this winter break more than most in recent seasons - it's the chance for them to almost start over a fresh going into the new year.

It certainly looked that way when the players returned to training on Sunday at the Alfredo di Stefano stadium in front of almost 7,000 season ticket holders who packed into the stands. The session had very much a pre-season feel to it, with Mourinho ordering an open training session for Madrid's fans to attend, to watch their stars and to get autographs. President Florentino Perez was in attendance, too.

The vibe was not of a team struggling, relatively, it was a vibe of positivity, of excitement and, from the club's point of view, a transparency and a sign of "togetherness", a "togetherness" the club has been lacking in recent months and that it will need if it is to add any kind of silverware to the Bernabeu trophy cabinet come the end of the campaign.

The only real reminder of Madrid's problems came through chants of "Iker, Iker, Iker" from the Madridistas in attendance. It was, however, hard to forget Mourinho's much talked about dropping of Casillas (Saint Iker was dropped for a league game for technical reasons for the first time in a decade) in the defeat at Malaga - Madrid's last match. The training session was the first time Casillas, and indeed Mourinho, had been out on a pitch since that loss at La Rosaleda.

Madrid's players, and indeed its coaching staff, needed to get away from the hustle and bustle of day-to-day club life. Ask anyone who has ever been involved with Real Madrid and they will tell you it is a 24 hour-a-day, energy-sapping experience. When things are going well, life is great. When things aren't going too well, life is not so rosy. The nice little pay packets help, of course, but life as an employee of Real Madrid is all-encompassing life, and on recent form, a festive break with friends and family probably came at just the right time for Mourinho's out-of-sorts squad.

The two-week winter break (the break is shorter than some other European leagues but at least there is a break - just as England's Premier League) gives players the chance to completely forget about football, for a week at least, and enjoy the Christmas period with their friends and family. One week off (although players obviously have to look after themselves) and then a return to training for a full week's preparation ahead of a swift return to Liga action. In modern day football, a week "off" is a long time.

Madridistas will also be hoping the break gave their stars the chance to completely forget about the problems that suffocated their form in the final months of 2012. A return to work fresh from the poor form, fresh from the defeat at Malaga, and fresh from the personal problems that has derailed the season. There is still plenty to play for - the Copa del Rey and a tenth Champions League crown that would probably cloud all of this season's problems and see Mourinho, probably, leave the club on a high.

Madrid-based Sports daily Marca said president Perez "has been trying everything he can to ensure that the relationship between the coaching staff and the playing squad doesn't sour", and the open session on Sunday was a way to start the second half of the season in just that manner. He will be hoping a victory, and a performance to match against Sociedad on Sunday, repairs that soured relationship even further.