Does Real need to strengthen in January?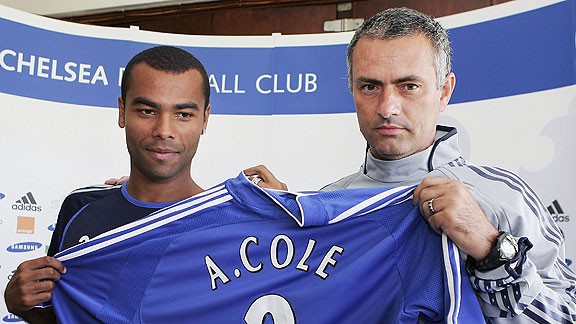 Julian Finney/Getty ImagesWould Jose Mourinho consider putting a Real shirt on Ashley Cole?
January is just around the corner and that, of course, means that the transfer rumour ticker is working at a rate to give several clubs a heart attack. Jose Mourinho has said Real Madrid is unlikely to do much business in the upcoming window, which is hardly surprising given that the manager's tenure at the Bernabeu seems equally unlikely to last much beyond May.

But Real have hardly been a shadow of the side that swept to the league title last season and Mourinho has lacked cover in defense and up front with injuries playing a significant though not decisive part in the champion slumping to a 16-point deficit behind leader Barcelona.

Long-term replacements are not much of a requirement at the club, just yet as the average age of the first-team squad is 26. However, of the 27 players who constitute Mourinho's pool of talent, five are canteranos, two are reserve goalkeepers (more on that in a minute) and one is Ricardo Carvalho, a warhorse whose trip to the glue factory is all but assured after making just four appearances all season, in the Cup and a dead Champions League rubber against Ajax.

Add Raul Albiol (five competitive starts) and Kaka (four) to the list and Real's options are even more limited under the current state of Mourinho's nation of Portugal. This might need to be addressed in January with injuries taking their toll and the small matter of Manchester United rapidly approaching. Unless the Special One fancies fielding Michael Essien at left back, as he was forced to do against Malaga, or trusting Alvaro Morata to provide the goals to fire Real to its tenth European triumph if Gonzalo Higuain and Karim Benzema are unavailable.

Here are a few areas where Real may be tempted to do business if the right player becomes available.

The back: Assuming Mourinho dropped Iker Casillas as a power statement rather than through genuine concern over the number 1's form, Real won't be in the market for a 'keeper although the Portuguese has had a tentative look around for someone to challenge for his captain's place, with Atletico's Chelsea-owned stopper Thibaut Courtois drawing admiring eyes. However, I'd be pretty happy betting my internal organs against a ten-quid Amazon voucher that Antonio Adan won't start in the season-definer against United.

The rest of the defense is a bit more of a worry. Both Marcelo and Fabio Coentrao are lung-bursting runners who cover their defensive duties well and offer plenty going forward. But both are currently knackered and Coentrao a little injury-prone. They are expected to return from their current knocks in mid-January but Ashley Cole's contract situation might be of interest to his old boss.

The England left back is free to speak to foreign clubs from January 1 over a pre-contract agreement, but an early Mourinho move for his erstwhile charge to ward off interest from Premier League teams and the voracious owners of PSG wouldn't be the craziest thing to happen in football, even if he would be cup-tied against United. Talk of a package being prepared to persuade Tottenham to part with Gareth Bale is rife, and probably well-founded, but a little premature. Another option is Lille's Lucan Digne, but the canny French club got the 19-year-old to sign a new deal a couple of weeks ago.

In the middle, Real could do with a bit of back up as well. Albiol clearly doesn't have his coach's full confidence and Carvalho even less so, leaving Raphael Varane as Mourinho's only viable option should Pepe or Sergio Ramos be sidelined. At 19, Varane is hardly the finished article but has made four Champions League starts, looking comfortable enough. And if Zinedine Zidane says he's the real deal, that should be good enough for the rest of us. Still, Ryan Shawcross' contract impasse at Stoke warrants a closer look. Especially as the Potters seem to win when he's in, and lose when he's not. And the thought of Raphael Varane facing Robin van Persie is not a happy one for Real fans.

Midfield: Real's strongest area without a doubt, when all its components are fit. There is little that could be done to improve what Mourinho has already got when 4-2-3-1 is the chosen formation. Xabi Alonso and Sami Khedira complement each other perfectly and Mourinho must ensure the pair reach the February date with United in full health. Wesley Sneijder's situation at Inter -- and a reputed price tag of as little as eight million euros - is enough to make any manager sit up and beg like a dog, but the Dutchman's wages of 200,000 euros a week is a little rich for a potential bench-warmer.

What Real could possibly do with, not only in light of the demands of the Champions League but also as something a little different for domestic concerns, is a box-to-box midfielder. These are relatively few and far between in La Liga but how Real could have done with a scruff-of-the-neck plan B pugilist this season. Frank Lampard is an obvious mention, considering he appears to be on Roman Abramovich's to-get-rid of list, and the veteran has been in fine form in recent games but like Cole would not be able to face United.

But for something a little different, and a haircut to match, Everton midfielder Marouane Fellaini would be an interesting addition to Real's well-stocked midfield.

Up top: When Benzema and Higuain are fit, Real possesses two of the finest forwards in the world game. More important, in the the most pouting, preening and guitar-smashing area of any soccer ensemble, they seem happy enough to rotate. The problem when they aren't fit is that Real has nothing but Alvaro Morata in reserve.

The canterano looks like he has the stuff to follow Jose Callejon's lead and make it as a first-team regular but like the Motril-born winger he will probably have to seek regular playing time elsewhere before being invited back into the fold.

Enter Fernando Llorente. The Bilbao frontman has been frozen out at San Mames and was courted by Real after the 2010 World Cup. The Bernabeu outfit balked at Athletic's 30-million plus valuation then, but it would be interesting to see what the Basque club would consider a fair price in January for a player whose contract is up this summer. It's unfortunate for Real that Athletic's stringent player policy means the only make-weight they could offer in any player-plus-cash package is Xabi Alonso.