Real Madrid half-term report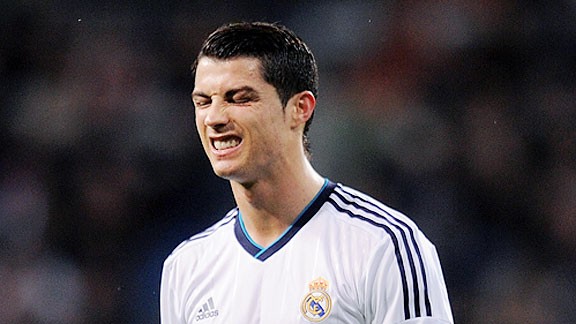 Denis Doyle/Getty ImagesCristiano Ronaldo: Best of a mediocre bunch
With the La Liga winter break putting Madridistas' woes on hold, for two weeks at least, it is probably the best time for an assessment so far. A half-term report, if you like (even though the season is not yet at its exact halfway point). An assessment which, even before putting pen-to-paper (or fingers to keys), I know is going to make grim reading. Or happy reading, if you happen to be a fan of Barcelona or Atletico Madrid, who look like being the top two come the end of the campaign unless Jose Mourinho and his men get their act together.

Much has been said about the plight of Los Blancos so far this season, here and elsewhere, so there is little need to go in-depth over Madrid's problems. In-fighting in the dressing room between players and coaches, problems over contract negotiations and injuries have all helped cause Madrid's pain this season. Barcelona have got even better under Tito Vilanova, and Atletico Madrid have got better too under Diego Simeone, acting to heap more pressure on Mourinho and his men. All this, along with the fact Madrid were always going to find it difficult to match the record-breaking heights of last season, have caused Madrid's downfall.

What about on an individual basis, though? Collectively, Madrid has failed so far. But how about individual performances? Has there been a blanket reduction in player performances individually this season? Or have some players come out of the first half of the season somewhat better than their teammates?

I expect everyone will have their different opinions on how well players have done so far in the famous white shirt. That's the beauty of the comments section below - let me know how you think Madrid's players have got on this season, in a score out of ten. The numbers will be low - Madridistas will be hoping come the full-term report they are much improved. Here is how I think Madrid's main performers have got on so far.

Iker Casillas - 6/10. Casillas has been below-par, that is for sure - but only below-par to his own world-class standards, hence the middle-of-the-road score. For me, he didn't do enough wrong (and Adan didn't do enough right) to warrant being dropped against Malaga. Madrid's defence has been a mess this season, and Casillas will take his share of the blame, especially looking suspect from set-pieces. Much room for improvement after the break, but will Mourinho give him the games?

Cristiano Ronaldo - 8/10. Again, some will undoubtedly score him lower, but for me he has been Madrid's best player over the last month or so at a time Los Blancos have needed him most. Had he continued in the same form of the start of the season, with his reported "sadness", his score may have been around the 6/10 mark, but he's pulled Madrid through in plenty of matches recently - notably El Derbi. Madrid's top-scorer with 14 league goals - but from 124 shots, more than three times as many as any of his teammates.

Sergio Ramos - 7/10. Ramos is one of the Madrid stars who have seemingly fallen out with Mourinho this season, and his form has suffered slightly. It hasn't helped that he's played in all four positions across the defence - he needs to be settled alongside Pepe in the centre as last season's sparkling form suggests. The only other Madrid player to start all 17 Liga matches.

Pepe - 7/10. Shock horror, Pepe has yet to get a red card in La Liga this season. He doesn't even have the most yellow cards - that honours goes to Xabi Alonso with six. Pepe had an impressive Euro 2012 and continued that form somewhat into the new season. As with Madrid's defence has a whole, has struggled with set-pieces and communication with Casillas.

Mesut Ozil - 8/10. Worrying signs at the start of the season with the German failing to show much of last season's top-class performances, but Ozil has improved as the season has continued. Maybe it was all down to the hair cut. Luka Modric has come in but Ozil has still started 15 Liga matches and has chipped in with 4 goals from 16 shots at goal. He has also provided three assists and Madridistas will hope he continues to improve to hit the levels of last season in the second half of the campaign.

Xabi Alonso - 7/10. Mr Reliable has got a reliable score of 7 from me. Alonso is the most booked Madrid player with six cautions so far, something that can't have been helped with Sami Khedira not featuring alongside him week-in, week-out. Alonso has suffered somewhat from having numerous new partners in the central of the park but that's through no fault of his own.

Alvaro Arbeloa - 6/10. He's looked good at right-back, but has been played out of position too many times at left-back and has been caught out a number of times, notably in the cup match at Malaga when he was caught ball-watching for a goal. Again, that's through no fault of his own, and the Spanish international should improve with consistent performances on the right when Marcelo, and indeed Coentrao, are fully fit.

Angel di Maria - 5/10. Some may feel it's a harsh score, but di Maria has been my biggest disappointment of the season so far. He was fantastic in the first half of last season right up to his injury, and I genuinely believed the Argentine could have been Madrid's player of the year this season had he reached last season's levels on a consistent basis. He has given us reminders of his ability but the occasions have been too few.

Sami Khedira - 8/10. If anyone seems to have shown improvements from last season, for me it seems to be Khedira. He still provides a strong presence in the middle of the park for Los Blancos but has added some attacking threat, too this season - chipping in with a goal and an assist. He's only started nine league matches, and that may be a big factor in Madrid's struggles.

Karim Benzema - 7/10. A tough one to call for me, so I've opted for the coward's way out and gone for a seven. Clearly not anywhere near last season's standards, the Frenchman has started eight league matches but still notched four goals and is actually top of the assists chart for Los Blancos. Injuries to both he and strike partner Gonzalo Higuain have meant the duo haven't been able to pair up for the lethal attacking show of last season. His superb goal against Ajax has been a highlight.

Luka Modric - 6/10. It was always going to prove difficult for Modric to slot in to a team that's in crisis, and so it has proved. Should he stay as part of Madrid's midfield two or should he play wide, or behind the front man? That has been the problem for Mourinho and so far he doesn't seem to have the answer. He has shown signs of his form with Spurs but has yet to really win over the Madrid faithful.

Gonzalo Higuain - 7/10. Another big miss for Madrid through injury, the Argentine has bagged seven goals in as many starts for Madrid so far and also notched up two assists. Los Blancos will need him and Benzema fit and firing for their quest for La Decima.

Fabio Coentrao - 6/10. The only man to be sent-off for Madrid in La Liga this season, despite playing only six matches. Some may feel a 6/10 is harsh on the Portuguese, but in the matches he has played in he has suffered problems. An apparent fall out between him and Madrid's physic will probably not help his form going forward.

Marcelo - 7/10. Probably Madrid's biggest miss the season. He started the season quiet well, but injury whilst on international duty has seen the Brazilian sidelined since - he's due to return in the new year. He has faults defensively, but he often more than makes up for any errors with his attacking play. Replacements have struggled to plug the gap left by him whilst he's on the treatment table.

Michael Essien - 7/10. Essien is not going to hit the heights of his previous Chelsea days owing to injuries, but he has 'done a job' for Madrid since his arrival, filling in in midfield and in defence. He is not a left-back, and he had his worst game there, but has offered Madrid that bit more than Modric, who arrived at the Bernabeu at the same time.

Jose Callejon - 8/10. Probably another controversial one but for me Callejon is the most under-used and under-rated player in Madrid's squad this season. He has only started five Liga matches, coming off the bench on nine occasions, but has provided three assists and chipped in with a goal, too. He's also featured in the Champions League and Copa del Rey and has always performed when called-up. Seemingly heading for the back-up role, Callejon is not a bad back-up to have.

Raphael Varane - 7/10. Done little wrong, other than be within a Madrid defence that has collectively struggled, if anything Varane has shown plenty of signs of promise as a big player for the future, who can cut it now when called on.

Kaka - 7/10. If reports are to be believed the Brazilian is heading for pastures new when the January transfer window opens, but when he has been called on this season he has impressed in bursts, showing signs of the Kaka of old - especially in the away Champions League match at Ajax. Perhaps a player who, although not in the long-term plans, should have been used a bit more.