If Mourinho leaves, who could replace him?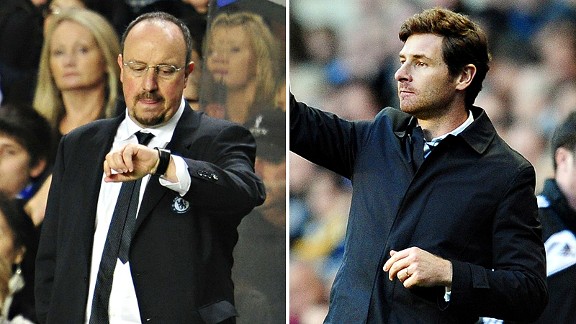 Getty ImagesRafa Benitez, left, and Andre Villas-Boas, right, are likely to be among the candidates to manage Real Madrid should Jose Mourinho depart
Jose Mourinho is under fire at the Bernabeu, to say the least. Not quite fire and brimstone, end of the world, "Deep Impact"-type of fire, but a pretty nasty hailstorm nonetheless. And hail could easily be replaced with another word.

When Mourinho dropped Iker Casillas at the weekend, the hail hit the fan at the Bernabeu.

There are some things you just don't touch as manager of Real Madrid. The club's much-vaunted señor status, so protectively monitored by Florentino Perez, is one of them. But that didn't stop Mourinho from launching his "13 refereeing errors" stunt after Real beat Sevilla by a goal in the Bernabeu just over a year ago.

The message was clear: Mourinho had complained consistently that he had to defend his players and that he was not receiving any support at the institutional level. Hardly surprising when the man a rung above him on the organigram was Jorge Valdano, who had once described Mourinho's Chelsea as like watching, ahem, 'hail' on a stick.

The two had been at loggerheads ever since Mourinho touched down in Madrid. The manager wanted a new striker. Valdano told him to use Karim Benzema. Mourinho wanted to sign Hugo Almeida. Valdano said no dice. Mourinho wanted the sporting director to offer a bit of support in the media. Valdano decided the coach had more than enough rope with which to hang himself, and sat back to watch.

When faced with a decision, Perez surprised many with his response: "With a coach as strong as Mourinho it was necessary to adopt to an organization in line with the way English clubs operate," said the Real president.

Having no sporting director at a Spanish soccer club is like standing at the end of a line in the supermarket or bank and not being asked by an old lady if you are in fact the last person in line. It just doesn't happen.

But Perez bucked the trend and told his trusted confidant that the end of his line had come.

Mourinho was handed exceptional power for the coach of a Spanish side. Power that he now appears to feel is under threat by his own players. Dressing room leaks, talk of an informer player in the dressing room, the players allegedly fingering goalkeeping coach Silvino Louro as Mourinho's own morse-tapper... it reads like a British public school revue.

But the rift between factions in the dressing room – Spanish-speaking and Portuguese-speaking, or pre-Mourinho and post-Mourinho, depending on which paper you read – has become a chasm that will not be easily breached. The general consensus is that Mourinho will walk, or be pushed, at the end of the season regardless of results. Ways may part even before then, if Manchester United wins the Champions League last-16 tie.

The question is, who would Real approach to replace the Special One? And who would be mad enough to take the job? A few candidates spring to mind.

Andre Villas-Boas: The Tottenham coach is proving that without boardroom meddling and open player revolt he can stitch a pretty decent side together. He wanted a long-term vision at Chelsea. He got the sack after nine months. The youngest coach to win a European title, Portuguese, multi-lingual and a disciple of Bobby Robson, Villas-Boas has naturally drawn comparisons with Mourinho. He would probably be on Perez's shortlist but, well, he likes a long-term vision and players who won't stab him in the back first chance they get. . .

Rafa Benitez: Assuming Vicente del Bosque isn't asked back to the Bernabeu – an offer he would flatly refuse with Perez at the helm despite being a Madridista – the Real honcho could turn his attention to another former coach of Real Madrid Castilla. In from the cold after his disastrous attempt to take over treble-winning Inter from Mourinho, Benitez would certainly not lack motivation to follow in his footsteps at Real.

His Chelsea reign got off to a rocky start but as results improved, culminating in an 8-0 thrashing of Villa that should have been double figures, his credibility is growing even among the Stamford Bridge faithful. Villa were bloody awful, but 8-0 is still 8-0. And Benitez has some decent Liga pedigree from his time at Valencia.

Fernando Hierro: Part of Mourinho's current chagrin with the powers that be at Real apparently stems from a refusal to hire former Royal Spanish Football Federation sporting director Hierro as his spokesman. The former Real defender is one of the club's best-loved figures and has three Champions Leagues and five Liga titles to his name. He also scored more than 100 goals for Los Blancos while bagging 29 for Spain. Not bad for a big man.

He would be an instant hit with fans and more than capable of commanding the locker room. With the right back room team it could work. The only problem is that, much like Zinedine Zidane, he is more popular at the Bernabeu than Perez. Unlikely, but if Perez fails in his re-election bid in 2013...

Michael Laudrup: Another former player who commands great respect at the Bernabeu, not least for joining the club from arch-rival Barcelona. Laudrup took unfashionable Getafe to the King's Cup final and an epic UEFA Cup quarterfinal against Bayern Munich and did a decent job with limited resources at Mallorca after the Balearics side was barred from the same competition by the usual even-handedness of Michel Platini's UEFA. (Has a Ligue 1 side ever had so much as slap on the wrist for financial issues? Genuine question...)

But is at Swansea that the Dane's stock has risen to the top of the managerial stew. Signing Michu for two million euros hasn't worked out badly and the Swans play some beautiful stuff without any big names in the squad. Surely bigger things await Laudrup, and he does a wonderful line in touchline suits as well.

Carlo Ancelotti: In the unlikely event that Real chooses to hire a young coach with a proven record of bringing the best out of a disparate assembly of superstars, who can manage egos as well as tactics and do what few have managed to do at the Bernabeu and form an alliance with board, players and fans that permeates throughout the very fabric of the institution, I'd recommend Chrissy Powell.

Failing that, Perez might just decide that the genial Italian is the man for the job. Especially if the rumors that Paris Saint-Germain is fluttering its seductive eyelashes at Mourinho are accurate. He might have been around the block a few times but he is only 53, so not a stop-gap option. Ancelotti has been successful wherever he has been and is on track to add a Ligue 1 title to his haul of trophies. Being drawn against Valencia in the Champions League could have been worse as well.

Pep Guardiola: Go on, Perez has probably thought about it as well... It's about as likely as prying former Real player and assistant coach Toni Grande from his job with Del Bosque's Spain though.