Madrid all but throw in towel on retaining Liga crown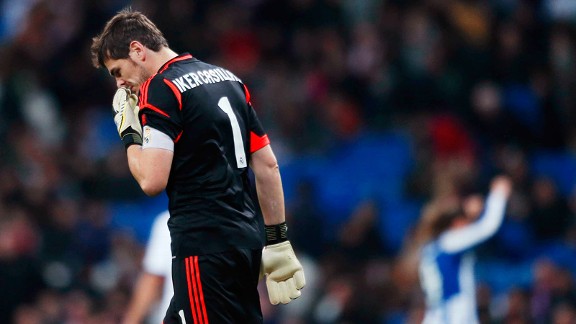 Gonzalo Arroyo Moreno/Getty ImagesA dejected Iker Casillas walks off the Santiago Bernabeu pitch following Real Madrid's 2-2 draw versus Espanyol.
There were cheers at the Camp Nou on Sunday night, and lots of them. They were for Barcelona, they were for Lionel Messi, they were for Tito Vilanova. They were for another Barca win, against nearest La Liga rivals Atletico Madrid. A win that saw Los Cules stretch their lead at the top of the table to a huge nine points over Atleti. They were cheers that will surely greet a return of the La Liga trophy back to Catalonia come the end of the season. They were cheers that started well before kick-off, however, and they were cheers for Barca's rivals. Not Madrid, but rivals closer to home in Espanyol. Cheers rarely heard inside the Camp Nou. Juan Albin has just scored a late, late equaliser to give Javier Aguirre's side a point that saw Real Madrid drop 13 points behind Vilanova's men.

- Report: Real stumbles, loses late lead to Espanyol

They were cheers that will have silenced even the most optimistic Madridista as Blancos fans poured out of the Bernabeu following Albin's crushing strike, and they were cheers that seemingly signalled the throwing in of the towel by under-fire Madrid boss Jose Mourinho in his post-match press conference following his side's draw.

"Practically impossible," was Mourinho's reply when asked if his squad could retain their La Liga crown this season. The Portuguese boss is famed for his interviews and famed for his mind games, but one would expect Mourinho is pretty much on the money with his assessment of a draw that left his side 13 points behind Barcelona in the title race. It could be practically impossible for Mourinho to remain in his position in the Spanish capital next season, too.

The worrying, and damning thing for Madrid immediately post-match was that their stalemate, coming against an Espanyol side struggling at the wrong end of La Liga this term, was not all that surprising. Albin's leveller may have condemned the champions to just their fourth point dropped at home in the league this season (their Liga form at the Bernabeu was pretty much on a par with Barca pre-match), but the 90 minutes against Espanyol pretty much summed up a disappointing season for Madrid with the season not even at its winter break point yet.

It had a sluggish opening and a goal scored on a pretty dominant Madrid side against the run of play. It was sloppy play by an otherwise decent Luka Modric in giving the ball away and seeing Espanyol hit Madrid with their own medicine on the counter-attack. It had a Madrid comeback. Sami Khedira the not-so-likely provider for Cristiano Ronaldo's equaliser, his 100th goal for the club under the leadership of Mourinho. And it had a really impressive spell of Blancos pressure, a showcase of their title-winning form of last season, which resulted in Fabio Coentrao, returning to plug the recently problematic left-back position, scoring his first goal in a Madrid shirt. Mourinho's men of last season would have enjoyed playing with their struggling opponents, putting them to the sword with flair and more goals. Mourinho's men of this season seem to relax, drop a gear and allow their opponents back in to things. That is how it panned out. It was only the icing on the cake, then, that Espanyol's equaliser came from poor Madrid defending from a set-piece.

If there was a 90 minute match to sum up Madrid's season -- that was it.

Los Blancos have had their injury concerns so far this season, and even with the money spent on assembling a huge squad -- Mou wanted at least two quality players for each position on the pitch -- they have hit the team's form, especially in the defence. Regular left-backs Marcelo and Coentrao have had long spells in the treatment room and they've been missed. Gonzalo Higuain and Karim Benzema have both had injury set-backs and neither have been able to recapture the form that saw them rotate superbly, and score goals aplenty, last season. It has left a rotation of a more unwanted desire for Mourinho, with star man Ronaldo being forced to lead the attack on a number of occasions. Big names such as Angel di Maria and Mesut Ozil have not been anywhere near as good as last season, although the latter has picked up in recent weeks, and the Argentine did have an immediate impact when coming on in the second half on Sunday night.

The problems go much deeper than that, however. The vast belief and desire that was instilled into Madrid last season has evaporated. A burning desire to end Barcelona's dominance was present last season but that is no longer. It is true that some of that winning hunger may have disappeared after achieving some of the goals of last season so emphatically. You can see it is still there in some players. Players such as Xabi Alonso, Sami Khedira and to an extent Pepe and Alvaro Arbeloa (defensive problems aside), to name a few. Most of the rest have been extremely hit-and-miss, whether it is through their own fault or elsewhere. Ronaldo had his infamous stage of unhappiness, Ozil was in the firing line at the start of the season for his alleged party lifestyle, Sergio Ramos was reported to have fallen out with Mourinho. Factions started forming. Madrid's form started suffering -- big time.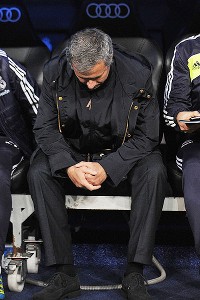 Denis Doyle/Getty ImagesJose Mourinho's ability to build team spirit appears to be failing in Madrid.
Mourinho has plenty of traits but one is building a successful team on a big team spirit. He likes to get a siege mentality going for his team, 'us against the world'. It worked with Chelsea and it worked with Inter Milan. Mourinho seems to have met his match with the might of Madrid, however. It was present last season, a collective desire to wrestle La Liga back from Barcelona. There seem to have been plenty of straws that have broken plenty of camels' backs this campaign, however. The team spirit that Mourinho craves is no longer present in the Madrid dressing room and it is showing out on the pitch.

Defensively, Madrid has been like a sieve from day one. Yet even with a lead, Los Blancos have more often than not failed to push on and get the extra goals to make the scoreline comfortable. To relax everybody. To scare their rivals. Instead, Mourinho's men have only encouraged their opposition to come at them. Madrid seemed scared, the opposition had chances and that was only too present on Sunday night. Early in the second half Madrid were superb, signs of last season. Instead of maintaining that tempo and building on it, they allowed their visitors back into the game.

A bleak winter awaited Los Blancos whatever the outcome against Espanyol. A huge gap to rectify in La Liga has just got a whole lot bigger, and pretty much irreparable. Mourinho's men still face a battle to overturn a 2-1 deficit against Celta Vigo in the fifth round of the Copa del Rey. The only positives to come out of Madrid's current nightmare is that coveted tenth European crown. It is still a possibility, despite their poor domestic form, and the Champions League will now take a definite importance in the second half of the season.