Rare union of Spanish sports press condemns Real to bleak midwinter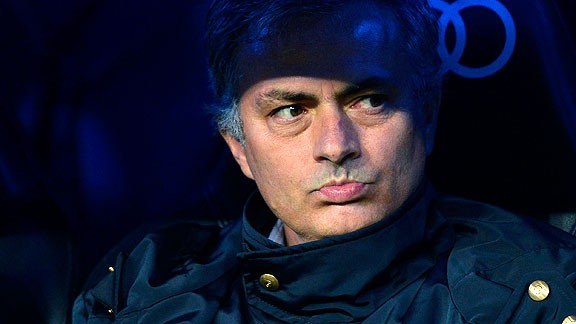 Pedro Armestre/AFP/Getty ImagesIn his post-match press conference on Sunday, Real Madrid manager Jose Mourinho surrendered his team's hopes of repeating as league champions.
When I was at school, at about the age of six or seven, my classmates and I were presented with rubber gloves, inadequate protective clothing, a very sharp knife and a bull's eye. All in the name of science. No yet able to grasp life and death, we were going to go hand-to-hand with the glutinous object.

To what end, escapes me to this day. Children coming through the United Kingdom's primary education system in the 21st century will not have to go through this; health and safety, the nanny state and the advent of computers will ensure they needn't come face to face with the more gruesome aspects of nature, unless they find it on YouTube.

- Corrigan: Barcelona with clear path to title
- Mourinho: Video: Title race is over
- Marcotti: Atletico should be proud

Undeterred, we wielded the blade. The results were inconclusive -- other than for the person who had to clean up the resulting mess of jelly and vomit.

The unfortunate object was immune to our amateurish hacking. We hadn't yet heard of Lee Cattermole or David Navarro. There was little moral redress to our sticking the knife into something long since dead.

I was reminded of this when eyeing the front of Catalonia-based daily journal Sport on Monday -- the mad cow of the increasingly mouth-foaming Spanish sports press.

"Barca are left without rivals," the rag crowed. "The league isn't won yet... but everyone thinks it is. Those who thought it would be impossible to better Guardiola's era were short-sighted. Last night, Barca won two games in one. Madrid were knocked out, and Atletico brought to their knees."

Stirring stuff indeed for readers in the famously federal-minded northern region. Atletico de Madrid had traveled to Barcelona with well-founded optimism. Sitting second in La Liga and with Radamel Falcao in imperious form, the capital's second team was going to end its Camp Nou hoodoo. In doing so, it was going to do Real Madrid a favor as well by hauling back Barcelona's league advantage from 10 points to seven, after Espanyol had snatched a late tie in the Bernabeu moments beforehand. Shorn of Karim Benzema and Gonzalo Higuain, Cristiano Roanldo gamely led the line but it was Real's defensive discipline that was its undoing. Of 26 goals conceded in the league, 11 have come from set pieces.

Like James Cameron's Titanic, there was to be no surprise ending. Atletico took the lead through Falcao and kept Leo Messi quiet for the best part of an hour, but Adriano and goal machine Sergio Busquets had already sunk the visitor's challenge by the end of the first half.

The second was a procession for the home side, with Messi coolly adding a couple to his already incredible tally for the calendar year.

Sport may have had some fun with Real after the gap between Barcelona and the reigning champion turned into a 13-point chasm, but it was not without provocation. Marca, the Madrid-based mouthpiece of Real, had spent the previous seven days digging around the annals of football history to deny that Messi had broken anything at all. Zambian footballer Godfrey Chitalu, who had apparently scored 107 in 1972 -- the same year as Gerd Muller's 85 -- was presented to the rag's readers. Fifa chooses not to recognize Chitalu's achievement, much as it is opposing the official entry of Messi's into the annals of the game.

No matter. As Tito Vilanova observed before the Atletico match: "He's scored 88 in a year. Let someone else try it if they think they can."

Marca has also tried to wipe Messi's goal against Athletic from his haul, calling it an own goal. It looked like it was, but much clearer was the goal it awarded to Ronaldo a couple of seasons back when the Portuguese's strike clearly hit Marcelo on the back 20 yards out before spiraling in.

In any case, the two warring dailies were united in one matter on Monday: the league title race is over.

Barcelona's player might have trotted out the usual tired lines about a long season, you never know, what if, etc and so on, but the fact remains that Vilanova's unbeaten side can only lose the championship itself. Real has proved too fragile this season to respond to such a deficit. Institutional problems, the cloud hanging over Mourinho's continued tenure at the club and injury woes have combined to rob Real of what the Spanish call "garra", which it displayed in spades last season. The fight has deserted Mourinho's men and all that remains are the cup competitions.

"Cristiano played a good game, but his teammates didn't," said Mourinho in a rallying cry in the press room. "The overall attitude was good but we lacked composure and luck."

"It is practically impossible now," The Real coach added of his side's title defense. "It's too much at this stage. Last year we had a 10-point advantage in February or March and we were able to maintain it. But if we can improve in the league it will serve to help us in the King's Cup and the Champions League. I have never seen a situation like this before, losing so many points, and having a team so far from its objectives. It's new for me, but I am not about to give up. I am not going to make a drama of it. We will seek to finish the season in the best way possible."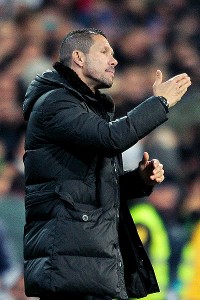 Gonzalo Arroyo Moreno/Getty ImagesIs La Liga boring? Atletico manager Diego Simeone sure thinks so.
Thursday's Champions League draw will be viewed with considerable interest.

Perhaps Diego Simeone best summed up the Liga panorama this season after watching his team take the game to Barca, only to have its backside handed back on a plate. "Barca play in a different league to the rest of us," the Atletico coach admitted. "We tried to be competitive, we played to our strengths, and we did well for a large part of the game, but this is a boring league. With their firepower it is impossible. Messi is the best in the world; I'm just pleased he is Argentinean."

Cold comfort for Real, which faces a long haul until the cup competitions start again in earnest. The winter break promises to be a long one of discontent that even Marca will struggle to dress in a colorful light.