Champagne Ozil keeps Real's title challenge alive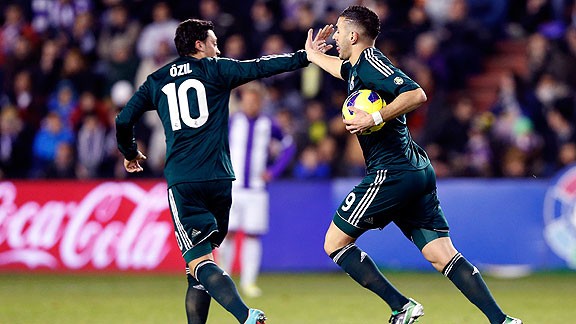 Helios de la Rubia/Real Madrid/Getty ImagesReal's Mesut Ozil celebrates with Karim Benzema after Ozil's game-tying goal just before halftime
If Real Madrid is to win this league title it will be the most deserved in recent years. Another three points in their pursuit of Barcelona were not easily won in a 3-2 victory at the freezing Nuevo Zorrilla. Mesut Ozil rescued a hard-fought game, as he had in the Champions League against Dortmund, with a pinpoint free kick after Real had been run through the ringer by a Valladolid team with the smell of blood in its nostrils.
Not only is Real battling a rampant Barcelona, it is battling an entire division that has sensed weakness and, like a chasing pack of wolves, is not in the mood to give up the hunt. Institutional woes, whatever their genuine extent, have stoked the flames engulfing the team's every on-field setback. And there is little La Liga likes more than a white witchhunt.
Last season, Real recovered from early-season slipups at Levante (0-1) and Racing (0-0) to chalk up a run of results that included a 6-2 thrashing of Rayo and a 7-1 humbling of Osasuna. Against Espanyol, Betis, Malaga, Villarreal, Valencia, Atletico and Sporting it hit 25 goals and conceded four. Before dropping points in weeks four and five, Real had drubbed Zaragoza 6-0 at La Romareda and stuffed four past Athletic at San Mames.
This time last year, Real was three points clear of Barcelona at the top of the table with 49 goals for and 10 against. Those points conceded in the early exchanges had been quickly consigned to memory - at least until it met Barcelona in week 16. But the Azulgrana's irregular form – four ties and a loss – still had Real sitting on its perch at the winter break; one it would not relinquish until season's end.
Real's current problems, though, are not just in-house. It has lost whatever air of invincibility it possessed last year. Teams that then would have set up not to be embarrassed are having a go. The invincible tag has passed again to Barcelona, which seems to find any resistance to its empirical design crumbling just as soon as the first goal goes in, as at Levante and at home to Athletic.
At Valladolid, a corner may have been turned. Twice this season Real went ahead and lost points, at home to Valencia and away at Getafe, when the Coliseum rejoiced in an unlikely 2-1 victory. Twice it has gone behind and failed to react at all, at Sevilla and Betis.
In the Nuevo Zorrilla, twice Real was behind and twice it pulled back. Miroslav Djukic had fashioned his side in the freezing temperatures of provincial Castilla y Leon to take the game to the visitor. And Real was caught cold. A well-hit corner found its way on to the head of Manucho in the sixth minute and the Angolan made no mistake from close range.
Karim Benzema equalised five minutes later, bringing his barren spell to a halt when Marc Valiente slipped on the icy pitch to let the Frenchman through on goal. It was not to be the last slip of the night.
Valladolid was making headway down Real's left flank and Alvaro Arbeloa, who had played Manucho onside for Valladolid's first, was pressed into an error that led to the second, conceding a corner that Manucho again pumped home with aplomb.
Jose Mourinho retreated to his dugout, pulling his scarf tight around his face as he would do throughout the match -- as much to obscure his utterances from the ever=present cameras as to fight off the chill air. Home scarves in the stands were swinging wildly, tied to the wrists of jubilant supporters with a famous victory in sight to warm them.
And how Valladolid's players fought to provide them with it: Manucho was among the home side's best set-piece defenders and was duly substituted, exhausted, in the second half after a thunderous if over-exuberant performance that almost cost Sergio Ramos his head in a clattering challenge. Half of Valladolid's foul count was chalked up by the burly forward.
But the real headache was Mourinho's. The Real coach tinkered incessantly with his back line to counter the home side's incursions. Nacho, starting on the left for the visitor, was the fall guy after a first half during which Valladolid targeted the canterano's flank. He was replaced by Angel di Maria, who started warming up well before the break, with Jose Callejon dropping further back to support a three-man back line of Arbeloa, Pepe and Ramos, covering the left.
Arbeloa then made way for Luka Modric in a final throw of the dice; Cristiano Ronaldo switched back to the left and Benzema pulled inside from his position in front of Callejon. Xabi Alonso was then ordered back into the middle of the back four only to be sent back to patrol the midfield when Raphael Varane entered for Benzema, the Frenchman occupying the right of defense and allowing Pepe and Ramos to slot back into their habitual area.
Mourinho's famous notebook was working overtime -- as was Callejon, who is rapidly becoming one of Real's most important and versatile players.
But it was Ozil, who had scored the psychologically important equaliser before the break, who saved Real's skin with an artist's strike. There is no question of a dead ball debate from the right of the opposition goal now, even if Ronaldo insists on assuming his trademark shooting position when opportunity arises. A swing of the German maestro's boot, off the upright and into the roof of the net, left the excellent Dani Hernandez with no chance.
That Di Maria – whose theatrics are tiring even Spanish TV commentator Manolo Sanchis, a Real stalwart in a country where few dare to veer from the party line – was reduced to time-wasting was little surprise. That his teammates joined in is evidence of the struggle Real faces to challenge for the title this season.
Valladolid is a modest team with practically no budget and no shirt sponsor. There are many like it in La Liga. But they all seem to have Real's number at the moment.