End of the road for Mourinho?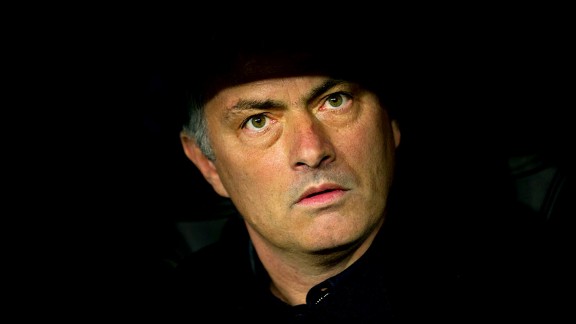 Jasper Juinen/Getty ImagesThings have turned dark this season at Real Madrid for Jose Mourinho who is rumored to be departing the club in June.
Jose Mourinho does not back out of arguments. He does not do quiet press conferences. He does the opposite. He usually adds fuel to the fire of arguments, he always has to have the last say and he loves the media spotlight.

Was it all telling, then, that he said before Real Madrid's final Champions League group game against Ajax, which they won 4-1 on Tuesday night to finish second in Group D: "I have no problems, but I am not going to keep feeding this situation. I am stepping back from the argument." His reply came to a question asking about his future at the Bernabeu and his relationship with president Florentino Perez.

- Ball: Disappointing Atletico
- Mourinho: No sabbatical if I leave
- Report: PSG chief downplays Mourinho link

Is the marriage at an end? Is a divorce in the pipeline? Everything is pointing to the "Special One" exiting stage left come the end of the current campaign, and Mourinho is doing little to dispel those rumours.

"Mourinho to go in June" was the headline in Spanish sports daily Marca this week. "Relationship with Florentino Perez in tatters", it continued. When the Madrid-centric Marca goes with a story like that, you know there is no smoke without fire. Madrid, the champions, are eleven points adrift of Barcelona in La Liga and still five behind neighbours Atletico Madrid. The title race, although Barca may want you to think otherwise, is almost as good as over. Mourinho has fallen out with players, with some of the fans, and with people high up on the Madrid staff. Now, it seems, he has fallen out with the man who hires him and fires him. All good things must come to an end, and Mourinho, who wrestled La Liga back from the dominance of Barca last season, is seemingly at the end of the road.

It was never a match made in heaven. Mourinho is outspoken and a man who likes total control. He risks tainting the image of clubs to protect his players, and indeed himself, and for the good of the team rather than the club. He is one of the (if not the) best managers in world football, but with a whole load of luggage hauled along with him. Most teams would take that -- most teams would snap your hand off. Madrid did, but now it seems that luggage is weighing heavy on Los Blancos and Perez. The Madrid "supremo" is usually a hard man to please at the best of times. Win La Liga and managers have soon found their bags being packed just days later. Heck, winning the Champions League is no guarantee of job security, either.

In this instance, Perez has given up a lot for Mourinho to bring the glory days back to the Spanish capital rather than Catalonia. Jorge Valdano, the club's general manager, was given the boot last year after his relationship with Mourinho deteriorated; the same Valdano held in such high regard by Madridistas, the club's former player and manager. Perez agreed to let him go, as well as various other staff members lower down the pecking order, for the good of Mourinho's running of the club.

The Portuguese argued at length with Perez and the Madrid board to bring in a new striker when injuries mounted in his first season at the club. They took their time, but eventually Mou got his man in Emmanuel Adebayor. More arguments followed, this time with key players high up in the dressing room -- Sergio Ramos, Iker Casillas and Mesut Ozil. Madrid legend Alfredo di Stefano had a pop at the club's style of play under Mourinho. There was nowhere to hide and there was no respite from the arguments. They seem to have finally taken their toll.

It was never going to be a long stay at the Bernabeu for the former Porto, Chelsea and Inter Milan boss. Originally agreeing to a deal to keep him at Madrid until 2014, the club offered Mou a new deal to stay until 2016 following his La Liga success, but his sights were always set on a short stint in the Spanish capital, with one eye on a return to his beloved Premier League -- something else which must have strained relations with Perez. Changing the cycle of Spanish football was his job, and it was a job done well last season, his second season in charge. All he had to do was to continue that cycle for a year or two, and add Madrid's tenth European Cup to get the job fully done and move on. It was all planned, and it was all on course.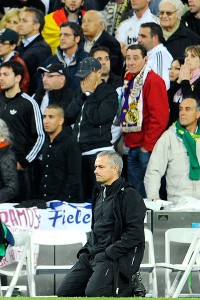 DANI POZO/AFP/GettyImagesJose Mourinho agonized over last year's Champions League semifinal defeat to Bayern Munich. The Special One hopes to avoid a similar fate in this season.
It still is, to an extent. Although Madrid are seemingly out of the title race -- although you can never say never -- they are still in the Champions League, even though they have been far from convincing in that, too. Borussia Dortmund have outplayed them in both matches and Madrid had to stage a late comeback in their opening match against Manchester City to claim victory. It was not a smooth progression, but then Mourinho's two previous Champions League triumphs have come with his teams -- Porto and Inter -- finishing second in their groups. If anything, Madrid's failure in the league could act as the best boost possible for success in Europe -- a focus fully on Madrid's long-awaited tenth crown. No La Liga pressures and no La Liga distractions. It could also go the other way -- all the pressure being heaped on success in the Champions League.

Win or lose in Europe, the competition is set to provide a pathway to pastures new for Mourinho. Win it, and he can leave having achieved his objectives, and having achieved what many others before him failed to do. He can walk out of the front door of the Bernabeu with his head held high, going down in club history and adding a third European crown with teams in as many countries. Beat that Pep, Mancini, Benitez and any other nemesis of Mou. Another failure and it provides Perez with an easy reason to dismiss his manager. Previous Madrid bosses, as aforementioned, have gone for a lot less. You can bet your bottom dollar that any departure will be "mutually agreed", whatever the reasons.

Mourinho likes theatre but even Saturday night's theatrics were a bit much even for his standards. An announcement, following a mixed reception from the Madrid faithful in the Copa del Rey clash with Alcoyano, that he would go on to the Bernabeu pitch at 9:20pm to allow Madridistas to vent any frustrations his way and get them out of the way before the big derby clash with Atletico. As it was, 40 minutes before kick-off, there must have been no more than 5,000 supporters in the ground, many of whom were Atleti supporters and many of whom were the not-so-hardcore Madrid fans. Jose got anything but a hostile reception. It was comical, and it was cringe-worthy. It certainly must have been for Perez, watching on from the directors' area.

So where is the next port of call for Mourinho? He will have no shortage of options. "Bring back the Special One" read one sign at Chelsea's Champions League match on Wednesday night. The Portuguese certainly wants to return to Stamford Bridge one day, but whether that day will be in time for next season, especially with his relationship with owner Roman Abramovich, is anyone's guess. Manchester City is another potential destination. Roberto Mancini won the Premier League title last season but has failed to replicate that success in Europe, with City failing to win a match in crashing out of this year's competition, albeit in a tough group including Madrid. Mourinho would not mind following Mancini again, as he did at Inter before taking the Italians to the Champions League crown.

Manchester United could probably throw their hat in, too, but that all depends when Sir Alex Ferguson will return. He is showing no signs of doing so just yet, although the first to know may well be his close friend Jose, who he loves to share of bottle of fine wine with. How about money-bags Paris Saint-Germain, as a stop-off en route back to England, too? Ironically, Mourinho could well be going head-to-head with Pep Guardiola, his old foe from Barca, for all the aforementioned jobs. Both managers could well end up rekindling their rivalry in the English Premier League.

Questions may be asked about Mourinho's style of play, his failure to recognise young players and his general unconventional, if entertaining, methods during his time at Madrid, but the Portuguese has been superb for Los Merengues, no matter what happens come the end of the season. Wrestling La Liga back from Barcelona, hailed by many as the best team not just of this generation, but ever, was no mean feat but Madrid did it in record-breaking fashion. They won a Copa del Rey under Mourinho in his first season and Los Blancos could claim a magnificent tenth European Cup come the end of the season.
Make the most of these next six months, Madridistas -- they could be the last with the "Special One" at the helm.

Follow Nicholas on Twitter @nicholasrigg