Crunch time at the Bernabeu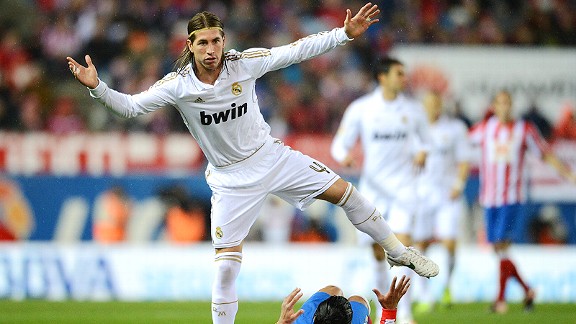 Jasper Juinen/Getty ImagesSergio Ramos and Real Madrid have walked all over city rivals Atletico Madrid for the last 13 years, but things could be different this Saturday.
Jimmy Floyd Hasselbaink. Remember him? Atletico de Madrid fans do. The Dutch striker remains the last man to know what slamming in a game-winning goal for the rojiblancos in the Madrid derby feels like. That was 1999. Atletico went to the Bernabeu in an otherwise forgettable season for long-suffering Colchoneros, and wandered back across town with three points. It didn't do them any good come May though; Atletico wound up relegated to Segunda Division.

- Corrigan: Atletico out to prove credentials

It was so long ago that Iker Casillas, Spain's most-capped player, the keeper with the most Champions League appearances and an ever-present for both club and country, had a watching brief that day. Bodo Illgner was between the sticks when Hasslebaink's rocket flashed past him to bring up 3-1 to the visitor.

Since then, not one Madrid derby has been lost by Real Madrid. 13 years. There have been a few draws, but not once this century have three points been gleaned by the team that plies its trade on the banks of the Manzanares. Real coach Jose Mourinho, who took the helm at the Bernabeu in the summer of 2010, has played Atleti five times in the league and has pocketed 15 points. The weight of history does not favor the visitor on Saturday night.

But this season the tables have been turned as swiftly as a punch-up in a Munich beer hall. Atletico sits eight points clear of its city rival. It is the first time that Real is going into a derby staring anywhere other than down its nose at Atletico since the 1995-96 season, when Radomir Antic's side went on to win a league and cup double. Diego Simeone has built a solid unit in the year since he succeeded Gregorio Manzano at the Calderon and has even forged a defence worthy of the name -- Atletico's traditional Achilles' heel.

In midfield the Argentinean has a couple of players in his own robust mould in Mario Suarez and Gabi. Behind Colombian goal machine Radamel Falcao and Diego Costa -- reborn as a formidable support striker -- in the second line of attack are academy graduate Koke, who scored a pearler last weekend in a 4-0 rout of Sevilla, and Turkish trickster Arda Turan. Atletico's pressurizing tactics will not allow Real's orchestrator Xabi Alonso much time on the ball and the visitor will attempt to suffocate the host's front four, who thrive on space in the final third.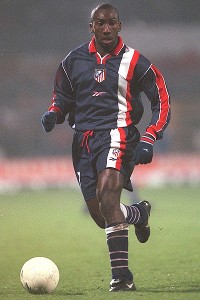 Holde Schneider/Getty ImagesDutchman Jimmy Floyd Hasselbaink scored the last game-winner for Atletico against Real Madrid.
The problem for Mourinho is that time is not on his side, in every sense. The Portuguese tactician's name was booed by sections of the Bernabeu support when the Ultras Sur took up the chant dedicated to their manager on Tuesday in the King's Cup game against Alcoyano. An underwhelming performance that only sparked into life when Angel di Maria was thrown into the fray did little to temper fractious relations between coach and fans, and Real will need to come out of the blocks like Usain Bolt to appease the simmering vomitoriums. The conundrum Mourinho faces is, in two words, Borussia Dortmund.

The Real coach admitted in the wake of defeat at the Westfalenstadion that playing a counter-attacking side set up as a mirror image to his own was nigh on impossible. Atletico plays like Dortmund this season -- albeit without quite the level of support players that Robert Lewandowski enjoys -- mounting swift forays forward and using the ability of Falcao to slip his markers. However, the first thing Simeone did on arrival at Atletico was shore up the back line. Hell, the man even has Diego Godin playing well. Atletico has conceded 11 goals in 13 league games and is no longer prone to the defensive lapses that are as much a part of the club's fabric as the red-and-white shirt. Any notion of an inferiority complex was dispelled by Falcao on Friday: "More than pressure, the derby motivates us."

There are other factors at play weighing on the home side: Mourinho loves a fixture moan and there were probably a few guffaws at LFP headquarters when this weeks' were chalked up. Barcelona plays Athletic Bilbao at 8pm on Saturday, which in all likelihood will leave Real 14 points adrift of the league leader at kick-off in the capital -- few outside Bilbao will be etching a cross on the '2' box in this weekend's quiniela.

So far this season in domestic competition, Real has struggled to pull back from a goal down; if Atletico scores first, the fickle home crowd will be on its team's backside like a cheetah on a gazelle. And Simeone will be well aware of this. Atletico will go for the jugular from the outset and how Real reacts will be a telling marker for the rest of this season -- one that is already widening the schism between Mourinho, his employers and about two-thirds of the Bernabeu.

The stakes have rarely been higher in a Madrid derby, and the six-to-one being offered by bookmakers seems generous indeed. The odds on Mourinho lasting past this season will shorten considerably if Atletico ends its 13-year hoodoo tomorrow.