Mourinho finds his cups half full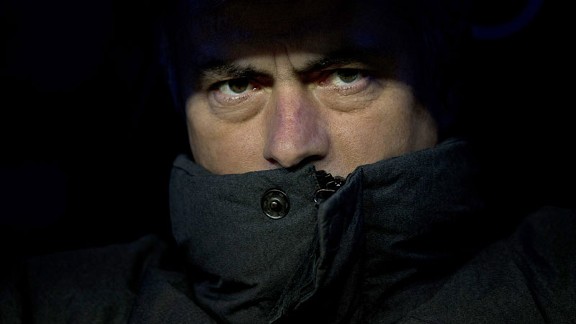 PA PhotosJose Mourinho's Real Madrid are lagging behind in La Liga
Things are not going according to plan at the Bernabeu this season, at least not domestically. Real faces an 11-point chasm between it and Barcelona, who are currently enjoying the best start to a Liga season in the history of Spanish football, and to add a touch of salt to the wound Jose Mourinho's team goes into this weekend's derby against Atletico eight points behind its traditional whipping boy. All the talk is of a Barca hunt, but Real also has to contend with an unlikely title challenge from across town. Make no mistake; Atletico's current form represents one.

- Mourinho endures mixed reception

The media is all too keen to write off Real's chances of retaining its domestic crown but has yet to fully embrace the notion that the Rojiblancos could be the team to harry Barca to the line this season. The great incognito of the campaign will in part be answered on Saturday at around midnight in the Spanish capital.

In the meantime, the Copa del Rey again encroached on the domestic calendar and Mourinho, who has bucked the Bernabeu trend of scorning the competition, took no chances and picked a strong side, littered with youngsters, to notch a 3-0 win against Alcoyano.

Mourniho knew Revolt was, and still is, in the air after the Betis debacle, and said prior to the Copa clash that he intended to nip it in the bud. "We know the fans are not happy. We are obliged to win, and to win with style. We are not happy either," he said. Responding to questions about his relationship with his employers and players - and recent results - he asked to be judged at the end of the season. "It is more honest and serious to work in this way."

Nonetheless, the Portuguese issued a tacit ultimatum of his own: "It is the club that has to decide if it is happy with the direction we are going in. At the end of the season, it is the club that has to evaluate things. I am an employee like anybody else. It is possible that it will be the club that is not happy with me."

Happiness: it's a recurring theme at the Bernabeu this season. First Cristiano Ronaldo wasn't feeling the love. Now apparently Mourinho is not best pleased over the hierarchy's refusal to hire former Real captain Fernando Hierro as his spokesman. This was alluded to in Mourinho's after-match rant in Seville. The Spanish media tracked Mrs Mourinho and her daughter on a recent trip to London, apparently to look at universities for next year. Happiness is a warm gun, The Beatles once sang. Could this season represent Mourinho's own rooftop concert?

That all depends on how full the Bernabeu views its trophy cabinet: Mourinho was hired to deliver silverware, but also to destroy Barcelona's domestic hegemony. This he did. Whether he or his players have the energy to do it again this year against Tito Vilanova's unbeaten juggernaut remains to be seen. In any case, anybody who claims the league is over with 24 rounds to go has a gun to the fat lady's head demanding a note or two, and not necessarily of the musical variety. It is an opera familiar to Serie A, and one played out on a smaller stage from time to time in Spain's lower leagues. But the whole essence of the sport is that anything can happen in a few seconds in any given game. There are more than a few twists and turns in this title chase yet.

But the question asks itself: does that suit anybody at Real? Mourinho went to great lengths during the same media grilling to point out that he enjoys good relations with his former employers at Chelsea and Inter - "the personal aspect is what is important". His press conference after the Betis match hinted that this brief and fractious Madrid marriage is nearing its natural end, and he has made no secret of his desire to return to the Premier League.

A suitable annulment would be the Champions League, an obsession that pervades the corridors of power at the Bernabeu. Florentino Perez would certainly swap the Copa del Rey or the Liga title for something that has eluded him in his second stint in charge of the club. And he has invested heavily enough to demand it: Mourinho and his entourage of support staff are more costly over the course of their combined contracts than Ronaldo is through his.

With the league drifting from his grasp, an all-out assault on the Champions League - also a personal goal of Mourinho's, to become the first coach to win it with three different teams - suits both parties perfectly. Not all differences are entirely irreconcilable.