No worries for Mourinho about knockout foes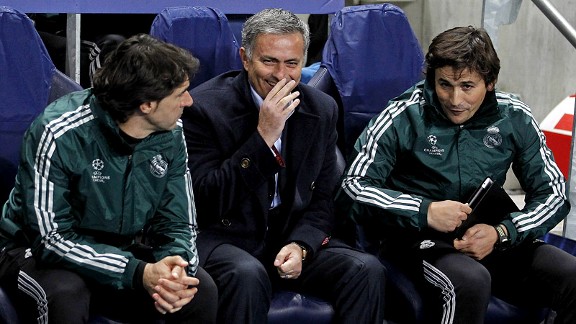 Angel Martinez/Real Madrid/Getty ImagesJose Mourinho, middle, had plenty to smile about Wednesday in Manchester
It wasn't the prettiest performance Real Madrid has come up with this season, but the team's 1-1 tie at Manchester City Wednesday night was enough to secure second place in Group D and a berth in the Champions League knockout phase.

The result could, probably should, have been very different but for a bout of profligacy in the first half that saw Sami Khedira and Cristiano Ronaldo miss gilt-edged chances. Real could have scored five or six in the opening 45 minutes as it tore through Roberto Mancini's three-man defense time and again. Quite when the Italian will stop tinkering with his back line is anyone's guess, but he will have plenty of opportunity to do so in the Europa League next year, if City manages to qualify in the Champions League's ugly sister.

"When it got to 1-1, and it was 10 vs. 11, City seemed to have thousands of attacking options, they had [Carlos] Tevez, [Sergio] Aguero, David Silva, Edin Dzeko and we just had 10 men," Real manager Jose Mourinho said. "But we managed to hold on, we resisted, we knew how to control the game and the main thing is it's mission accomplished, we qualified. You can't win when it's 10 against 11. We played to draw the game and we did it."

It should also have been an away win because try as they might, City's potent attacking force could not turn build-up play into chances. The home side enjoyed plenty of mostly pointless midfield possession but was blunted whenever it threw itself on Real's defensive brick wall. It required an extremely questionable penalty for City to level the match after Karim Benzema had opened the scoring with a cool finish in the first half.

Alvaro Arbeloa seemed to stumble and fall into Sergio Aguero, taking the Argentina forward down in the box. A second yellow was produced, Aguero duly beat Iker Casillas and Real was consigned to second place in the group. City's punishment for throwing away leads in Amsterdam and Madrid is considerably worse.

Arbeloa's sanction, fortunately for Madrid, is fairly irrelevant: he can serve his one-match ban in the dead rubber against Ajax, unless it is revoked on appeal.

Aguero could have altered City's fate late on but was denied by a wonderful save from Casillas, who took a chance and dived early to deny the Argentinean. Casillas is far from underappreciated but it is easy to overlook the contribution he makes with calm, commanding performances week after week and year after year. Wednesday's match was his 129th in the Champions League.

In its final group match the Sky Blues have to go to Dortmund in search of a positive result -- not an easy task. Bayern Munich honorary president Franz Beckenbauer said after watching Borussia Dortmund destroy Ajax that the Germans could win the competition: "If they keep playing like that it doesn't matter who they get in the next round."

That is now Real's concern after it placed second in the group. Depending on results in the final round, Mourinho's side might be drawn against Juventus, Manchester United, Bayern, Paris Saint-Germain or Arsenal. The only bright spot in that lot is Real cannot be drawn against Dortmund, and will of course avoid a certain other Spanish team for now.

Mourinho, though, is unfazed by whatever may come Real's way: "Two times I have finished second and gone on to win it," he said. "I finished second with Porto behind Real Madrid and with Inter I finished behind Barcelona and I won -- I have won the group other times and I have not won [the tournament]. In my experience it does not mean so much. The teams that finished first will be waiting for an opponent they think may be easier, but if they get Real Madrid that is not good news for them."

Of the rather bizarre refereeing stylings of Gianluca Rocchi, who awarded free kicks where there was no foul and did not blow his whistle when obvious obstruction occurred on various occasions, Mourinho played a straight bat: "I know what Italy is like," he said. "I was in an Inter-AC Milan derby [refereed by Rocchi] in which we played almost the entire match with 10 and part of it with nine. They also gave a non-existent penalty against us and today this happened. But I am calm because I have a UEFA sanction hanging over me."