International fixtures come at right time for Madrid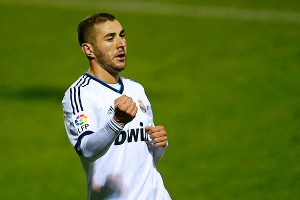 Jose Jordan/AFP/Getty ImagesKarim Benzema is just one of many Real Madrid stars using the international week to recuperate from injury.
Club managers usually dread breaks in their schedule for international matches. Their key players travelling all over the world to compete for their national teams where there is risk of injury, a risk that is out of their hands. The fatigue factor, air miles making players jet-lagged and groggy on their return to domestic action the following weekend. It's all part and parcel of modern day football, but it doesn't sit well with club managers. The majority would rather their men stay put. No pride in pulling on their country's jersey, no showing off of skills on the world stage, just a selfishness to keep their best players for themselves and nobody else. If club managers had it their way, their best players would be staying put. Forget international football, it's just a pest.

Of course, I'm generalising the club football manager greatly there. In today's game, however, when players tend to play more matches than ever throughout the calendar year and jobs are on the line, managers could be forgiven for wanting to wrap their men up in cotton wool and store them away in a cool, dry place when the international calendar rears its head every now and then. World Cups and continental competitions such as the European Championships and African Cup of Nations are fine. World Cup Qualifiers drop down the importance ladders, and don't even think about mentioning international friendly matches.

You see it almost every international week. Club managers complaining about their players going away to play what they call meaningless matches. The players themselves drop out with injuries that seemingly last only a few days and come out of nowhere -- usually about the time their country is ready for action. Then a miracle recovery -- they're fine for the following weekend's domestic match. Hallelujah!

Real Madrid and Jose Mourinho will be no different. In an ideal world, the 'Special One' would see his players play in the all-White and the all-white only. A full-on dedication to the Madrid cause. No risk of injuries, no fatigue. At a club like Los Blancos, with so many international matches, the break for matches can be even more frustrating, especially with plenty of players travelling not just around Europe, but to all four corners of the globe. An international 'break' it is not.

This week it may be different. This week Mourinho, although still seeing eight of his men away on international duty, may see the gap in the domestic fixture list as the ideal chance to get some of his walking wounded back up to full speed as Los Blancos continue their attempts to close the gap on runaway La Liga leaders and old foes Barcelona.

Karim Benzema, Mesut Ozil, Cristiano Ronaldo, Sami Khedira, Fabio Coentrao, Gonzalo Higuain and Marcelo -- players who would usually be away representing their countries, will instead remain in the Spanish capital to continue their training sessions, and in most cases recovery from injury. No midweek Champions League matches, no pesky Copa del Rey ties, no La Liga action for a full week. In the modern game, and for a club like Madrid, to have a midweek with no competitive action can genuinely be seen as a bit of a 'break'.

Of course, Mourinho would prefer all seven of the aforementioned Madrid players to be at 100 per cent and without injury, and thus making them available for international action. Perhaps if this week's matches had been competitive qualifiers rather than friendly games, then their respective countries may have pushed a little harder to get their players available -- namely Ronaldo, who only suffered an eye injury at Levante (no matter how bad it was), Ozil, who's missing with an ankle injury but featured at the weekend and will probably play against Bilbao this weekend, and Fabio Coentrao, who also returned from his injury set-back to feature at the weekend.

But for players such as Benzema and Khedira, who've been sidelined for Los Blancos in recent weeks and have been a big miss, the week away from competition action should get them ready for a return against Athletic Bilbao at the Santiago Bernabeu on Saturday night as both men have returned to training this week. For Higuain and Marcelo, it gives the duo a full week to continue recovering from their respective injury set-backs. For others such as Luka Modric and Michael Essien, who aren't injured or called up for international action, it'll act to freshen the pair up for a final stretch of matches before the winter break.

So while club managers may not like international interference, this week won't rank too highly on the stress factor -- especially not for Mourinho. He'll just be keeping everything crossed that those players who are on international duty -- Sergio Ramos, Iker Casillas, Raul Albiol ( for Spain v Panama), Pepe (for Portugal v Gabon), Angel di Maria (for Argentina v Saudi Arabia), Kaka (for Brazil v Columbia), Nacho (for Spain U21s v Italy U21s), Raphael Varane (for France U21s v Ukraine) -- return in one piece, and don't head straight to the Madrid treatment room.