Should contact be alien in the beautiful game?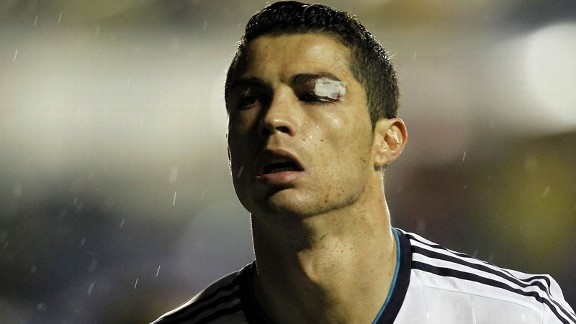 PA PhotosReal Madrid's Cristiano Ronaldo dusted himself down to score his 12th goal in 11 league matches against Levante
Did David Navarro really intend to open up Cristiano Ronaldo's face on Sunday evening? Only one person can genuinely answer that question, and the man himself claimed later that he most certainly did not. What transpired afterward has been the subject of intense media speculation ever since, with one Spanish television channel dedicating significant airtime to get to the bottom of it.

- Madrid deny Pepe taunted Levante
- Ronaldo ruled out with eye injury
- Levante rage at referee, Real elbow anger

The main actors in the piece are to a certain extent the usual suspects. Navarro has something of a reputation for being a little too robust on the field. Pepe, whom Levante's Juanfran accused of provoking the opposition in the locker room after the match, is La Liga's pantomime villain. And Sergio Ballesteros, Levante's captain and talisman -- and Spain's finest amateur Michael Madsen impressionist -- is unfortunate in being portrayed as a claret and blue footballing version of Mr Blonde.

The question is, was there just barking after a game described by Mesut Ozil as water polo, or did a little doggy bite?

According to Juanfran: "Before I went into the locker room I saw Pepe coming off the field dancing, laughing and making fun of us. Then he went into his locker room and, with the door open, he was doing the same thing. Everybody saw it: the security guards, the police, his team-mates and our players."

Real responded by saying that the controversial Portugal defender had reacted "with an exemplary attitude," and denied that Pepe had in any way attempted to rile Levante's players. Ballesteros, meanwhile, denied that he had gone into Real's locker room to have a quiet word in the ear of the Real defender.

"People prejudge everything without getting any of the facts straight," said the burly defender. "I have never shown aggression to anybody in my life, and I didn't with Pepe. As a professional with 20 years under my belt, I swear it. All I did was go into the Real locker room to see how Cristiano was doing.

"What they say about Navarro hurts me. They hang you out to dry. Anything that he does or that I do is painted as premeditated. I spoke to him and he said that at no point did he know Cristiano was there. These things can happen in any match."

Of course, these things do happen in any match. Navarro has a bit of form in the discipline, having dished out an elbow or two in the past. Pepe is hardly an angel either. Ask anybody in Catalonia about the Portuguese and a hand will move to the front of the body, fingers wiggling: the international sign for "he stamped on Messi's hand."

In the aftermath of the match, Sergio Ramos opined that if Ballesteros preferred boxing to football, he could swap sports. Ballesteros, who probably could if he wanted to, might have invited the Sevillan to view this.

"What Sergio Ramos said I find sad. Maybe what Sergio Ramos said should also be said to Pepe. Let's get it out in the open. What's really sad is that when they win they laugh and they make fun. It happened two years ago in the King's Cup," said Juanfran.

On that occasion, Real thrashed Levante 8-0 and the Granotes players felt that the opposition showed them little respect on or off the field. Ballesteros, in civilian clothes -- although reports of a black suit remain unconfirmed -- awaited Jose Mourinho in the tunnel after the game, soft drink possibly in hand. The Frogs' league win last season was all the sweeter in the Ciutat de Valencia as a result.

Navarro said Monday that he had called Ronaldo to see how he was doing -- a common occurrence after an on-field clash in the sport that suggests footballers have an extensive contact list in their cellphones, just in case. But the entire brouhaha obscures two pertinent points from the unfortunate impact of Valencian elbow and the face that launched a thousand brands: Firstly, Ronaldo is a tough nut to crack. Imagine if the recipient of Navarro's attention had been Sergio Busquets, or Luis Suarez? Not only did the Portugal captain look only mildly annoyed that he'd need some new dark glasses himself in the morning, he remained on the field and scored the opening goal. Mr Pink, he apparently is not.

Secondly, is the entire reaction to the incident an indication of a dying breed: the enforcer? An American friend openly mocks my choice of sport. Not that it is a choice, more of an inheritance. And then the subject of American football invariably arises. In the NFL or college football, it is considered unmanly to leave the field even if you have a limb hanging off. In the round-ball version, a player will knowingly feign injury to gain an advantage, or writhe on the floor in apparent agony at the lightest of touches. In fact, the NFL has recently introduced a system of fines for faking an injury, as Pittsburgh Steelers receiver Emmanuel Sanders discovered when he tried it on during a game against the Bengals. How would that be greeted in soccer?

While there is no place in the game for intentional injury to be meted out, at least the incident displayed that the game is still a contact sport, as it was intended to be from its inception. Navarro apologizing and Ronaldo picking himself up off the floor and carrying on does the game more justice than the inexorable cheating, diving and general acting like broads in a schoolyard of many of their peers (my apologies to anybody who has never seen "Reservoir Dogs" for the allusions.)

Just try telling that to the Spanish media.