Are two senior strikers enough for Real?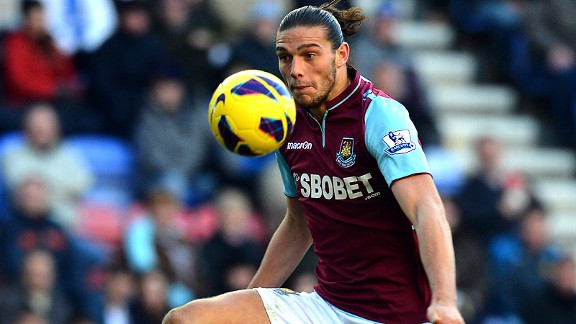 Paul Ellis/AFP/Getty ImagesCould Andy Carroll do a job as a battering ram for Real Madrid?
In the summer of 2010, Jose Mourinho clashed with his new employers when casting an eye over his squad and noting that he had only two strikers -- one of whom, Karim Benzema, he was far from convinced about at the time. The incoming coach said he wanted an old-fashioned No.9 to partly replace the outgoing legendary No.7, Raul, Real's last real penalty-area poacher. Mourinho got Mesut Ozil instead. If it came to it, said Mourinho's nemesis, Jorge Valdano, Cristiano Ronaldo could play up front.

- Ronaldo set to take striking role
- Real Madrid facing injury crisis

In January 2011, Mourinho finally got his wish when injury ruled out Gonzalo Higuain for several months. Emmanuel Adebayor, "Manu," arrived to lend his old Premier League foe a mano and scored eight in 22 games, enough to convince the Portuguese to lobby for a permanent transfer. Adebayor even offered to take a pay cut to force the move through, but Manchester City held out for £14 million and the deal fell through.

This summer, yet another midfielder was added to the squad in the shape of Luka Modric. Real's shortages at the back have been exhaustively analyzed in recent weeks but Tuesday's 2-2 tie with Borussia Dortmund highlighted an area where a club of Real's ambition should really have more cover. The senior squad features just two strikers, and when Higuain pulled up with a muscle complaint early in the first half, limping gamely to half-time but clearly unable to run, it left Real without a reference point in attack. Benzema had already been ruled out of the match with a similar complaint to his Argentinean team-mate.

A counterattacking side needs a sharp edge, and while Ronaldo huffed and puffed in the current position du jour in Spain, the false nine, he is better deployed cutting in from the flanks. Jose Callejon is keen enough but his goal-scoring record is mediocre and although he has operated at times as a modern inside-right, he too is a wing man first and foremost.

Looking to his bench, all Mourinho could call on to bolster his attacking options was yet another midfielder, Kaka. Commentating on Spanish television, former Real defender Manolo Sanchis even suggested throwing Sergio Ramos up top as a makeshift striker. In January 2011, shortly before Adebayor touched down in Madrid, Mourinho admitted he had considered playing Ramos in the position in a league match against Villarreal, when Benzema and Higuain were both sidelined.

The injuries to Benzema and Higuain are not serious, although both may be absent when Real plays Levante at the weekend. However, at a club with the kind of playing commitments Real has season in, season out, are two senior strikers enough? Mourinho has not mentioned a forward for some time, largely because Benzema and Higuain have remained in form and fit. But the unexpected loss of the latter against Dortmund showed that Real could do with a third striker as an insurance policy -- unless the club is willing to tear up its cantera policy and trust 20-year-old Alvaro Morata with the job, which seems unlikely. With a 24-player first-team squad, there's room for a not-so-little one to lend the side a bit of physical presence, which it desperately lacked against Dortmund.

Here are five players who could fit this particular, non-Falcao-priced bill.

Didier Drogba

Things haven't gone entirely as planned for the big Ivorian at new club Shanghai Shenhua. Only a few months ago Drogba stroked home the winning penalty in the Champions League final. A couple of weeks ago he was involved in a relegation duel with Dalian Aerbin, which ended 0-0, ensuring that Shanghai did not slip out of the 16-team Chinese Super League. Liverpool made an audacious bid to lure Drogba to Anfield but found that the red tape involved in securing his signature on loan was too complex. Real would likely face less trouble, simply by being Real, and Shanghai would probably quite fancy a friendly match against Los Blancos the next time the squad heads to the Far East. Drogba might also fancy a last hurrah in the big time, and Mourinho is quite the bait when it comes to former charges. Whether Drogba would walk away from a reported weekly wage of £300,000 is another matter entirely, but how Mourinho would have loved to call his former pupil from the bench on Tuesday night. It would be a short-term fix, with the Chinese League starting up again in March, but, if Shanghai could be persuaded to pick up some of the bill, it would be an excellent one for Real.

Fernando Llorente

In reality, this transfer seems to be only a matter of time. Llorente has been ostracized by Marcelo Bielsa after announcing he would not sign another contract with Athletic and the club seems locked in a downward spiral far removed from its excellent season last year. Aritz Aduriz has made the starting berth his own since signing from Valencia in the summer and Llorente is clearly biding his time until a decent offer comes in. Although the Spain international has been linked with Juventus, a move to Real would suit both parties, with Llorente offering a bustling, bruising Plan B that Mourinho's side currently lacks. He'll also be fairly cheap, as he's out of contract in a few months, lending Real the upper hand in the bargaining stakes.


Loic Remy

The France striker is most often mentioned in the same breath as Tottenham, but then so is just about every player registered on the face of the earth. Lightning quick, the 25-year-old can play as a main striker, in the hole or down the flanks, a versatility that Mourinho could certainly use. Worth roughly a goal every two games for Marseille, Remy would be a very handy backup to Benzema and Higuain and wouldn't cost the earth, as Marseille is hardly as notorious for the hardball game as Jean-Michel Aulas' Lyon.

Jackson Martinez

If you can't afford Falcao, what do you get instead? His successor at Porto and understudy for Colombia, Jackson Martinez. Two-footed, fast and with an eye for the incredible, Martinez has been tearing up the Portuguese Primeira Liga since signing from Jaguares in the summer. In what has so far elapsed in the Portuguese top division, Martinez has already beaten the scoring streaks of Falcao and Hulk before him, drawing the admiration of, among many others, Barcelona, which dispatched a scout to Porto's last league outing against Maritimo. Did Martinez score? Twice, in a 5-0 rout. The Colombian is going to be the next big thing out of Porto. Real would do well to buy this South American goal machine at source. It might be a good idea to act quickly, though; to ward off interest in Martinez's teammate James Rodriguez, Porto inserted a €36 million buyout clause into his contract.

Andy Carroll

Stop laughing at the back. Mourinho has a thing for No. 9s, and the big Geordie certainly fits the profile. He might have drawn a blank so far at West Ham but he would certainly profit from some decent service, and by being a good foot taller than pretty much every other player in La Liga. The England forward wouldn't fit into Real's counter-attacking style but would be a battering ram option from the bench when an opponent is defending deep. Real lacks an aerial threat and all too often sees its corners bounce harmlessly back into midfield or into the grateful gloves of the goalkeeper. Carroll is on loan at the Hammers from Liverpool, with a purchase option of somewhere in the region of £17 million. That may prove to be too pricey for the East London club but peanuts for Real, which would have a player more than accustomed to life on the bench but with the ability, as proved at Newcastle and during the European championships, to rise to the occasion in big games when called upon.