Empire or legacy at Real Madrid?
There has been much debate in Spain over the past few days over exactly what the function of Real Madrid Castilla should be. Or more to the point, precisely what the remit of Alberto Toril, the coach of what is essentially the reserve side, really is.

"He has to decide if it is more important for him to finish fifth, fourth, ninth or tenth with Castilla, or whether it is more important to help the progression of a player in a position that the first team considers important," said Jose Mourinho this week.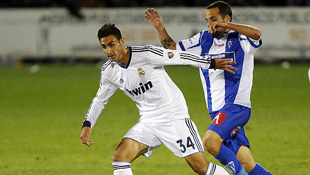 Angel Martinez/Real Madrid/Getty ImagesJose Mourinho wants to see players such as Jose Rodriguez, who scored this past week in the King's Cup, develop into first-team stars .
Castilla currently competes in Segunda Division, having gained promotion from the third tier last season, Toril's second in charge of the side. The leap in quality is a significant one, with many teams in the various groups of Segunda B being semi-professional in nature. Logic states that playing regular first-team football against gritty Segunda sides should be the perfect springboard to career advancement -- Zaragoza was there not so long ago and in two of Real's past three league games it has faced promoted Galician teams Deportivo and Celta. There is also little incentive to strive for the promotion spots, as Barcelona B can attest; in 2010-11 it finished third in the second division, but Liga rules state, fairly obviously, that a B team can't play in the same division as its senior side. Villarreal B was demoted last season when the Yellow Submarine sank into Segunda.

However, youth team players, or canteranos, rarely get a look in for the first team at Real Madrid. During the King's Cup interlude midweek, Mourinho felt obliged to come out in defense of his handling of Real's cantera. Speaking at a press conference, the Portuguese produced a list from his pocket with customary flourish and proceeded to run through names that had appeared from the first team, and then disappeared entirely. Beginning with the 1999-00 season, Mourinho named every debutant and noted that "those who had the best careers at Madrid were Pavon and Raul Bravo."

He went on to analyze Manuel Pellegrini's track record: "Marcos Alonso, [Pedro] Mosquera and Juanfran, with a total of nine minutes between them." Warming to his theme: "Under Juande Ramos Dani Parejo, Codina and Bueno. And before them, Miguel Torres, Nieto, [Alvaro] Mejia, Riki, Nunez ... It's not me who has broken a certain dynamic. Quite the opposite. I want players to break into the first team. My list runs to almost 30 players!"

Of course, that list, upon which he did not elaborate, would mostly have been compiled in the King's Cup competition, which although taken rather more seriously at the club since Mouinho arrived still throws up third division opposition against which he can field a handful of stars and fill the gaps with canteranos.

This is exactly what happened against Alcoyano last Wednesday night. The modest team from the Valencia region was never likely to cause Madrid too many problems, and in a two-legged tie there is always the safety net of dishing out a hiding at the Bernabeu if things don't go according to plan. Few in the corridors of power in the capital have forgotten the "Alcorconazo," and Mourinho knows only too well how that season ended for his predecessor. Thus, seven canteranos made the trip to Alcoy, five in the starting line-up -- brothers Nacho and Alex Fernandez, Alvaro Morata, Jose Callejon and keeper Antonio Adan -- and two on the bench, Jose Rodriguez and reserve stopper Jesus Fernandez. All those that played acquitted themselves well, Rodriguez scoring a fine goal after replacing Alex.

But only the brothers Fernandez made the bench against Zaragoza, alongside habitual back-up to Iker Casillas, Adan.

During his press conference, Mourinho called himself "the champion of the debutants." It's not a self-applied term that's easy to argue with. After all, he can only work with what he's got and Real has no pedigree whatsoever in bringing through youth players. La Fabrica (the Factory), like most in Spain, is at a standstill. Unlike shop floors the nation over, though, at Real there is cash to fix the problem. There has always been cash to fix any problem. That's how, in the absence of Sami Khedira and Xabi Alonso against Zaragoza, Mourinho was able to field Luka Modric and Michael Essien. It's hardly the same as plugging that particular gap with Mosquera -- on loan at Castilla from Getafe -- or Mejia (Almeria), or drafting Pavon into the center of defense. For that, Mourinho has World Cup and European Championship winner Raul Albiol.

Of course, Madrid has tried the superstars and canteranos formula before -- Florentino Perez's much-maligned "Zidanes y Pavones" experiment. The idea that Pavon, who in fairness wasn't a bad player (currently a free agent, if anybody was wondering), would become a world-class player after a few games of piggy-in-the-middle with the greatest midfielder of his generation was always a fanciful one. It was swiftly discarded and out came the check book. In his second stint at the helm of Real, Perez made his intentions pretty clear in the summer of 2009. The only young promise brought into the club under Perez's reign has been Raphael Varane, scouted by Zidane himself. The construction magnate is not about building a Real team for the future.

The cantera was mostly overlooked when in the third tier, with good reason. But since its ascent to what Liga sponsors like to call the "silver division," surely some effort should be made to bring some of Real's promising youngsters through? FIFA Fair Play Rules and the recession in Spain will hurt Real less than other sides, but the Perez presidency cannot last forever, even if there is no obvious candidate to challenge him in next year's presidential elections (a 50 million-euro deposit to run puts most people off -- last time out Perez ran unopposed.) Two cantera gems, Joselu and Dani Carvajal, were sold in the summer, Real's first profit-making window this century.

"I'm looking for players to spend their careers with Real," said Mourinho. "I'm looking for equilibrium between the first team and the cantera. There are players at Castilla that play in positions that don't exist in the first team. In the senior team we have a 7, a 9, a 10 and an 11. We don't play 4-4-2. Our wide players play high up the field and in Castilla they drop back. The young players are a little hampered by the lack of similarity in the two styles of play."

For the Zaragoza match, the coach rewarded Nacho and Alex's performance with places on the bench. The elder brother got nine minutes; as Mourinho had previously pointed out, the same amount the entire Castilla squad received under Pellegrini. At 22, Nacho was the oldest outfield canterano on the field in Alcoy. Goal scorer Rodriguez is just 17.

Perez is intent on building an empire in Asia and the Middle East. Mourinho, albeit with his hands tied from above and below, seems intent on trying to bequeath a legacy.