Mourinho makes it a quick-fire century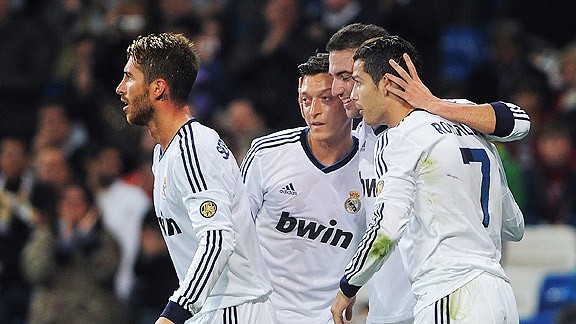 Gonzalo Arroyo Moreno/Getty ImagesA competent win for a strong team. Mourinho should be proud.
Despite the 4-0 scoreline it wasn't that pretty, but it was a win - and a win that saw Jose Mourinho live up to his 'Special One' status by reaching 100 competitive wins as Los Blancos boss faster than anyone else before him.

One hundred wins in 133 matches. Eighteen draws. Fifteen defeats. Not too bad as far as managerial records go, especially given the famous managerial names that have gone before him at the Santiago Bernabeu and the successes they all brought. Maybe some of those names simply weren't given the time to reach that century but Mourinho has been and his response has been emphatic.

Saturday night's 4-0 romp vs. Real Zaragoza in the Spanish capital wasn't comfortable but it was deserved, especially as it came with a disjointed defence and a second-choice midfield duo of Luka Modric and Michael Essien. Xabi 'the Orchestrator' Alonso was suspended and his usual centre midfield side-kick Sami Khedira missed out due to injury. No fear; the 'new boys' operated well in a much-changed Madrid side, even chipping in with a goal apiece late on to add gloss to the final result.

It was always going to be tough for the ex-Premier League pair to fit into the shoes left by Xabi and Khedira. It's not often, in Mourinho's time in charge anyway, that both players have been missing for a Liga match. Modric pulled the strings well enough, though was perhaps playing a little deeper than a man of his creative ability should have been. Essien looked fit enough to be the box-to-box man we all knew and loved from his time at Chelsea. The goals topped off what was a very adequate performance from the pair; that said when Alonso and Khedira return, expect them both to regain their places.

Zaragoza weren't that bad, either. Coming into the game on the back of three straight wins including one in the Copa del Rey in midweek, they looked set to be a tough nut to crack early on, with experience running through the spine of their team and confidence high throughout. By contrast, Madrid were lethargic though 138 seconds of lethal finishing changed the game.

First, Gonzalo Higuain couldn't fail to miss from a yard out and give Mourinho's men the lead. Next, Angel di Maria struck; after his initial shot was saved by Zaragoza goalkeeper Roberto (a man reported to be linked with a move to the Bernabeu), he followed up with a neat finish to change the game from one the visitors were very much in to one they were pretty much out of.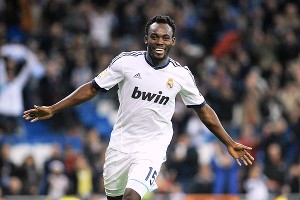 Gonzalo Arroyo Moreno/Getty ImagesMichael Essien deputized admirable in Real's misshapen midfield, even scoring his first goal for the club late on.

Madrid rode their luck and Helder Postiga was left to rue an incorrect offside decision when he tucked the ball into the back of the net. Iker Casillas was in good form with a couple of good saves but Zaragoza, on the whole, were unlucky not to find a way back into the game with a purple patch in the second half. Essien and Modric finished them off. Job done. The gap, once again, closed on Barcelona as Los Blancos continued to play cat and mouse with their Catalan rivals.

All told, it was very much a game of centuries. A century of competitive wins for Mourinho as Madrid boss. Di Maria scored on his 100th appearance for the club. Higuain was just three goals shy of his 100th goal for the club -- his early goal gave hope of a historic hat-trick but it wasn't to be.

Mourinho's quick-fire century of wins will be the ultimate talking point. His win percentage rate before the match was 75 percent overall, 77.65 percent in the league. His record was second only to his predecessor, Manuel Pellegrini, who had a win percentage was 81.58 percent overall but the same in the league at 75 percent. Also, a goalscoring average of 2.87 goals before Saturday night's match -- not bad for a manager who arrived with an air of defensive set-up about him, huh? His next best win percentage came at Chelsea at just over 70 percent.

It looked like a match made in hell when he arrived at the club. A man with such a big ego managing a club with such a big ego -- what could possibly go wrong? A Copa del Rey in his first season was adequate -- after all he did say the Liga title would come in his second season. A box ticked there, too. Yet the Champions League is still the holy grail and there's every chance that it could arrive in this, his third season in charge of Los Blancos.

As it turns out, the 'Special One' really has done some special things in the Spanish capital. Madrid's performance to bring about his 100th competitive win was far from vintage, but Mourinho has moaned recently that his team can't win if they play badly. They didn't play that great on Saturday night and still managed a pretty comprehensive win against an in-form side.

Mourinho has chalked up 100 wins for Madrid in rapid time. Will he chalk up another 100?

Follow me on Twitter @nicholasrigg