Comfort of home favors Real in return clash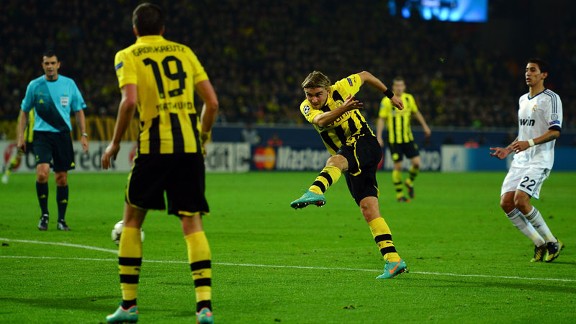 GettyImagesMarcel Schmelzer fires home the winning goal for Dortmund
History was not on Real Madrid's side going into the Champions League clash with Borussia Dortmund, and neither was lady luck, despite the match referee handing Jose Mourinho's team a couple of favorable decisions that, along with Iker Casillas, kept the capital club in the hunt for a result.

Real had not won in Germany for over a decade and last came away from a trip there with a morale-boosting performance in the 2002-03 season, when the unlikely combination of Zinedine Zidane and Javier Portillo rescued a point, and secured qualification for the knock-out phases, against the same opposition.

- Schmelzer grabs big win for Dortmund

On Wednesday night, Real's game plan was thrown early on when Sami Khedira limped from the field clutching his hamstring. Without the German international alongside Xabi Alonso Dortmund was better able to exploit space in the final third with Khedira's replacement, Luka Modric, hardly a like-for-like switch. It is easy to forget that Modric was at one time deployed as a defensive midfielder by Juande Ramos at Tottenham - an experiment that didn't work then and is hardly the answer to Real's problems in that area in the absence of Khedira.

It was, though, the left side of Real's formation that Iker Casillas identified as the weak link in the Westfalenstadion. "We performed very well in defense against their strong point, which is from free-kicks," said the Real captain. "It's true though that they took advantage of our left side, you could see it in the way they played."

While not direct criticism from the increasingly forthright Spain captain, Casillas' observation is a little harsh on Michael Essien, who has played at full back before but is hardly a natural replacement for Marcelo and Fabio Coentrao. It's a case of square pegs for round holes in Madrid's defense at the moment but Dortmund's opening goal came from an uncharacteristic error by Pepe, who played a loose ball into the area that Khedira would normally have been patrolling.

The impressive Sebastian Kehl pounced and threaded a pass to Robert Lewandowski, who thrashed an acute shot past Casillas. Cristiano Ronaldo levelled swiftly after, lifting a long ball over Dortmund stopper Roman Weidenfeller, but the home side's high tempo pressure eventually told when Marcel Schmelzer hammered a left-footed drive through a crowded penalty area past the despairing dive of Casillas, who had punched clear only as far as the Germany under-21 international.

Real's loss should not be taken too drastically by Madridistas though. As Xabi Alonso pointed out: "Dortmund is the Bundesliga champion for a reason." It is also worth noting that the Black-Yellows knocked five past Bayern Munich in the German cup final earlier this year.

So where does this leave Real's chase for the feted decima - its tenth European triumph?

The quick answer is needing to beat Dortmund at the Bernabeu on November 6, after Manchester City did what relatively few sides in Europe tend to; hand three points to Ajax. The surprise defeat leaves Roberto Mancini's team languishing bottom of the group with a solitary point, a position that will have to be overturned in the return match when Ajax visits Manchester on the same day. Even then, in the case of a City victory, it will still be a win short of Dortmund's total with a trip to the Westfalenstadion and the visit of Real to come.

The group is shaping up to be a straight duel between Real and the German champion, with Dortmund a pace ahead as the ten-count beckons. However, Real's parlous record in Germany is matched by the Bundesliga side when it travels to Spain, where it has only picked up three points on one occasion. Those came in Madrid, but in the south of the city at the Calderon. In two visits to the Bernabeu, Dortmund has left empty-handed each time.

As Mourinho noted after the game, there is always a group of death and it was just bad luck that his side fell into it this year. The Champions League name is hardly accurate, but in the case of Group D all participants are the current holders of their domestic league title.

"It's quite clear that there are joke groups and others like this in which a big club is going into the Europa League," the Real coach said. "It's a very tough group and at the moment Dortmund and Madrid are in the top two places, but who's to say that City won't get ten points?"