International breaks give Mourinho a headache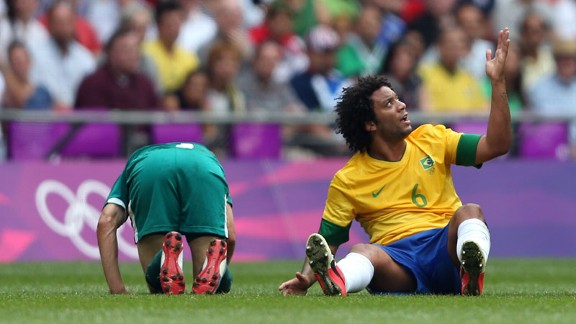 GettyImagesMarcelo: Broke a metatarsal in training with Brazil
No club manager likes international breaks. Sir Alex Ferguson's pitched battle with national federations is the stuff of legend. Many was the occasion when the Manchester United medical staff would send a seemingly timely sick note to the relevant FA, only for the wily Scot's injured stars to trot out onto the Old Trafford turf having recovered during the break for the unfortunate business of qualifying games.

- Injury problems mount for Mourinho

Numerous are the managers who have called for the whole process of European and World Cup qualifiers to be reviewed, and even more prolific have been the phone calls placed to national team coaches from jittery club bosses asking that their key players be withdrawn as quickly as possible from international friendlies, or not fielded at all.

To Jose Mourinho's credit, he has often held more stock in international football than many of his peers, to the extent that he engineered an uneasy stand-off with his employers at Real Madrid when the Portuguese Federation asked him to step in to take charge of the national team for two key Euro 2012 qualifiers against Denmark and Iceland in October 2010. The Special One announced that he would "for personal pride and passion for Portugal" be more than willing to work his magic on Os Navegadores, but his overseers vetoed the move. Mourinho responded, not unreasonably, that there was little for him to do in the Spanish capital during the lull. "I am on holiday for 12 days," he noted sourly.

This time around, he has had even less to do at Madrid's Valdebebas training facility with even Kaka, called up to the Brazil squad for the first time since the 2010 World Cup, out of his hair for a couple of weeks.

The Portuguese may well be there early Wednesday though, to run the rule over a Castilla cadet called Jorge Casado. The international break, for Real's defence, has been all too literal on this occasion. In the space of five days Mourinho has lost most of his experienced defenders: Fabio Coentrao was the first to report to sick bay after picking up an injury in Portugal's qualifier against Russia last Friday and he was swiftly joined in the queue for the Bernabeu treatment table by Marcelo, who broke a metatarsal in training with Brazil ahead of the Canarinha's friendly against Japan - in which Kaka starred in another nod to Mourinho's teamsheet at the other end of the field.

The injuries to Marcelo and Coentrao, who are expected to be out for three months and up to five weeks respectively, leave Real with two youthful options at left back: Casado and Nacho Fernandez, promoted to the first team during the summer. The latter operates as a central defender and captain for Castilla but debuted in La Liga at left back against Valencia two seasons ago, although he has only played for the first team once since then. Casado has yet to make a senior appearance but has more than 70 under his belt for Castilla in the current problem position, with seven goals to his name.

Alvaro Arbeloa is a natural fit at left back, equally comfortable there as on the right, but the Spain rightback limped off in La Roja's 1-1 draw with France on Tuesday night and is expected to be sidelined for three weeks at least. That leaves Mourinho with a choice of deploying Michael Essien at rightback - a task he previously performed at Chelsea on occasion - or shifting Sergio Ramos there and partnering Raul Albiol with Pepe; a worrying prospect for Real fans as Vicente del Bosque preferred Sergio Busquets to the practically unemployed former Valencia man in the heart of defence against Belarus and France.

Ramos also presents Mourinho with a conundrum: the Sevillan once again proved against France what Mourinho himself has previously observed - he is a far more effective central defender than rightback. A commanding performance complete with crunching tackles, sixth-sense coverage and a goal on his 97th cap could not have done more to convince his coach to restore him permanently to the central berth. Despite a recent lack of rapport between Mourinho and his vice captain, the Portuguese needs Ramos on side right now. And that side is not the right-hand one.

Ramos possesses a streak of exuberance that lends as much villain to hero to his on-field persona, which he displayed with his Obafemi Martins-style goal celebration in the Calderon. If Mourinho was watching the match, his face must have been a picture. But it is no coincidence that Ramos earned his 97th cap against France when Carles Puyol, eight years his senior, has just two more. "People think I'm cocky, but I'm not," Ramos said in a recent interview, and it is true that cocky does not win a player so many appearances under no-nonsense coaches Luis Aragones and Del Bosque.

The international pause has presented Mourinho with a few new lost left-sided crosses to bear, not least the late injury to Karim Benzema, France's best outfield player on Tuesday night. But it has also given him the chance to make amends with Ramos, Spain and Real's most influential defender since the peerless Fernando Hierro.

If Real is to weather the storm brought about by this flurry of unfortunate breaks, it is one the Portuguese will need to man-manage with all his panache. If he is watching Castilla defenders like Nacho and Casado, it's pretty likely that Dortmund, Real's chief threat to qualification in the group of death and which plays Mourinho's side in a crucial double-header in the Champions League over the course of two upcoming weeks, will be doing exactly the same.