Gareth Bale vs. Jese: It's too early to decide
A home grown talent exploding into any club's first team is always a cause for celebration. This is even truer at Real Madrid, where other than Iker Casillas, the fans have been starved of one to call their own since Raul and Guti were jettisoned at the start of the Jose Mourinho era.

Even during the time that the two Madrid-born stars spent at the club, few came through the ranks as they did. A procession of international superstars came and went, supplementing a steady supply of Spanish talent snapped up from other clubs.

Now, there is a genuine buzz around the Bernabeu over 20-year-old Castilla product Jese Rodriguez. Although born in the Canary Islands -- which has been a phenomenal production line of Spanish talent -- Jese was scouted by Madrid and brought through the ranks from the age of 14, so he's close enough for the purists. And those who prefer their idols to be born within the borders of the capital city region aren't complaining either: many observers believe Madrid unearthed the "Next Big Thing" on that trip to the Atlantic outpost to watch him turn out for AD Huracan's youth side.

The only slight snag for Real Madrid is that the club acquired the "Current Big Thing" from Tottenham Hotspur in the summer. At the time, it was seen as a masterstroke of playground bullying and a clear signal that Real Madrid was serious about becoming the predominant force in Europe again. What side couldn't take on the world with Cristiano Ronaldo on one side of the attack and Gareth Bale on the other? Real could play Augustus Gloop through the middle and still beat pretty much anybody.

But for one reason or another Bale, the 100-million-euro man, has been overshadowed by Jese, a player that cost nothing, so far this season. But there are precedents to not assume this will be a permanent arrangement.

Around this time last year, Real fans were scratching their heads, taking to Marca polls and bombarding Internet forums to ask just what was Luka Modric brought in for.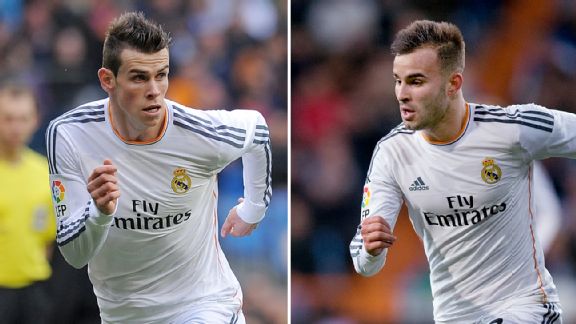 Getty ImagesGareth Bale versus rising starlet Jese is becoming a big debate for Real Madrid supporters.
Signed on Aug. 27, 2012, Modric arrived at the club with the season already underway, hardly allowing him much time to get into the swing of things. He had missed Tottenham's first games of the season and made his debut as a substitute against Granada with Real already five points off the pace following a draw with Valencia and a loss to Getafe. Club sporting director Emilio Butragueno stressed it wasn't a panic buy, but had been in place for some time. It wasn't until late October that the Croatian played 90 minutes.

After an underwhelming first half of the season transfer talk emerged, especially with the pursuit of Bale gathering pace. Tottenham and Real's much-publicized "special agreement," hammered out during the Modric negotiations, led to suggestions that the midfielder would be offered back in a part-exchange deal for the Welshman.

Fast forward 12 months, and Gareth Bale arrived at Madrid on Sept. 1, having missed most of preseason through injury. Real had played three games and had struggled to break down Betis and Granada, although disaster was averted as the side scraped six points to keep pace at the top. Bale made his debut in match week four against Villarreal, scored a goal, and was replaced on the hour mark as Real dropped points for the first time in a 2-2 draw. The Wales forward didn't feature at all in the next two fixtures and, like Modric, didn't complete a full match until late October.

Meanwhile, Jese was starting to make waves and the wisdom of the outlay on Bale came under scrutiny.

Bale's transfer dragged on all summer with grim inevitability, but he was seen as a natural fit at the club, in terms of playing style and marketability. Modric lacked the star quality admired by the Bernabeu and had to take the scenic route to acceptance by a notoriously hard-to-please crowd. He initially struggled to nail down a first team place and nobody seemed quite sure where to play him. This season, he is a good bet for the fans' choice as player of 2013-14. Carlo Ancelotti has called Modric one of the best midfielders in the world. Few would disagree.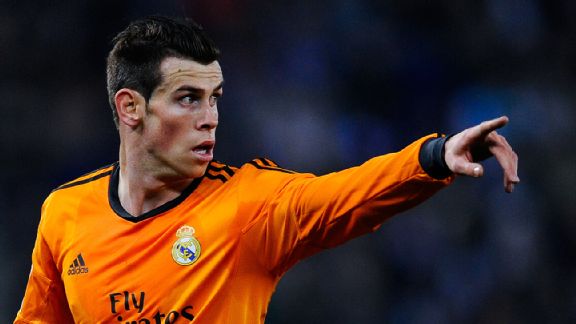 David Ramos/Getty ImagesGareth Bale needs time to fully recover and prove what he's capable of.
Bale, already a global superstar when he arrived -- although ironically not really tested on that scale of stage -- was never going to suffer from a lack of time and patience from the stands, while shirt sales go a long way toward appeasing board members nervous of making an expensive mistake.

Although his first season statistics were paraded about by detractors, Modric was never a prolific goal scorer at Spurs. His numbers at Real in 2012-13 -- four goals and nine assists -- were similar those of each his of four seasons at White Hart Lane.

It wasn't until March last year that Modric really gained the attention of the Bernabeu, assisting Sergio Ramos's winning goal in the Clasico and then coming on to turn the game against Manchester United in Real's favour. From there, he went on to play 90 minutes in 10 of the final 13 league matches of the season. Now he is indispensable, one of the first names on the team sheet.

Bale wasn't fit when he arrived at Real and has been plagued by a series of niggling injuries ever since. He has just completed the full 90 minutes for two matches in a row for only the second time in his Real career. But even without injuries, a price tag and a reputation doesn't mean a player will be a regular starter in his first season, and even less so if he is adapting to a new league.

What stands out about bale is his record despite limited pitch-time: nine goals and 10 assists in a team that scores a lot of goals and has a lot of providers. In a one-month period of five games from the end of October -- to date his only lengthy run in the side -- Bale hit six goals and laid on six assists. Perhaps he should for now be judged on that criteria, as he is clearly still struggling to completely overcome his injury problems.

Jese has come out of the blocks this season like nothing Real has seen since a certain No. 7. Comparisons to the legendary Raul are natural: he too was 14 when Atletico brilliantly decided it couldn't afford a youth academy during the Wild West years of Jesus Gil, leading the youngster north to the Bernabeu. In his first season, 1993-94, Raul hit 10 goals in 30 appearances. In his next two campaigns, he bagged 20-plus but he wasn't selected to go to Euro 1996. Jese has set himself a target of 10 goals for the season and is on eight already, with a background choir of voices calling for his inclusion in Spain's World Cup squad.

The hype is understandable: Spain's strikers, by and large, are not in great form, and Diego Costa is an unknown element to be dropped into the harmonious La Roja dressing room. Every country loves a young star but there have been many that have failed to reach their full potential by being exposed to too much expectation early in their careers.

There will, of course, be no World Cup for Bale, who at only 24 is still yet to reach his prime as a player. And at least unlike his teammates, he will have the luxury of a full preseason ahead of next year. As Modric has proven, reaching your best at a new club doesn't happen overnight: let Bale be judged over two seasons, and let Jese be allowed to develop under the guidance of his coaches, not a section of pro-Real Madrid media clamoring for a new poster boy.