Tricky, funny Getafe to provide stern Real test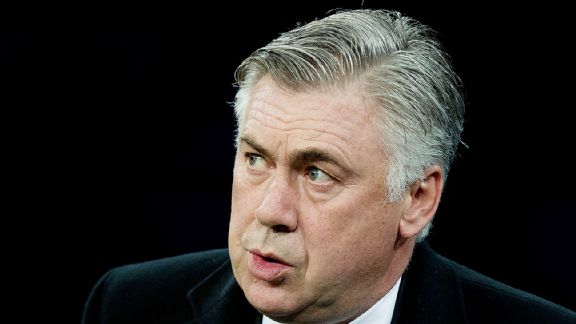 Gonzalo Arroyo Moreno/Getty ImagesCarlo Ancelotti has improved Real's set-piece defending this season, which should bode well for the tricky trip to Getafe.
For some reason, Getafe always makes me think of the number eight. Probably because that's where I think they are in the table until I have a look. Or maybe because that's how many times in my life they haven't gone and recorded the exact opposite result to the one on my weekly stab at the Spanish football pools.

This season, Getafe are nowhere near eighth place. To say Luis Garcia Plaza's side is struggling a bit is like saying there's a shower or two over the UK. Getafe haven't won a league game since November, a 1-0 home win over Levante that did not linger long in the mind. Sunday's match against Real Madrid at the Coliseum is Plaza's 100th in charge of the side from the south of the capital. If the result is particularly unpleasant, the odds on it being his last are not very long at all.

- Report: Bale eyeing Real treble

Getafe CF is a curious case in Spanish football, or football anywhere for that matter. After a merger of two local clubs in 1983 to form Getafe, the side began competing in the depths of the Regional Division 2, the seventh tier. A little over two decades later the side was in Primera and it has stayed there ever since -- a situation that is not going to be traded lightly, even if it means heads must roll.

Throw in successive Copa del Rey finals from 2006-08 -- one on the back of a 4-0 drubbing of Barcelona in the final four -- and a UEFA Cup match where the Azulones took it right to mighty Bayern Munich over 120 minutes, and it's a quite remarkable journey.

This Getafe side is not that Getafe side, of course. But the nucleus of what Plaza has at his disposal is the side that beat Real Madrid 2-1 at the Coliseum last season, when the visitors again succumbed to their set-piece weakness.

Carlo Ancelotti has largely eradicated that Achilles heel from his Real team, which bodes well. But another factor always comes into play in these fixtures.

Since Getafe reached the top flight it has acted as a sort of incubator club for its more illustrious neighbour, giving young Real players some first team experience and a few sharp lessons in the school of hard knocks. Getafe's style has never exactly been tiki-taka. El Geta also gladly takes back its former charges when they invariably fail to make the grade at the Bernabeu.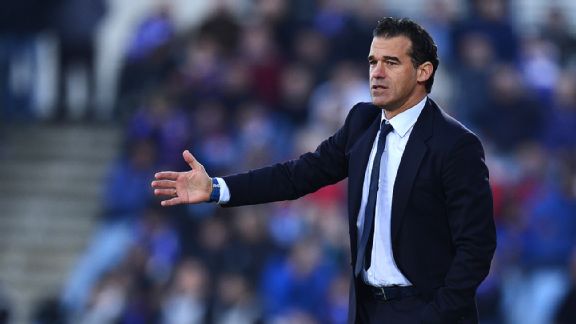 Javier Soriano/AFP/Getty ImagesGetafe boss Luis Garcia Plaza might not be in charge much longer though he is capable of engineering a good result vs. Real.

For many of Getafe's players, there is always that little bit of extra motivation when Real comes to town. Pedro Leon, Getafe's free-kick specialist who has chalked up six goals and five assists this season, is one such player. Midfielder Pablo Sarabia played one game for Real Madrid, the same number as goalkeeper Jordi Codina. Pedro Mosquera will be a quiz question one day: his Real first-team career lasted exactly one minute.

That's not to say that Getafe are a rag-tag crew of Real rejects, but they do lack a certain draw that their rival has in abundance. There are few star names in Getafe's ranks, like Lisandro López and the really unfortunately named Ciprian Marica -- who wisely has his first name emblazoned on his shirt -- pretty much sum up the international glamour.

That is why Getafe struggles to attract fans, which in turn exacerbates a lack of funds to bring in the occasional big nameurn. It's a circle that sums up life for most Liga clubs these days. The stadium has a capacity of 17,700 but rarely gets half that number through the gates, even when Real, Barcelona or another of La Liga's sexier sides rolls into the rough and ready district.

Still, any club that can laugh at itself wins plenty of casual fans and Getafe did so when it launched its annual season ticket campaign ads, featuring hot zombies and a wild piano-playing koala (Both NSFW). One featuring Biblical figures sacrificing themselves for the greater glory of Getafe was pulled quicker than a reality TV star when Guti's in town.

All of which, of course, is not Ancelotti's problem. The Italian has a wealth of talent at his disposal, which does create a different type of pressure: teams with the resources of Real Madrid have no business losing to teams containing half a dozen of their hand-me-downs. And Ancelotti is without Cristiano Ronaldo, who is serving the second match of a three-game Liga suspension.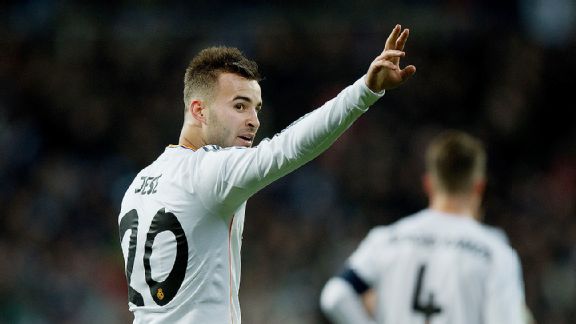 Gonzalo Arroyo Moreno/Getty ImagesYoungster Jese has been superb for Real since rotating into the first team and should feature on Sunday.

The last two meetings between the sides at the Bernabeu have ended 4-0 and 4-1, with the Portugal captain scoring five of those, whereas the past two games at the Coliseum have ended in defeat and a scrappy 1-0 win in which Sergio Ramos spared his side's blushes. Getafe doesn't roll out a welcome mat for Real, and others will have to step into the breach.

Ancelotti is unlikely to stray from his preferred formula, although he does have a Champions League clash with Schalke 04 (Feb 26) to keep half an eye on. Raphael Varane will probably be held back for that, with rotation at full-back continuing to be the Italian's byword.

Up front Jese will come in for Ronaldo, with Gareth Bale and Karim Benzema. The rise and rise of the youngster is a source of some relief at Real, where a genuine home-grown world-class talent hasn't come through since Iker Casillas. Jese won't be lining up for Getafe any time soon but Plaza did get a little ahead of himself when he said "whoever comes in for Ronaldo will be a full international."

Not quite, Luis, or at least not yet. The World Cup is a genuine possibility if Jese continues on the same line: Ruben de la Red (Real Madrid, Getafe, Real Madrid, now a youth coach at Valdebebas) said this week that Jese's ceiling "is the Ballon d'Or."

Real has not been beaten since October 26 at the Camp Nou. Getafe has won just seven games this season, and only four of them at home. Number eight again? Unlikely, but as Getafe has shown in the recent past, having all the shiniest toys in the playground is a handy way to get yourself mugged.