Real Madrid restore La Liga order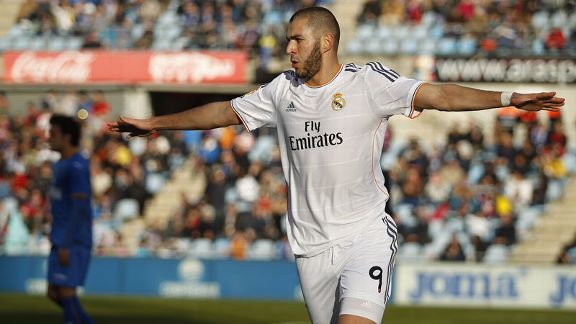 AllsportKarim Benzema celebrates scoring Real Madrid's second goal against Getafe.
You got the sense that things got back to normal in La Liga this weekend.

Victories for Atletico Madrid and Barcelona on Saturday, over Real Valladolid and Rayo Vallecano respectively, were followed by a 3-0 win for Real Madrid at near neighbours Getafe. The top three all secured three points and won at a canter to remain locked on the same points at the top of the table while the rest of the division scrap it out amongst themselves.

It took Madrid just five minutes to make their mark at a sunny Coliseum as Jese Rodriguez returned to the fold following his midweek cup break and continued where he'd left off with a sublime finish from a Gareth Bale assist. Just before the half-hour mark Karim Benzema doubled Madrid's lead with his eighth goal in ten games since the return from the winter break and Luka Modric wrapped things up in the 66th minute just as it looked as though the hosts could find a way back into the contest.

It was another win for Carlo Ancelotti's men, the 21st victory from a 25-match unbeaten run in all competitions, but it was a different win. The fixture calculator has been favourable to Madrid since the turn of the year, with the majority of their matches coming before their rivals and allowing them to pile the pressure on at the top. This weekend the tables had turned. Barca and Atleti collected their three points on Saturday, and in emphatic fashion, to leave the pressure on Ancelotti's men to keep up 24 hours later. They didn't shy away from the task at hand.

There was no Cristiano Ronaldo as the flying forward sat out the second of a three-match suspension but that mattered little as Bale and Jese stepped up to the mark once again. The Welshman added to his impressive assists tally for the season when he put the young Spaniard away for a beautifully-finished opener. Bale should have had one for himself before half-time but he shot wide following good work by Angel Di Maria and Benzema. It was another good outing for the winger, though, and he's featured for the full 90 minutes in each of Madrid's last three matches -- a positive sign in a season riddled by niggling injuries.

Normal service was resumed with the results at the top and normal serviced seemed to be resumed with Madrid's all-too-familiar second. The Madrid of old prided itself on using the counter-attack as one of its biggest weapons and it was a stunning, jet-heeled counter-attack that saw Benzema get on the scoresheet. Jese's pace powered the visitors forward following a Getafe attack before Di Maria swung over a pin-point cross for the Frenchman to caress into his path and drive under Miguel Moya.

Benzema was a thorn in Getafe's side all match. Much criticised for his lackadaisical approach earlier on this season, Madrid's No.9 not only got on the scoresheet, again, but he worked his socks off throughout and linked seamlessly with Bale and Jese. When he wasn't pressurising high up or tracking back to help out defensively, he was clearing Getafe corners. Many have found top of late, namely Jese and Luka Modric, but Benzema is showing some top form of his own and it's good news for Madrid, and good news for France with the World Cup just months away.

The three points may not have been too difficult to predict pre-match given the form of Madrid and the worrying lack of points for Getafe of late, but it's the kind of match Los Blancos would have slipped up in in past years. Indeed, last season Mourinho's men fell to a 2-1 defeat at the Coliseum but there was no danger of that happening under Ancelotti's watch as Madrid dominated when they needed to and held their hosts off when they needed to. Just when it looked as though Luis Garcia's men were finding a way back into the contest, even at 2-0 down early in the second half, Madrid killed it with a goal from nothing from Modric.

It was job done and it was a job that needed to be done. It's been Los Blancos' year so far in extinguishing the gap at the top and to throw that work away against a side such as struggling Getafe would have raised questions about their title credentials. Instead, a comfortable win followed the trend of the others at the top.

La Liga has been classed as a two-horse race by some in recent years but now Atleti have joined the pack and although the race may still only be a three-horse one, the results have not exactly gone to plan for that top-three since the turn of the year. While Madrid have not let their foot off the gas, Atleti and Barca have faltered and there have been more weekends of slip-ups and shock results than routine wins for Spain's leading sides. It's been quite a change from the formalities before Christmas.

This weekend moved a bit further back to "normality" with Lionel Messi and Neymar in the goals as Barca smashed six past sorry Rayo, while Diego Costa helped Atleti to a 3-0 win over Valladolid and Los Blancos cruised to three points by the same scoreline in the south of the Spanish capital. Only goal difference separates the top-three and slip-ups now could be crucial in the title race. The top-three are set for battle and Jornada (week) 24 showed it's going to be an interesting, high-quality battle that lies in wait.