Clasico cup final is Ancelotti's first chance of Madrid silverware
The battleground is set for the first serious silverware of the season. It will be a Clasico Copa del Rey final -- Real Madrid versus Barcelona -- on a to-be-confirmed date in April.

Barca booked their place with a 1-1 draw against Real Sociedad on Wednesday night, which saw them clinch a 3-1 aggregate win.

Twenty-four hours earlier, Los Blancos had secured their spot with a 2-0 victory over city rivals Atletico.

- Ronaldo spot-on
- Train: Real Madrid stroll into Copa del Rey final

The final will be a repeat of 2011, when Jose Mourinho collected his first major trophy as Madrid boss. Extra time was needed at Valencia's Mestalla for Madrid to win the cup, but Cristiano Ronaldo's goal proved enough to claim the bragging rights.

The cup may not be top of either club's priority list, falling as it does behind La Liga and the Champions League, but that triumph was the catalyst for Madrid's league triumph the following season. Success breeds success, and that win was crucial for Mourinho during his stint as Blancos boss.

Famously three years ago, of course, Sergio Ramos may not have treated the trophy with the respect it deserved when he dropped it from the open-top bus parading the team around the city. But do not think this is not a competition Madrid take seriously (though it perhaps has not always been that way).

Madrid's form in this year's competition has gone some way to proving the renewed emphasis placed on lifting the cup. Ancelotti's men have become the first club in the history of the competition to reach the final without conceding a goal.

It didn't start in convincing fashion: a 0-0 draw at lower-division Olimpic Xativa was followed by a 2-0 win in the second leg. A 4-0 aggregate triumph followed against Osasuna before Espanyol were beaten 1-0 in both legs of the quarterfinal. Then came Atleti and a 5-0 triumph. With 13 goals scored over a run of seven wins and one defeat, this final place is very much deserved.

While that importance is for the club as a whole, it is most definitely vital for Iker Casillas, who has helped to keep those clean sheets and who looks at the cup as one of two possible trophies he can personally help Madrid win.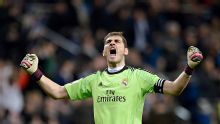 Dani Pozo/AFP/Getty ImagesCasillas last conceded a goal on November 27.
With Ancelotti preferring Diego Lopez in goal in La Liga, Casillas has been entrusted with the cup competitions, domestically and in Europe. Tuesday night's win at the Vicente Calderon stretched "San Iker's" unbeaten run in derby matches to 26 games (he didn't play in the league loss earlier this season at the Bernabeu or the cup final defeat at the end of last season).

It also meant he stretched to a staggering 862 minutes, the length of time since he last conceded. Naturally, he will seek to extend that run in the final, which is likely to be played at the Mestalla again.

It will be Los Blancos' 39th appearance in the final, and they seek their 19th win. The third final in four seasons also offers a chance to make up for last year's final, which they lost to Atleti at the Bernabeu, a result that ended more than a decade of Madrid derby dominance.

Provisionally, the final is set for the weekend of April 19 and will likely make even more hectic one of the busiest periods of the season for both participants.

Madrid and Barca could feature in Champions League semifinal first-leg matches just days after what's set to be a draining Clasico cup final. Moreover, there is also, of course, the possibility that the sides could draw each other in European competition, just as they did in 2011.

Madrid's La Liga matches around those matches don't look too demanding on paper. A home match against struggling Almeria the week before the expected cup final date is followed by another home match against Osasuna the week after (a trip to Valladolid on the weekend of the final, will be rescheduled). The fixture calculator has been kind to Madrid in that respect.

For now, though, cup final plans can wait as eyes refocus on the three-way battle for La Liga and the Champions League knockout rounds. That being said, though, a sizzling Clasico cup final will never be too far from the mind.