Attack Barca's best form of defence - expect a few goals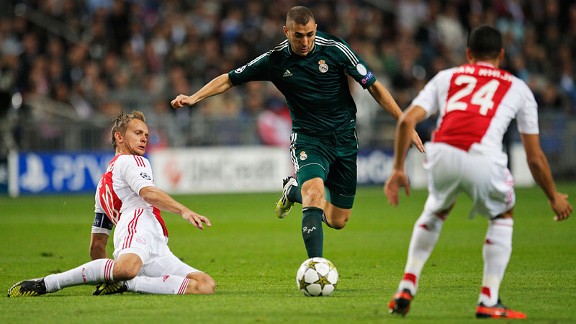 APReal Madrid's Karim Benzema must start as he loves to terrorize defences
People have criticized Jose Mourinho for employing negative tactics against Barcelona in the past, which was hardly a surprising reaction to his first Clasico experience as manager of Real Madrid. It was November 29, 2010 and the biggest defeat of the Portuguese's coaching career. Mourinho sat ashen-faced in his dugout, unable to stem wave after wave of Barcelona attacks, despite hauling off Mesut Ozil for the more pragmatic Lassana Diarra at half time. He had fielded the 4-2-3-1 that had served him well enough until that point, but it would be a while before he ventured to take on Barca toe-to-toe again.

For the next league Clasico the following April, Mourinho deployed a 4-3-3, with Pepe operating as a midfield destroyer. The game ended 1-1, and Mourinho was credited with hatching a successful plan to thwart the patented tiki-taka of the not-so-noisy northern neighbours. Hardly more adventurous teams were sent out against the eternal foe in the Copa del Rey final of April 2011 and the following season's Champions League double-header, when Pepe's robust approach to nullifying the threat of Lionel Messi resulted in a red card and a 2-0 loss for Real at home.

It wasn't until the Supercup clashes that kicked off last season that Mourinho threw caution to the wind. Back came the 4-2-3-1, the ultimately costly decision to try Pepe in midfield was backtracked upon and instead of trying merely to stop Barca from playing, Real went it for from the off. The result, over both legs, were two of the finest Clasicos in the Mourinho era and an eventual 5-4 aggregate win for the Catalans, with pride restored at the capital club as well. Only an on-field melee at the final whistle marred an otherwise captivating contest.

Real lined up in the same formation for the season curtain-raiser this year and added the Supercup to its opulent trophy room. Alongside the secondary trinket is last season's Liga trophy, essentially won at Camp Nou after Real's 2-1 victory opened up a seven-point gap with three games remaining. Again, Mourinho played a 4-2-3-1 in Barcelona, with the same front six as deployed in the 2-1 home victory that sealed the Supercup win on away goals: Alonso, Khedira, Ronaldo, Ozil, Di Maria and Benzema.

For this latest clash, several factors give Mourinho a pleasant selection dilemma; Kaka has once again forced his way into his coach's mind and Luka Modric has grown into his role as playmaker with his new club, to the detriment of Ozil. But more important than the rude health of his attacking options are the occupants of Barca's treatment table. Carles Puyol is out with a dislocated elbow sustained against Benfica and his defensive partner Gerard Pique is also doubtful. That would leave Barca with Javier Mascherano and Alex Song in the centre of defence, a prospect that will have many cules shifting nervously in their seats.

Mascherano is a defensive midfielder recast as a centre half, and very successfully too. Song, who my club in England were lucky enough to have on loan for a season, is a fine midfielder but has yet to convince in the shop-floor task of defending. Against Sevilla last week both players were at fault for the goals conceded - Mascherano for bad positioning and Song for being brushed aside like a ballet dancer by the Beast of Vallecas, Alvaro Negredo.

Add Dani Alves' and Jordi Alba's instinct for bombing up the flanks and there is going to be a lot of space for Real to exploit. For that reason Mourinho would be wise to start with Benzema, a player who not only scores goals and links play, but that delights in pulling defenders left, right and centre.

With Di Maria and Ronaldo marauding inside from the wings and one of Modric, Ozil or Kaka pulling the strings, Barca will have to try to keep possession even more greedily than usual. With the fragility of the back line in mind, they will probably try to camp in Real's half, leaving the back door open for lightening counter-attacks.

As Messi observed recently: "On the counter-attack, they can kill you. They have really fast forwards and the connection between defence and attack lasts five seconds and ends in a goal. They don't to need to be playing well to score three goals. I'm lucky to know Higuain and Di Maria: 'El Pipa' [Higuain] can be having a quiet game, take two touches and score two goals. Real can score out of nothing."

Mourinho has shed his defensive tag in Clasico encounters, and not without good reason. From the 5-0 humbling in December 2010 in his first match against Barcelona, Mourinho has steadily altered his game plan and personnel to find a formula for success, something that Tito Vilanova has not really had to with his side. That may be a help, or indeed a hindrance, during his first Clasico in charge. Real will go for the throat from the outset and if Barca find themselves 2-0 down, will Vilanova adapt or will he stay faithful to the club's philosophy? The patient approach worked against Sevilla, but Real are unlikely to allow Barca to settle on the ball long enough to pick their way through, especially if Mourinho opts to deploy the tireless Michael Essien in front of his defence.

In any case, with a potential 11-point gap to open up, or an eight-point deficit to be slashed to five, depending on which way you look at it, there are a few goals in this match. During Mourinho's tenure thus far 43 strikes have been shared between the two sides. Head-to-head results suggest about five going in on Sunday evening, but on this occasion there is absolutely no doubt they won't all bulge the net at the visitor's end. Mourinho has levelled the playing field since his first Clasico. This, his 14th, could prove to be his crowning moment.