Jese pushes Real Madrid to the Copa Del Rey semis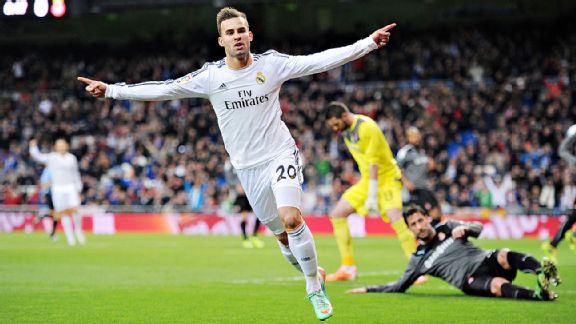 Denis Doyle/Getty ImagesJese's goal was the difference as it pushed Real Madrid past a tough Espanyol side.
It's fair to say that January has been a thoroughly enjoyable month for Real Madrid.

Eight games in 22 days, eight wins, and no goals conceded for a start. And then there is the kerfuffle at Camp Nou to amuse the Bernabeu faithful, for so long and not entirely unreasonably aggrieved at Barcelona painting itself as whiter than white. AS gleefully reported on Tuesday that the holding company for Neymar's rights -- owned by Neymars Jr and Sr -- "doesn't even have a post box."

It's all too good to be true for Florentino Perez and company, who have even been accused by the new Barça boss of holding sway at Spain's High Court.

On the field, the final engagement of Madrid's month of merriment was a potentially tricky King's Cup second leg match against Espanyol, which proved at the weekend in a thumping 2-2 draw at Mestalla that Javier Aguirre is not all starched shirts and a little tipple at Christmas. Betting men might have well picked this one to end 1-0 to Real. The past two games between the sides, both part of that January run of victories, ended exactly with that result.

A first goalscorer punt always improves the return, but Real's banker Cristiano Ronaldo has encountered in Kiko Casilla a foe as tedious as Lieutenant Gabriel Feraud in Ridley Scott's classic "The Duellists." Do what he may, Ronaldo just cannot beat the former Castilla man, who again thwarted the prolific Portuguese. Reports in pro-Madrid daily Marca suggesting Real might be in the market for Casilla should Iker Casillas leave -- handy for whoever does the shirts -- on this evidence might be more than an in-no-way cynical attempt to unsettle a goalkeeper on a King's Cup quarter-final match day.

Unfortunately for the spectacle, and for Espanyol's chances of progress, Aguirre reverted to cautious, speedometer-watching type in the Bernabeu and attempted to stifle Real and hit on the break. Setting up with a lone forward in the shape of the excellent Sergio García, the Mexican left Jhon Cordoba on the bench despite the youngster's impressive cameo in the first leg, which drew the sharpest save of the match from Casillas.

However, Aguirre was also likely well aware that his opposite number Carlo Ancelotti would not field his strongest side for a match that if won, well fair enough, and if lost, could still be won on the away goals rule. Fielding Ronaldo is usually sufficient to ensure a goal or two, although it was Karim Benzema's new understudy, Jese, who provided the only strike of the game.

The canterano has definitively usurped Alvaro Morata as back-up striker to the France international. The status of Real's former golden boy was made even more plain when Isco was fielded ahead of him as Spain's mode du jour, the false nine. Morata got a run-out at the end and looked impressive, although whether that was for Ancelotti's sake or the prospect of a last-minute loan bid from a club where he might actually play will remain unknown until midnight Friday. Isco, meanwhile, did little to stake his claim for more field time.

The stage at the Bernabeu belonged to Jese -- and to a lesser extent Nacho and Espanyol midfielder Alex, his brother and former Castilla teammate, playing against each other for the first time. Xabi Alonso teased a perfect pass into the youngster's path, and Jese brushed off former Spain left-back Joan Capdevila to take advantage of Casilla exposing his near post.

Ronaldo huffed and puffed but just could not add to his 32 goals for the season: Casilla's obstinacy reaped a few wry smiles and touching moments of professional admiration between the two. Casilla shutting out Ronaldo for 270 minutes is probably some kind of record in itself, but Casillas broke Real's longest unbeaten streak on the night with another clean sheet: the Spain captain has not conceded since Nov. 27.

Espanyol certainly tried to blot Casillas' swot card, especially during a period of pressure at the end of the first half, while Cordoba drew another last-ditch stop from the Real keeper early in the second. Fabio Coentrao went off injured after a nasty clash with Stuani later as the game meandered to a finish. Espanyol fluffed its best chance to equalize at the death when Raul Rodriguez missed from a Garcia free-kick, but match referee Fernando Teixero had already wound things up pretty effectively by sending off Victor Sanchez for an innocuous challenge and a second yellow fifteen minutes from time. Both Nacho and, predictably, Sergio Ramos found themselves in Teixera's book, but both were largely fictitious cautions.

Real now faces the "Wawrinka route" to King's Cup glory: either holders and recent bugbears Atletico or the competition's second most successful side, Athletic, in the semis, then more than likely Barcelona in the final.

Real's last four opponent will be decided Wednesday, ahead of the side's weekend engagement at the new San Mames, where another footnote in the history books is available: fourth-placed Athletic has yet to lose a game at its new stadium.