Record-breaking Lopez a stopper for all seasons
Discuss the goalkeeping situation at Real Madrid and the injustice of Iker Casillas's demotion to the substitutes' bench is inevitably brought up. A living legend at the Bernabeu, a two-time Champions League winner with Los Blancos, the man who lifted the World Cup with Spain in 2010 and also clinched two European Championships either side. Few goalkeepers come as decorated as "Saint Iker."

Yet the 32-year-old is no longer the No. 1 at Madrid. He hasn't been for more than a year. Limited now to Copa del Rey and Champions League starts, Madrid has entrusted Diego Lopez as its regular starter in La Liga -- Casillas, a player who was deemed by most as undroppable just more than a year ago, forced to watch on from the bench, week in, week out.

The initial furore surrounding the decision by Jose Mourinho to drop Casillas, a permanent fixture for a decade between the posts, was strong. It came in December 2012 when Mourinho opted for Antonio Adan, for the most part Madrid's third-choice stopper, in goal at Malaga. It remained at fever-pitch for much of the rest of the season. Mourinho brought former goalkeeper Diego Lopez back to the club from Sevilla but most expected the Spanish No. 1, still trusted by national coach Vicente del Bosque on the international stage, to return to the fold on a regular basis when Carlo Ancelotti took charge in the summer. It didn't happen. Lopez remains the main man.

The furor of Casillas's status has now subsided and Lopez is now deservedly starting to receive some plaudits. Casillas is still loved at the Bernabeu, for sure, and a return as regular No. 1 would undoubtedly be greeted with joy from the fans, but Madridistas are now starting to recognise Lopez as a trusty No. 1 who is highly competent. Many thought he'd be a short-term solution, a "now you see him, now you don't" stop-gap by Mourinho. Those opinions have now changed.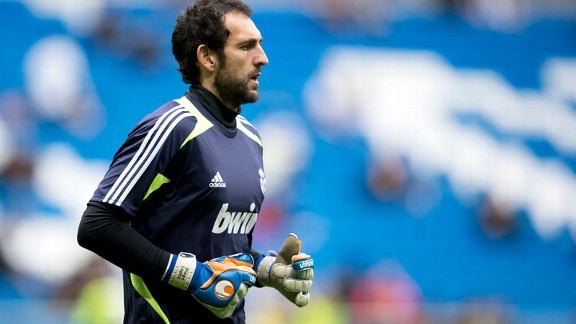 AllsportDiego Lopez has proved his worth between the sticks at Real Madrid.
While it was Cristiano Ronaldo's day at the Bernabeu on Saturday as Madrid beat Granada 2-0 (receiving the Ballon d'Or on his home ground, scoring and playing a key role in Madrid's other goal) in the capital to extend their superb start to 2014, Lopez set a new record in La Liga's goalkeeping figures for the season thanks to going unbeaten in goal for 389 minutes. A clean sheet against the Andalusians was Lopez's fourth on the spin, the last goal going in against him being at the Mestalla from Jeremy Mathieu just before Christmas. The former Villarreal man has not conceded a goal since the turn of the year.

Indeed, Los Blancos have been exceptional this month. Four league wins, three cup wins. Sixteen goals scored, none conceded. Casillas has taken the cup games and Madrid's top form as a team has meant a slightly easier job in goal for Lopez, but that's not to say he hasn't had saves to make. In the first match of the year, against Celta, he had to be alert to thwart a lively visiting attack before Madrid finally made the breakthrough. When his day has been easier, such as at Betis, he still had to be alert to make a save -- a sign of a good goalkeeper.

The partnership of Sergio Ramos and Pepe in the centre of defence has been applauded, and the defensive qualities of Xabi Alonso and Luka Modric in the middle has helped shore up the defence, too, but Lopez has played a key role. The confidence he now exudes at the back can only help his defenders relax in the knowledge that if opponents do get through, Madrid has a top-quality goalkeeper to beat.

It has taken a while for Lopez to receive those plaudits. While no Madridistas had anything against the 32-year-old, who came through the Madrid youth set-up via Lugo before excelling at Villarreal with almost 200 matches to his name, the vast majority wanted Casillas installed back as No. 1 as soon as possible. It was almost as if some were waiting for the Paradela-born player to make a mistake to pave the way for the return of a firm crowd favourite. Those mistakes didn't come.

Lopez looked assured from the start, something he can only be applauded for given the boots he was filling and the difficulties Madrid as a team was going through under the last days of Mourinho. His performance at Old Trafford in the Champions League as Madrid knocked out Manchester United really propelled his qualities to Madridistas and he has only grown since then. He's currently second only to Atletico goalkeeper Thibaut Courtois in the Zamora Trophy standings, the award for the goalkeeper with the best goals-to-games ratio for the season.

Courtois should watch his back. Lopez and Madrid have not conceded a goal in 2014 and the Blancos defence, for a change, looks stubborn. Clean sheets against Celta, Espanyol, Betis and Granada have greeted the year in La Liga. Their biggest test of the year to date will come this weekend when Ancelotti takes his in-form side to Athletic Bilbao, a side that has been scoring goals for fun recently (their latest success being a rampant 5-1 win at Osasuna). Madrid has cruised to victories at San Mames in recent victories but Bilbao enjoy their big
days against Madrid and Ernesto Valverde's men have inflicted the only league defeat on Barcelona in their own back yard in December. The challenge will be a tough one.

Casillas has to be applauded for his part in Lopez's success, too. While he and Mourinho clearly did not see eye to eye, the Spanish No. 1 has stuck to the code of the goalkeepers' union and supported Lopez from the start. No mud-slinging in the media, no venting of frustrations. Saint Iker has been the model professional and that has helped Lopez settle and perform superbly well.

"Diego Lopez is a fantastic person and a great goalkeeper," Casillas told Radio Marca in the summer. "He was superb and he deserves to continue playing. He had a brilliant season. I never wanted problems. I have learned how to show patience ever since I was a child, I know that I have to wait and try to win my place in the side."

Starting roles in the Copa del Rey may not have sufficed for Casillas but Ancelotti has also entrusted him in the Champions League, too, something that should keep the Mostoles goalkeeper happy for now -- the chance to complete a hat-trick of Champions League successes and be part of the team that could clinch the much sought-after "Decima." Del Bosque has kept faith with him in the Spanish national squad, too, and Casillas looks likely to be Spain's first choice in Brazil for this summer's World Cup.

It was Casillas who was touted for pastures new in the Spanish and British media over the course of the past year. Manchester City and Arsenal were reported to be leading the race to give the shot-stopper regular starts in the Premier League. That interest has dimmed, even in the current midseason transfer window, and has shifted to Lopez thanks to his fine performances in goal. City have been linked with an end-of-season move for Madrid's current No. 1. He's now catching the eye in the Bernabeu, across Spain and overseas.

But Lopez's contract runs until 2017 and his role at the club is such that it would be a shock to see Ancelotti part company with him. How times have changed. Casillas will return in goal for the second leg of Madrid's cup clash against Espanyol but there are no longer calls from the Bernabeu for a permanent return, not at the moment. Diego Lopez has won the hearts of Madridistas and he's there to stay.