Un Punto! Madrid enjoy best weekend of season so far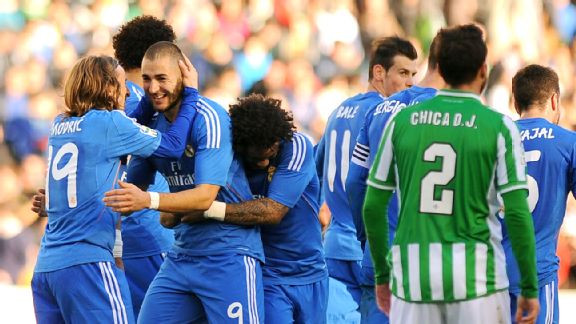 Jorge Guerrero/AFP/Getty ImagesReal Madrid are humming along nicely under Carlo Ancelotti.
The front page of Marca screamed "Un Punto!" on Monday morning. One point. Five goals for Madrid and three comfortable points in Betis. One each for Barcelona and Atletico. Two very much dropped for each. Two gained for Carlo Ancelotti and his on-song men on what was the best weekend of the La Liga season so far for Madrid.

One point is the gap at the top. Barca and Atleti lead on 51 and Los Blancos are now hot-on-the-heels with 50. It's the closest they've been to the top since the third weekend of the campaign.

An emphatic victory for Madrid in sunny Seville was not the talking point of a big weekend in Spain. Five goals, most of them stunners. Cristiano Ronaldo, Gareth Bale, Karim Benzema, Angel di Maria and Alvaro Morata all found the back of the net. The 4pm Saturday kick-off allowed Madrid to move joint-top and pile the pressure on their title rivals, both of whom were playing a day later. The result also spelt the end of Verdiblancos coach Juan Carlos Garrido, after just 48 days in charge. A rush of blood in sacking Pepe Mel? Possibly.

- Train: Real Madrid enjoy a stroll in the sun

High-fives for all at the Bernabeu. A fifth win on the spin since the turn of the year. Thirteen goals scored, none conceded. Nine points from nine in La Liga and progression in the Copa del Rey. The personal glory of Ronaldo winning the Ballon d'Or has only added to the feel-good factor at the club. Although in its infancy, 2014 has definitely been Madrid's year so far. These opening weeks of the year could well prove decisive come the end of the season.

Such are the standards at Madrid that a 5-0 victory over rock-bottom Betis was pretty much par for the course. Betis have been poor all season long and Madrid are hitting top gear. All eyes were on Sunday's matches. Few expected slip-ups from Barca and Atleti, let alone slip-ups from both.

First it was Barca's turn at Levante. The Ciutat de Valencia can be a tricky place for visiting sides to go, especially on a big day, and when Loukas Vyntra headed the hosts ahead ten minutes in it looked to be living up to its reputation. Too early? Probably.

Madrid joy, from both ends of town, was short-lived. Gerard Pique offered a carbon copy response nine minutes later. Barca were level and had 70 minutes to bag a winner, it looked only a matter of time. But it never came. Tata Martino said his side would win such a fixture nine times out of ten. This was that one out of ten, then.

It handed the advantage back to the capital, but to the Calderon. Atleti welcomed Sevilla with the chance to go top of the pile. These chances don't come along often and Diego Simeone's men looked up for the task when former Barca man David Villa fired Los Rojiblancos ahead. But Atleti fluffed their lines. They were 18 minutes from the summit when Ivan Rakitic levelled things up from the penalty spot.

Tensions flared late on, frustrations grew. Alvaro Moreno, linked with a move to the Bernabeu, hardly did his potential future employers a favour when he was sent off late on, but Sevilla hung on for a point. A big point.

Momentum is huge in a title race as close as La Liga, and Madrid have it.

Since Christmas, Madrid have bagged nine points from nine in pretty comfortably fashion. Both Barca and Atleti have only taken five from a possible nine. Four points gained in three weeks at the Bernabeu, a huge turnaround given the irregularity at which the top-two have dropped points over the course of the season, or over the last couple of seasons. They took two from each other at the Calderon just over a week ago, perhaps a result that many expected. Few expected the weekend slip-ups.

So Carlo Ancelotti's men have seen off sides at the wrong end of the table. Celta, at home, and Espanyol and Betis away. So what? These are the games Madrid have traditionally slipped up in recent campaigns, so much so that the shocks are no longer huge shocks. Madrid slip-ups have been expected now and again, especially away from home.

Barca were expected to win at Levante and although Sevilla have picked up as the season's progressed, Atleti were expected to gain maximum points on Sunday, too - especially at the Calderon.

More significant for Madridistas is the manner in which the points and victories have been gathered this month. Five clean sheets in a row, no goals conceded in 2014. Six if you include the friendly match against Paris Saint-Germain in Doha. This from a side that was leaking goals before the winter break. As if the current back four weren't in good enough form, talented youngster Raphael Varane has returned to training to put some pressure on. Mess up at the back and the Frenchman is waiting in the wings.

Karim Benzema has now bagged ten goals already this term when he only managed 11 all of last season. He's putting in a very un-Benzema like shift in attack, too. Ronaldo is on top of the world thanks to his Ballon success and Xabi Alonso's future has been sorted out.

Then there's Luka Modric, who's not getting the praise he deserves in the Spanish press, but then again this is the same press that marked him as the worst signing of the season in his first year at the club. The Croatian midfield maestro is arguably La Liga's current form player. Forget Ronaldo, forget Messi. Modric has been sensational alongside Alonso in the middle of the park for Madrid and he's had a big influence on his side's current top form. He's making Madrid tick.

The momentum is with Los Blancos and it shows no signs of slowing down. Off the pitch, Barcelona are contending with the ever-growing case of Neymar and his transfer to Catalonia from Santos. A case that, although important, Tata Martino and his players could very much do without. Atleti will be entering the unknown as the season progresses with involvement at the top of La Liga, the latter stages of the Champions League and the Copa del Rey. Can they balance all three with their current squad? Relatively, things are rosy at the Bernabeu, and Madrid as a club are arguably at their best since Jose Mourinho's La Liga triumph in the 2011-12 season.

All three will contest their cup quarter-final first leg matches this week, but next weekend Madrid could use the fixture schedule to their advantage and move top for the first time this season, even if it is only for 24 hours. Los Blancos welcome Granada to the Bernabeu on Saturday, while Atleti make the short trip across town to face Rayo Vallecano on Sunday evening and Barca follow that with the visit of Malaga to the Camp Nou.

There's still a long way to go in the three-way title race, but Jornada 20 has offered the most compelling results to date -- and they could prove crucial come May.