In defence of Madrid's back line
Forwards get all the plaudits in football. Goals, easy-on-the-eye skills, pace, fantastic free kicks. The big bucks are spent on the players that can do the business in front of goal and the awards are more-often-than-not handed that way, too. Just ask Cristiano Ronaldo. Just look at the list of winners of the Ballon d'Or.

Ronaldo, Lionel Messi, Kaka, Ronaldinho, Pavel Nedved, Andriy Shevchenko, Luis Figo, Rivaldo -- all attacking players who've picked up the world's top player award in recent seasons. Fabio Cannovaro has been the only defender to break the chain in the last 17 years and that was in the year he lifted the World Cup with Italy in 2006. Defenders and defences rarely receive praise. Relatively, anyway.

So although all eyes were on recently-crowned Ballon d'Or king Ronaldo in Pamplona on Wednesday night, Madrid's defence should start to receive a bit of recognition, too. Ronaldo scored in Los Blancos' 2-0 Copa del Rey victory, which took them through to a quarterfinal date with Espanyol, but Carlo Ancelotti's men kept a fourth straight clean sheet in all competitions -- the first time they've achieved that feat with the Italian in charge.

It's been a slow process in Ancelotti's first year at the Bernabeu. Madrid only managed three clean sheets in their first 17 matches in all competitions but has now managed nine in their last 12 since the 5-0 demolition of Almeria at the end of November. Or 10 in 13 if you count the mid-season friendly against Paris Saint-Germain in Doha. A vast improvement.

Madrid has been a side more known for its flamboyant attack rather than its strong defence, at least since president Florentino Perez first introduced the Galacticos. A case of you score three, we'll score four. You've usually been guaranteed goals when watching Los Blancos, whichever end they happened to come at. Even the defenders
like to attack. Full-backs? More like left-sided midfielders as far as Marcelo and Dani Carvajal have been concerned for much of this season.

Ancelotti has been keen to stop that and slowly but surely it's working. A 3-0 victory over Celta started 2014 well and Madrid have since seen off Osasuna 2-0 home and away in the cup and Espanyol 1-0 in Catalonia. Some luck has been ridden and some chances have been missed, especially by Celta at the Bernabeu, but Madrid are becoming a tougher side to score against.

Madrid's back four have improved but it's no coincidence that those improvements have come at a time when Xabi Alonso has returned to the side, forging a great relationship with the energetic Luka Modric in the middle of the park. As good as a back four may be, a strong midfield helps and Madrid's back four has that. A lack of protection in the early part of the season, when Alonso was nursing an injury, led to a glut of goals conceded. How things have changed since his return.

The midfield maestros offer the perfect protection to the back four. Alonso doesn't have the legs he did five years ago to march up and down the pitch so sits deeper, spraying those long balls wide and forward to get Los Blancos' on their way (as he did to set Jese Rodriguez away to put Angel di Maria in for Madrid's second on Wednesday night) and pinching the ball in front of the back four. Modric has everything. He keeps going, tracking back and winning balls deep. Look up 10 seconds later and he'll be causing a nuisance of himself in the opposition's penalty area, too. The Croatian is now one of the side's greatest assets.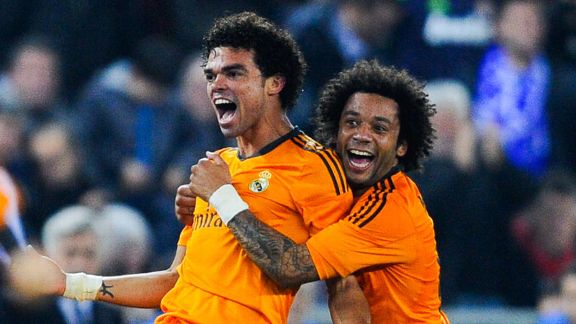 GettyImagesPepe has excelled so far under Carlo Ancelotti.
The duo's form has helped the first-choice back four of Dani Carvajal, Sergio Ramos, Pepe and Marcelo. Pepe has been a minor revelation this season -- staying out of trouble and just getting on with his job. He's played more minutes than any of his teammates in a season where many thought he'd be restricted to fleeting appearances in the shadows of
last season's revelation Raphael Varane. Competition in this instance has been good and one man's misfortune (Varane has been injured) has been another man's gain.

Sergio Ramos has picked up his usual selection of red cards this season, something that clearly needs addressing, but was rewarded for his form by being included in the FIFPro World XI and UEFA.com users' team of the year. The Spaniard will be the first name on the team sheet at the back, with Ancelotti needing to decide whether to pair Pepe or Varane alongside him in the long-term.

Ancelotti's tactics have been instrumental, too. Indeed, the players needed time to adapt to the new system, or new systems, and it seems as though the penny is beginning to drop. The Italian wanted to cool down on the counter-attacking football set by Jose Mourinho and instil a more passing approach to his side's play. The more of the ball you
have, the less chance the opposition have of scoring. A 4-2-3-1 formation was primarily used in the opening weeks of the campaign but Madrid are now much more flexible, changing to 4-3-3 with the ball and 4-4-2 without it. Such changes take time but signs of success are being shown.

Madrid usually attacks as a team and its starting to defend as one, too. Even Karim Benzema, jeered by Madridistas at the start of the season for his poor form and lackadaisical approach, has been working his socks off in recent matches. Tracking back, winning the ball, and jolting forward to add the finishing touch. Ronaldo, Bale and Isco have pitched in and Angel Di Maria has been used in a more central role in recent weeks thanks to his hard-working approach.

Goals are not a problem at the Bernabeu, they never were. With Benzema, Ronaldo, Bale and Isco creating and scoring goals for fun so far this season, attack is one area Madrid now need not worry about. Not with the breakthrough of the talented Jese and Alvaro Morata. The defence has been an issue, but those problems could be a thing of the past, too, if the last month or so has been anything to go on.

Ancelotti will also have the headache of deciding whether to bring Frenchman Varane back into the equation once fully fit. The youngster was superb in the second half of last season, showing his class in particularly in big matches against Barcelona and Manchester United, and dislodged Pepe from the starting XI. Now that position is Pepe's to lose. It's a welcome selection headache.

True, with due respect Celta, Osasuna and Espanyol may not be the toughest sides to defend against, but they're also the type of games where Madrid have traditionally, and frustratingly, slipped up in during recent seasons. A trip to Champions League-chasing Athletic Bilbao and the visit of high-flying Villarreal will offer sterner tests for Ancelotti and his troops in the coming weeks and they are ones Madridistas will watch with interest.