Benzema quietly comes of age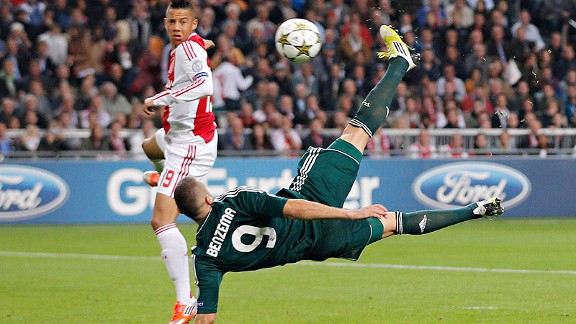 AP Photo/Peter DejongKarim Benzema's glorious goal against Ajax was worthy of Hugo Sanchez or Marco van Basten.
The plaudits after Real Madrid's 4-1 win over Ajax in the Amsterdam Arena mostly fell in the direction of Cristiano Ronaldo, who has scored in each of his side's past four games and has netted two consecutive hat tricks. Perhaps the greatest accolade Ronaldo receives is that since he arrived in Madrid, nobody really expects anything else. 158 goals in 154 appearances for Real is an incredible statistic in anyone's book. Last night's treble was his 17th in a Real shirt.

Slightly behind Ronaldo in the headlines stakes this morning is Kaka, who was handed his first competitive start of the season in the Amsterdam Arena and rewarded Jose Mourinho -- who had spent much of the season doing his best to pretend that the Brazilian had left the club -- with a performance that would have earned him man of the match had the goals been shared out more equitably. The number eight was handed a lifeline in a glorified friendly against Colombia's Milionarios last week and also scored a hat-trick, leading Mourinho to give him a start. Not too much should be read into this in terms of the rest of the season. It will be instructive to see where the Brazilian starts the clasico on Sunday -- field, bench or stands?

Oh, and Karim Benzema scored a glorious overhead kick worthy of Hugo Sanchez or Marco van Basten. You may have missed that. Pretty much the entire Spanish media did.

Benzema has always been a curious case in the white shirt. Signed in the same summer spending spree that brought Ronaldo and Kaka to the club with suitable fanfare for 160 million euros' worth of Ballon d' Or winners, a collective ¿por que? greeted the arrival of the Frenchman. Hardly unknown -- he was crowned Ligue 1 player of the year in 2007-08 -- Benzema was nonetheless viewed as a bit of an expensive gamble with Gonzalo Higuain flourishing at the club. The striker, who could also have played for France having been born in Brest, banged in 22 league goals and added nine assists in the season prior to Benzema's arrival. There was a bit of a hole to fill after Ruud van Nistelrooy and Klass-Jan Huntelaar had departed, but was Benzema the man to plug it?

Initially, it seemed that the Madridistas worst fears would be realized. After playing second fiddle to Higuain in his first season, Benzema was handed the number nine shirt -- and an immediate dressing down from incoming manager Mourinho. Describing the striker as, among other things, "half-asleep," the Portuguese was far from convinced by Benzema's work-rate, or his waistline.

More bench time greeted the striker as the 2010-11 season began and Benzema went two months without scoring a goal. Only when Higauin suffered a back injury did Benzema feature regularly in the starting 11 -- a spell briefly interrupted by the arrival on loan of Emmanuel Adebayor -- during which he embarked on a run of goalscoring performances.

Nonetheless, he was largely overlooked for the now-infamous Clasico series at the season's end as question marks again hung over his Real future, particularly as during his time at the club it had become more that apparent that he and Higuain were incompatible on the field.

It would have been easy to raise his shoulders in a Gallic shrug of indifference and ask for a transfer -- many strikers have found their Real careers short ones, including Benzema's predecessor as France's most difficult son, Nicolas "Le Sulk" Anelka. Instead, Benzema spent the off-season losing weight, putting on muscle and came back to town lean and hungry. Immediately, he proved himself a cat among pigeons and he went on to bang in 32 goals in all competitions and provide 15 assists. Higuain, during the same season, scored 26 with 10 assists.

It is a beautiful conundrum for Mourinho to have: two of the finest strikers in the world -- who can't play together -- and a penchant for a 4-2-3-1 formation.

Doubtless Mourinho will rotate as the season progresses and there is no guarantee that Benzema, despite a goal and an assist in Amsterdam, will start on Sunday in Camp Nou. In the Champions League though, there is no question as to which player has the greater claim to supremacy. In 44 games for Lyon and Real, Benzema has chalked up 28 goals and 12 assists. In 40 for los blancos, Higuain has scored eight and provided four assists.

If Real lifts its 10th European Cup in London in May, it will likely have Benzema to thank.