Gifts keep coming as Ronaldo scores to aid Madrid's cup progress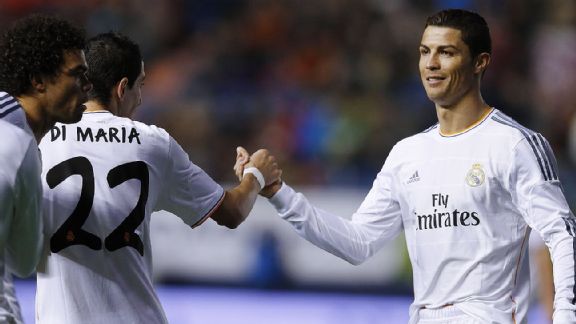 Angel Martinez/Real Madrid/Getty ImagesWhat a week for Cristiano Ronaldo as Osasuna gifted him a goal.
Cristiano Ronaldo has enjoyed receiving gifts this week.

On Monday, in Zurich, he took hold of the Ballon d'Or -- ending Lionel Messi's four-year domination as FIFA's best player on the planet. On Wednesday in Pamplona, Osasuna goalkeeper Andres Fernandez kept the presents coming by making a real hash of a Ronaldo free-kick to give the Portuguese star his first goal since winning the prestigious accolade, all but sealing Madrid's progression in the Copa del Rey.

In the end, Los Blancos ensured their place in the quarter-finals by coming through the usually tough trip to El Sadar -- where they struggled to a 2-2 draw in La Liga before Christmas -- in relatively comfortable fashion with a 2-0 win that brought a 4-0 aggregate scoreline. Ronaldo's opener after 20 minutes, spilled into the net in comical fashion by Fernandez, was complemented by Angel di Maria's strike just before the hour mark.

Madrid's night was only tainted by the late sending-off of Fabio Coentrao, who was playing his first game (and maybe last) for Madrid since early November, while Alvaro Morata also had a night to forget. Linked with a loan move away from the Bernabeu after dropping behind the in-form Jese Rodriguez in the pecking order, the young forward came on as a second-half substitute only to receive a black eye in a challenge and fail to finish the match. Madrid finished the match with nine men but the damage had long since been done.

- Copa del Rey wrap: Ronaldo fires Real on

The spotlight, however, was firmly on Ronaldo. Lifting the Ballon d'Or on Monday and sharing it with his Madrid colleagues on Tuesday, this was the first match the free-scoring forward played since that celebration. Not that the Pamplona public were prepared to fork out their hard-earned money to see the world's best player, though. El Sadar was far from full, with supporters protesting about cup game's high ticket prices outside the ground. It may have been Real Madrid and Ronaldo, but you could get four tickets for Tuesday night's match between Atletico Madrid and Valencia for the price of one ticket at El Sadar.

Unlike Fernandez, his Osasuna teammates did their best to make sure Ronaldo didn't have an easy night early on. The 28-year-old tried some early trickery out wide -- perhaps a showboat to go with his newest gong -- but those feet were even too fast for the man himself. The ball trickled out of play to the delight of those who did part with their money.

Mate Oier Sanjurjo then played the part of bad guy when he hacked Ronaldo down at full speed. It was a cynical challenge that resulted in a booking and when the Portuguese was hacked down again ten minutes later he, aided by Fernandez, made the hosts pay.

Ronaldo's the type of character who will be keen to vindicate his accolade and he got his goal in somewhat fortunate circumstances. A powerful, swerving shot it may have been, but it was straight at the goalkeeper. Not only did Fernandez fail to hold on to it; he managed to deflect it into his own net, too. If only the pitch could have swallowed him up.

It was Ronaldo's 30th goal for Madrid this season -- the fifth campaign in a row that he has managed 30 goals or more for Los Blancos. He's scored 38 for club and country and shows no signs of slowing down.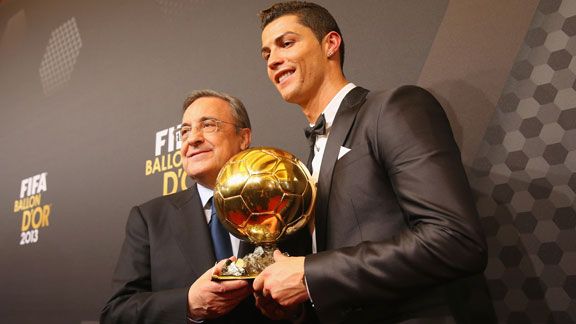 AllsportCristiano Ronaldo's Ballon d'Or win was deserved -- as was Real Madrid's easy win at Osasuna.

With the goal came a sense that the game was all-but over. Javi Gracia's men needed four goals with Madrid having bagged an away goal and although Pamplona has not been a happy hunting ground for Madrid in recent seasons, there was little chance of a dramatic comeback by the hosts.

Osasuna offered a promising spell in the latter stages of the second half but Madrid, with "cup keeper" Iker Casillas back between the sticks, held firm. Carlo Ancelotti's men had kept three clean sheets from as many games since the turn of the year going into the game and the Italian will have undoubtedly been keen to keep another. It wasn't far away.

It was 2-0 ten minutes after the break thanks to more impressive work from the ever-improving Jese. Starting on the right of a front three that saw Isco in the unusual role of the "false 9" and Cristiano on the let, the youngster collected a Xabi Alonso pass, flicked the ball past one man and surged forward before using the pace and power usually seen from Ronaldo to get to the byline and pull the ball back for Di Maria to clinically nestle into the back of the net.

Jese is exciting Madridistas this season, particularly over the last month, and is showing plenty of signs that he will be a key player for Madrid this season as opposed to just a youngster playing a bit part role. Pace, power and vision were in abundance for Madrid's second. His confidence is growing and he offers a variety of options for Ancelotti in the attacking third.

With the game won, Ronaldo and Alonso were replaced by Gareth Bale and Casemiro. It was the first time since April 2013 that Cristiano has been withdrawn from a Madrid for technical reasons but he wasn't going to complain -- not this week. The last time was in Bilbao where Madrid cruised to a 3-0 win thanks to a brace of goals from their talisman.

All that was left was for Coentrao to possibly put another nail in his Madrid coffin. Ancelotti has said there will be no movement in this transfer window but the rumours are circulating of the full-back's future and there's no smoke without fire. His tackle five minutes from time, which brought a second yellow card, was a stupid one, offering a high foot in a challenge when he was already on the floor, and will not go down well with his manager. It showed a lack of discipline and thought, something that has seemingly cost him throughout his time at the Bernabeu.

Despite finishing with nine men the clean sheet remained, a fourth from as many matches in 2014, something that will please Ancelotti almost as much as the eight goals that have come at the other end. Some desperate defending, led by another FIFA award-winner in Sergio Ramos, was required near the end along with some nice saves from Casillas, but Madrid are showing more stubbornness at the back and at just the right time.

Espanyol await in the quarter-finals after the Catalans saw off Rayo Vallecano and ended any hopes of an all-Madrid last eight contest.