Xabi Alonso's new deal is a gift for Real Madrid
It was the Christmas present that Carlo Ancelotti asked for and, even though a little late, Florentino Perez delivered on Wednesday evening. Xabi Alonso signed a new contract agreement at Real Madrid that will keep him at the club until the summer of 2016, with the option of a further year also included in the agreement.

That essentially means the 32-year-old Alonso will retire as a player at the Bernabeu, and this is the best news all of Madridismo could have hoped to receive for a number of reasons.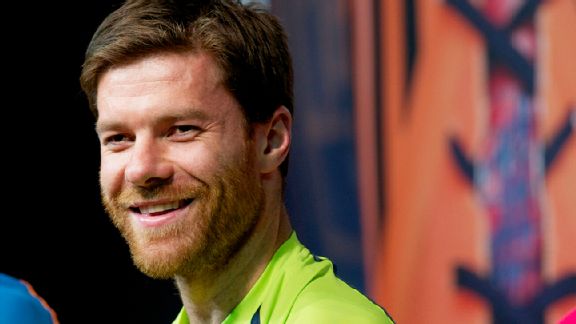 Juan Naharro Gimenez/Getty ImagesReal fans will be pleased to have Xabi Alonso signed up for more.

Ancelotti made it very clear when he arrived at Madrid that the Basque midfielder was the key component in his vision of how his side should play. In a nutshell: with a little more poise on the ball and a lot less reliance on the counterattacking strategy employed in recent seasons. When Alonso hobbled out of a training session with a broken metatarsal at the outset of the season, that vision was put on hold, leading Ancelotti to shuffle his pack in an attempt to find a formula to balance the side -- the Italian's mantra -- in the Spain international's absence.

There are few players in the world game who understand the way it works quite like Alonso. Not for nothing did Vicente del Bosque bemoan the midfielder's unavailability for the Confederations Cup resulting from surgery to correct a groin problem -- and when his side came up against Brazil in the final, it was overrun. It is also little coincidence that Jose Mourinho protected Alonso at the tail end of his final campaign, rolling the midfield mastermind out for just the big games.

- Report: Alonso signs new Real deal

Real has suffered similar problems this season without the reassuring presence of Alonso marshaling the midfield. But he does not just control the game; he is a player whom younger team members look to for guidance both on and off the field. In one match this season Alonso acted as a mentor to Asier Illarramendi, urging him to get up the field and adjusting the former Real Sociedad player's positioning in the defensive half.

The fact that Alonso will now be on hand to do just that for at least another 2½ seasons couldn't be more convenient for the future of Real Madrid. A lot of money was invested in Illarramendi, but it has become clear that Ancelotti doesn't yet feel he is ready to fulfill the Alonso role on a regular basis. Both players are Basque -- and that is a tie that binds in ways considerably stronger than other identities -- and both are defensive midfielders. Furthermore, Real Sociedad runs through their veins and there is simply no one more qualified and able than Alonso to help his understudy to eventually assume his position for club, and conceivably, country.

Then there is the Bernabeu's love of the bearded Basque. The crowd is fairly gladiatorial in offering the thumbs up or down and nobody is spared its bile when things are not going to its complete satisfaction. Yet Alonso has never been questioned by the home faithful, who have exhorted him to stay in recent games and offered their unswerving loyalty in the polls regularly run by pro-Madrid sports dailies.

A telling incident occurred during Real's Champions League match against Juventus earlier this season. When the fourth official's board came up bearing Andrea Pirlo's number, the entire stadium rose to applaud the Italian midfielder. Pirlo's name has been mentioned in the same dispatches considering Alonso's hypothetical departure from the Bernabeu, and the gesture was as much an invitation as recognition and respect for the role players like the Juventus man and Alonso carry out.

The Bernabeu enjoys a goal, but it appreciates a true footballing brain above all else. Few were happy when Esteban Cambiasso's contract was allowed to run down with good reason; in signing up Alonso for potentially the rest of his career, Perez has ensured his own popularity and the continued objective to have his team play a more rounded, expressive style that will only serve, if successful, to endear him further to a demanding support.

Not bad at all for 6½ million euros a season when you consider what some other ventures have set the club back. And even more so in light of the fact that Alonso is all-but-irreplaceable anyway.

Looking slightly further ahead, imagine the coaching team he and Zinedine Zidane would make. Perez probably did just that, as well.