Back to business against Celta Vigo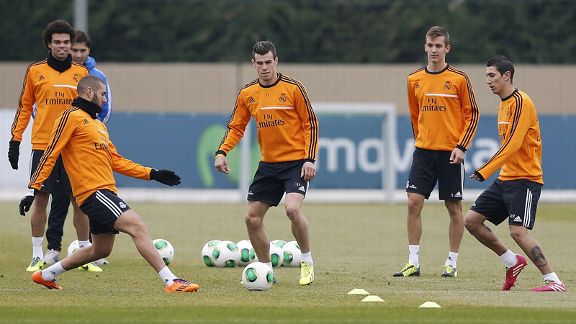 AllsportReal Madrid prepare for 2014 and Celta Vigo.
It's back to business for Liga clubs after the winter break, but Carlo Ancelotti was candid about where that business will be conducted after Real Madrid's money-spinning jaunt to the UAE during the domestic downtime. "As far as we're concerned the market is closed," said the Italian of the January sales. "Nobody is going to come in and nobody is going to leave."

Bullish stuff in the first week of January, but understandable when you have a squad like Real Madrid's. Ancelotti's numbers have also been reinforced by the return to full training of Fabio Coentrao, a medium-term absentee, and Gareth Bale, an intermittent one, for Monday's visit of Celta de Vigo.

There was a time when this fixture would be viewed with considerable wariness by the Bernabeu faithful. It's been a decade or so now, but in the days of EuroCelta, the Galicians packed a considerable punch. Ancelotti knows this better than most: when in charge of Juventus it is fair to say Ancelotti underestimated the threat posed by Celta at Balaidos, where he led his side, leaving Zinedine Zidane on the bench, into the second leg of a 1999-2000 Uefa Cup last 16 match with a 1-0 advantage. Celta beat Juventus 4-0.

The trick was repeated in the San Siro in the 2003-04 Champions League, where Celta won 2-1 to secure qualification for the knock-out stages behind Ancelotti's Milan. Just for good measure, Milan was eliminated by another Galician side, Deportivo, who recovered from a 4-1 away defeat in the quarterfinals to go through 5-4 on aggregate. Heady days indeed for Galicia's premier Liga sides.

But that was a different time in La Liga, and indeed Europe. Today's panorama is very different and Celta, having survived the clutches of the administrators and relegation to Segunda B after dropping out of the top flight in 2007, returned just a year and half ago to the upper echelon of Spanish football. Last season, Celta escaped relegation on the final day of the season, to their enormous satisfaction at the expense of Deportivo, who started the day a point ahead in 17th spot.

Clearly, a revolution was needed and the club decided to enlist former Real Madrid and Barcelona midfielder Luis Enrique, who took over Barcelona B from Pep Guardiola in 2008, winning promotion back to Segunda and remaining faithful to the club's much-vaunted style of play. Enrique immediately brought some Barca B stock into Celta in Andreu Fontas, Rafinha and Nolito -- signed from Granada after a notable spell at Benfica -- with a view to instilling some of the tiki-taka trickery of the Camp Nou club at Balaidos.

To an extent, it has worked. But Enrique's punt on youth highlights the problems his side will face in the Bernabeu. In Celta's last Liga outing against Osasuna, his back line comprised of Jonny (19), Jon Aurtenetxe (22), David Costas (18), and Fontas (23), the old head at the back who has been ruled out of Monday's match. Up front was 18-year-old Santi Mina. Even with the return of Hugo Mallo, 22 and the club's third captain, who poses a genuine attacking threat down the right, Celta's back line is greener than the Bernabeu turf. Neither are goals flowing freely; just 21 so far in the league. On its last two away days in the cup and the league, Celta shipped seven to Athletic and Valladolid.

Still, even in their relegation season, Celta beat Real 2-1 at the Bernabeu, repeating the feat last season in Vigo in the Copa del Rey. If anybody can mastermind a considerable upset in this tie it is Enrique, who is a figure as vilified at the Bernabeu as Luis Figo is at Camp Nou after making the switch in the opposite direction and subsequently making little effort to mask his contempt for Real Madrid. Celta showed in a 4-3 defeat to Real Sociedad a few weeks ago that they know how to take a game to a higher-placed team, even if holding on to a 3-1 advantage proved beyond Enrique's side. Real will need to be alive to the possibility of an all-out assault in the opening minutes.

After all, Celta has nothing to lose in this fixture. Ancelotti's side has something to lose in every match: ground on the leaders. Atletico went top with a 1-0 win at Malaga on Saturday, and Barcelona plays on Sunday at home to Elche.

Ancelotti has not fielded the same starting 11 in the league all season due to injuries and suspensions -- only Diego Lopez has played every Liga minute -- but the Real coach can go to town on a goal-shy and inexperienced Celta. Bale will probably start ahead of Angel di Maria, rightly or wrongly, while attacking full-backs Marcelo and Dani Carvajal are the best option to exploit the youthful flanks of the visitor, opening up the pitch for Isco, Cristiano Ronaldo and Karim Benzema.

Real hasn't lost the first home match of the new year at the Bernabeu since 1991. As Ancelotti noted ahead of the match: "We've played against big teams. We are behind at the moment but we have the second half of the season to stage a comeback and win the league."

Given Celta's limitations, it will be major surprise if Real needs the second half of this match to embark on that particular mission. But Luis Enrique has made it his own to earn the scorn of the Bernabeu and as legend has it, one shot is sometimes enough in a mismatch.